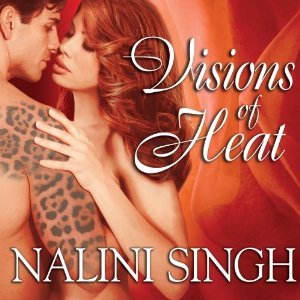 Visions of Heat

by Nalini Singh
Narrator: Angela Dawe
Series: Psy-Changeling #2
Published on: May 30, 2011
Genres: Paranormal Romance
Length: 9 hours, 42 mins
Format: Audiobook
Source: Purchased

Amazon
|
Book Depo
|
Kobo
|
B&N
 |
GoodReads
Used to cold silence, Faith NightStar is suddenly being tormented by dark visions of blood and murder. A bad sign for anyone, but worse for Faith, an F-Psy with the highly sought after ability to predict the future. Then the visions show her something even more dangerous—aching need…exquisite pleasure. But so powerful is her sight, so fragile the state of her mind, that the very emotions she yearns to embrace could be the end of her.

Changeling Vaughn D'Angelo can take either man or jaguar form, but it is his animal side that is overwhelmingly drawn to Faith. The jaguar's instinct is to claim this woman it finds so utterly fascinating and the man has no argument. But while Vaughn craves sensation and hungers to pleasure Faith in every way, desire is a danger that could snap the last threads of her sanity. And there are Psy who need Faith's sight for their own purposes. They must keep her silenced—and keep her from Vaughn…
I listened to the first book in the Psy-Changelings Series a few months ago and really loved it. I enjoyed the narrator, Angela Dawe as well. So when I saw this one on Audible I bought it, but have just now gotten back into this captivating world that Nalini Singh has built.

The first book, Slave to Sensation, introduced us to both the Psy world and the Changeling world as well. Both worlds are very different and were never meant to merge in any way, except maybe in a business way as Psy's are all about business. In that story, we met Sasha, a Psy, and Lucas, a leopard shifter and alpha of his pack. When they meet and fall in love, everything changes, especially in the Changeling world. Psy's are emotionless beings that live a barren and secretive life, one with nothing, except the money they make for the Psy world. Changelings live much more primitively, surrounding themselves with the forests, and protecting their territory from any invaders. I say primitively, but they are still smart business people and have made a nice living for their pack. They also are very loving to their pack(and yes, they call it pack) and are very touchy feely. The exact opposite of the Psy's. We were also introduced to the other members of the pack, and Vaughn is part of the pack, even though he is a jaguar, as he was adopted by them when he was ten.

Vaughn is a bit different from the leopards that he considers family. He is more dangerous, more almost feral, and works as an enforcer for the pack. When he realizes that he can tell there is a Psy living in a complex close to his territory, something makes him want to know more about her. Meanwhile, Faith lives in a complex, isolated, and guarded at all times.The whole complex is all about her, because she is an F-Psy-one that can predict the future. Because of this, she is worth millions, maybe billions, to the Psy, as she predicts business success and failure, the market, and anything else she can predict that will line the pockets of the Psy race. When her sister, a telepath, is murdered, Faith begins seeing visions that the murderer wants her to see-her sister's death, his next victims, and the murder scenes. Once Vaughn and Faith do meet, Vaughn's jaguar wants Faith pretty much immediately. Faith has never been around people except the occasional visit from her father or the guards. Vaughn is a breath of fresh air to her, but she also is so fragile that too much strong emotion could actually cause her to go insane. So for those that enjoy a book that takes awhile to get to the sexy times, this could be a good listen for you. Of course that does change.

This is my first stab at reviewing an audio book, and I must say the narrator, Angela Dawe, was good in both books for me. I read reviews that didn't like her for book one, but loved her for book two, or even liked her for this one and not for the first one. I am probably not as savvy about the narrators of the books I have listened to, as a lot of reviewers are, but I thought she did a good job. It comes down to personal taste I think.

With this book we get a romance, a murder mystery, and world building that is nothing short of amazing. Ms. Singh has carefully constructed the world of both the Psy and the Changeling and I was fascinated by all of it. I recommend this to paranormal romance fans that enjoy a complex world as well as the romance. I have already purchased the next five books in the series, so yes I will be continuing it. Good read!

Related Posts