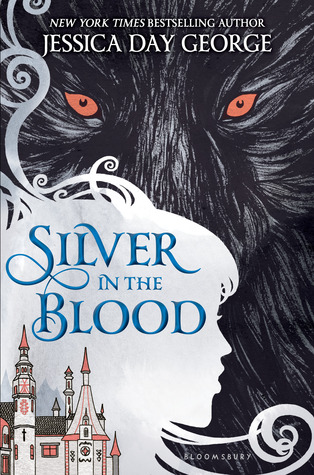 Silver in the Blood

by Jessica Day George
Series: Silver in the Blood #1
Published by Bloomsbury USA Childrens
Published on: July 7 2015
Genres: Fantasy, Young Adult
Pages: 368
Format: eARC
Source: NetGalley

Amazon
|
Book Depo
|
Kobo
|
B&N
 |
GoodReads
A New York Times bestselling author brings dark secrets to life in a lush new YA perfect for fans of Libba Bray or Cassandra Clare.

Society girls from New York City circa 1890, Dacia and Lou never desired to know more about their lineage, instead preferring to gossip about the mysterious Romanian family that they barely knew. But upon turning seventeen, the girls must return to their homeland to meet their relatives, find proper husbands, and—most terrifyingly—learn the deep family secrets of The Claw, The Wing, and The Smoke. The Florescus, after all, are shape-shifters, and it is time for Dacia and Lou to fulfill the prophecy that demands their acceptance of this fate... or fight against this cruel inheritance with all their might.

With a gorgeous Romanian setting, stunning Parisian gowns, and dark brooding young men, readers will be swept up by this epic adventure of two girls in a battle for their lives.
SILVER IN THE BLOOD could have been a lot of things. It could have been yet another spin on wolves in service (enslaved) to vampires. It could have been nothing more than two silly girls running amok in Eastern Europe. It could have been a bland Victorian tale about society misses having their sensibilities shocked by some generic Family Secret.
I was half expecting it to be one of those things or something else equally mediocre.
Which is why SILVER IN THE BLOOD is a perfect example of why sometimes you just have to read a book for yourself, other opinions be damned.
Lou and Dacia are best friends and cousins and as different as two girls can be, both in appearance and temperament. They are daughters of two of the most prominent New York families on their fathers' sides and practically blue blood on their Romanian mothers'.
You'd be hard-pressed to find more well bred ladies on American soil.
Dacia is especially aware of this and enjoys it immensely. BUT. She sometimes finds the routine—the same people, places, parties, etc. day in and day out—a bit stifling.
Which is why she rejoices when her mother suggests a European tour, ending with a long family visit in Bucharest, or "Little Paris" as it was known at the time.
Her excitement, however, is dampened after a questionable escapade in London leads her aunt (and traveling companion) to take the most direct path to Romania, skipping over the actual Paris completely.
Such hardships.
*snickers*
Lou is having a difficult time of her own, traveling separately with her parents and hellion younger twin brothers. It begins when a young man approaches her on a ship and inquires, strangely, whether she is, "the wing, the claw, or the smoke?"
Baffled and more than a little bit flustered, for Lou is a rather fragile creature, and impertinent young men asking inscrutable questions is a perfect recipe for her discomfiture. She is further scandalized by That Awful Man's continued harassment of her person by his repeated attempts at bizarre conversation, and seeing him throughout the remainder of her travels, she becomes quite convinced that he is following her.
I found Lou and her sometimes morose observations to be particularly hilarious:
That Awful Man was standing in the passageway, peering into their compartment! She thought she might really have an attack of some sort now, and could only gasp for air. Lord Johnny appeared beside him, and Lou wondered for a fevered moment if she was simply hallucinating all the beaux she didn't have.
Dacia was also highly entertaining, if in a more direct manner:
She wanted to hide, or open the window and somehow fly away. Instead she pasted on a smile and did her best to keep it there.
"Not so big, LouLou, you're looking ghoulish," Dacia whispered,
Beyond the girls (and their various family members) being a delight to read, I also found the plot wonderfully compelling. It's true that Day George did take an inordinate amount of time to finally reveal the Big Family Secret, but she paved the way to the discovery well enough that I didn't feel taunted, and she still managed to slip in a Surprise despite our expectations.
Bravo.
I was also impressed by her restraint in not taking the obvious supernatural route. View Spoiler »The Draculas were NOT vampires. « Hide Spoiler
Bravo, again.
SILVER IN THE BLOOD by Jessica Day George is the delightful first installment of her new YA fantasy series. Between the secret societies, dark Family Secrets, and our two heroines who are both brave and strong enough to stand with impeccable posture in the face of adversity, what's not to love? Completely devoid of a cliffhanger, I suggest that anyone who enjoys Victorian society and paranormal twists pick this gem up immediately. Definitely a top read for the year and highly recommended.
Was this review helpful to you? If so, please consider voting for it on Amazon or like it on Goodreads!


Related Posts