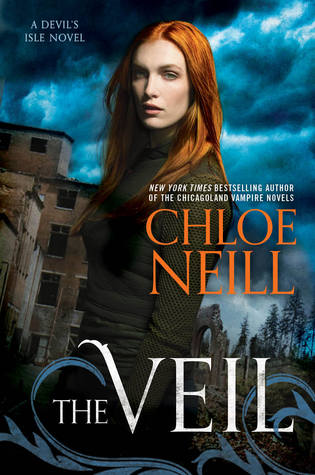 The Veil

by Chloe Neill
Series: Devil's Isle #1
Published by NAL
Published on: August 4, 2015
Genres: Urban Fantasy
Pages: 352
Format: eARC
Source: NetGalley

Amazon
|
Book Depo
|
Kobo
|
B&N
 |
GoodReads
Seven years ago, the Veil that separates humanity from what lies beyond was torn apart, and New Orleans was engulfed in a supernatural war. Now, those with paranormal powers have been confined in a walled community that humans call the District. Those who live there call it Devil's Isle.

Claire Connolly is a good girl with a dangerous secret: she's a Sensitive, a human endowed with magic that seeped through the Veil. Claire knows that revealing her skills would mean being confined to Devil's Isle. Unfortunately, hiding her power has left her untrained and unfocused.

Liam Quinn knows from experience that magic makes monsters of the weak, and he has no time for a Sensitive with no control of her own strength. But when he sees Claire using her powers to save a human under attack—in full view of the French Quarter—Liam decides to bring her to Devil's Isle and the teacher she needs, even though getting her out of his way isn't the same as keeping her out of his head.

But when the Veil threatens to shatter completely, Claire and Liam must work together to stop it, or else New Orleans will burn…
I'm usually one of the first in line whenever a new Urban Fantasy series is announced, and if it's by an author I love, better make that front-and-center. So, THE VEIL + Chloe Neill = I'm there. I've read ALL eleven CHICAGOLAND VAMPIRES installments, and as much as I love Merit & co., I was excited to break bread with the inhabitants of DEVIL'S ISLE. I liked the Dystopian elements, and NOLA is a rock solid setting for any Paranormal title, but the characters, and story are definitely a work-in-progress.

The nitty-gritty wasn't especially cutting-edge; fae with ulterior motives trying to gain a foothold in the human realm has been done, however the addition of the Magic Act, Paranormal Combatant Command, Sensitives, the Counsularis, etc made sure that this novel wasn't your average bear. Granted, some of the logistics didn't exactly add up (I'll get to that in a minute), but as a whole it was a good introduction—not too over the top, yet sufficiently intricate to keep me turning the pages.

The characters were all right, although I can't say that I was particularly attached to any of them when the conclusion rolled around. Now, that most likely falls under the "book 1's are never perfect" umbrella, however there were a couple of things about Claire that simply didn't sit right with me. Exhibit A: Connolly came in to her powers eight months ago, and yet by the wrap-up she's single-handedly doing the job of seven tenured Sensitives after only a couple of weeks of training. Not buying it.

The romance was one of the more enjoyable aspects of this story, that is up until worlds collided, and certain priorities shifted as a result. It was a bit of a one-step-forward-two-steps-back type of scenario that gave off a mild Merit / Ethan vibe which I wasn't overly thrilled about, but it would take a lot more than that to turn me off of this series completely, so for the time being I'm calling dibs on the #1 spot in the book 2 queue, and then I'll revisit my standing reservation shortly afterwards.

THE VEIL wasn't a gutter ball, although it wasn't a strike either. Best out of two? I'm in.

Was this review helpful? If so, please like it on GoodReads or vote for it on Amazon!



Related Posts