I don't know about you, but I've been counting down the days until the release of the next installment in Jennifer Estep's ELEMENTAL ASSASSIN SERIES, and after tomorrow the clock restarts for book 14. Ok, I might be getting ahead of myself a bit so, grab a gin & tonic, enjoy this exclusive excerpt from SPIDER'S TRAP, and if you're a die hard EA fan like myself, be sure to follow this tour in order cuz the sneak peeks are in sequential order.
Excerpt #11
Faint cries sounded—"Help! Help! Help!"—and I strode over to the railing. Phillip and Silvio followed and stood on either side of me, and we all looked down.

Dimitri and Luiz were clinging to each other in the river, both of them thrashing around and trying to stay afloat by drowning the other man. Dimitri had somehow held onto to his toupee, which he was now beating against Luiz's face. They both looked like the wet, slimy rats they were.

I grinned at Phillip. "You were absolutely right. Throwing people overboard is tons of fun. I feel better already."

"Told you so," Phillip said in a smug voice, his blue eyes bright with mischief and merriment.

Silvio sighed. "Don't encourage her."

More moans and groans came from the fallen giants on the deck. I tossed my metal poles aside, turned around, and leaned back against the railing. All the guards stopped and looked at me, wondering what I was going to do next.

"So," I called out, jerking my thumb over my shoulder. "Anyone else want to go for a swim?"

Strangely enough, no one took me up on my offer.
[author] [author_image timthumb='on']http://1.bp.blogspot.com/-EulFH_CRwZg/UUER1-3yewI/AAAAAAAAHeQ/s2DhLcBCQJ4/s320/JenniferEstep.jpg[/author_image] [author_info]
Author Bio
Jennifer Estep is a New York Times and USA Today bestselling author prowling the streets of her imagination in search of her next fantasy idea.
SPIDER'S TRAP, the 13th book in her ELEMENTAL ASSASSIN urban fantasy series, will be released on July 28.
SPIDER'S BITE, WEB OF LIES, VENOM, TANGLED THREADS, SPIDER'S REVENGE, BY A THREAD, WIDOW'S WEB, DEADLY STING, HEART OF VENOM, THE SPIDER, POISON PROMISE, BLACK WIDOW, and SPIDER'S TRAP, along with the e-shorts THREAD OF DEATH, PARLOR TRICKS, and KISS OF VENOM, are the other works in her ELEMENTAL ASSASSIN series.
Jennifer is also the author of the BLACK BLADE and MYTHOS ACADEMY young adult urban fantasy series and the THE BIGTIME paranormal romance series.
Website | Blog | Facebook | Twitter | GoodReads
 [/author_info] [/author]
My Review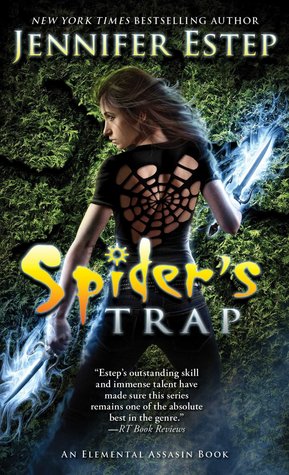 Spider's Trap

by Jennifer Estep
Series: Elemental Assassin #13
Published by Pocket
Published on: July 28, 2015
Genres: Urban Fantasy
Pages: 400
Format: eARC
Source: Edelweiss

Keep your friends close but your enemies within stabbing distance.

One important lesson I've learned in the assassination business is that to be the best you have to roll with the punches. Now that I'm queen of Ashland's underworld—by default, not by choice—a lot more punches are being thrown my way. But I suppose that's the price of victory for taking down some of the underworld's top dogs. Good thing I have my Ice and Stone magic to help me survive my volatile new position. Just when I think things are finally settling down, someone tries to murder me during a hush-hush underworld meeting. But the real surprise is how strangely familiar my shadowy assailant seems to be.

My job is to maintain order among killers, crooks, and thieves, and soon I'm embroiled in a bloody game where the ability to keep secrets could be the greatest superpower of all. My enemies have all sharpened their knives and laid their traps, waiting for me to fall. But this Spider weaves her own webs of death…
SPIDER'S TRAP is the first installment in phase 3 of the ELEMENTAL ASSASSIN series. One was Mab Monroe. Two was M. M. Monroe. Three is, well, the ending of this book, and Jennifer Estep's version is gads more awesome than my recap could ever be, so yeah, you should be one-clicking this title right about now. Anyway, moving on, there's also politicking, bombs, blasts from the past, plus tons of good ol' fashioned The Spider bravado.
This story had a bit of a different vibe to it with Gin having to act as mediator to the kingpins of the underworld instead of stabbing first, and asking questions later. I enjoyed Blanco's not-so-tactful approach to their grievances, and her dialogue was exceptionally strong in this novel from the violent one-liners, to the big-stupid-grin inducing snarky retorts. The fights were aces too, but the character growth was definitely the star.
The author certainly tugged on my heartstrings with this installment; I can't remember the last time that I was this drained after reading an EA title! Fletcher flashbacks are always bitter sweet, and something pretty significant happens to one of the secondaries. Again, I'm being Vague McVaguerson here because it's better for your sanity if you don't see this one coming. I've found that the band-aid approach is best in these types of situations.
I've brought this up on oh close to thirteen occasions now, but Estep's villains are guaranteed crowd pleasers, and this latest enemy was right on the money. He/she wielded a not-so-new elemental power; however their approach and mastery made it feel like it was the first time I'd laid eyes on it. The final powwow was inventive, and written in such a way that I could smell the flowers in Ashland's Botanical Gardens, and I think that I may have gotten blood on my shoes.
Thirteen was NOT unlucky for Jennifer Estep. SPIDER'S TRAP—go get it!
Was this review helpful? If so, please like it on GoodReads or vote for it on Amazon!
Giveaway
a Rafflecopter giveaway
Follow The Tour
Related Posts