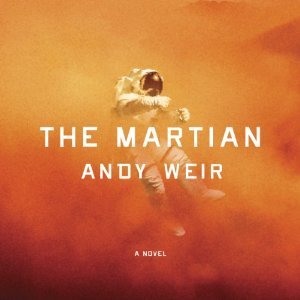 The Martian

by Andy Weir
Narrator: R.C. Bray
Published by Podium Publishing
Published on: March 22, 2013
Genres: Science Fiction
Length: 10 hrs & 53 mins
Format: Audiobook
Source: Purchased

Amazon
|
Book Depo
|
Kobo
|
B&N
 |
GoodReads
Six days ago, astronaut Mark Watney became one of the first people to walk on Mars.

Now, he's sure he'll be the first person to die there.

After a dust storm nearly kills him and forces his crew to evacuate while thinking him dead, Mark finds himself stranded and completely alone with no way to even signal Earth that he's alive—and even if he could get word out, his supplies would be gone long before a rescue could arrive.

Chances are, though, he won't have time to starve to death. The damaged machinery, unforgiving environment, or plain-old "human error" are much more likely to kill him first.

But Mark isn't ready to give up yet. Drawing on his ingenuity, his engineering skills—and a relentless, dogged refusal to quit—he steadfastly confronts one seemingly insurmountable obstacle after the next. Will his resourcefulness be enough to overcome the impossible odds against him?
My reading horizons consist of Paranormal, Paranormal, and more Paranormal. So, when The Bookaholic Cat fervently recommended this SciFi audiobook to me, I was skeptical. However, past experience has taught me not to ignore my fellow bloggers, and that served me well once again because THE MARTIAN was outstanding! This genre isn't my forte, and Math was always my weakest subject in school, but pair them with Andy Weir's writing & R.C. Bray's narration, and soon you too will be endorsing this title with zeal.

This story is told via a series of log entries from Mark Watney's POV, with intermittent JPL/NASA, Hermes, etc narratives. It was funny, dire, hopeful, scientific, and so much more. The protagonist makes good use of his mechanical engineering & botanist background which lead to a lot of technical jargon that even laymen like me could appreciate. The hero's fight for survival was one that every human can relate to, and his ability to laugh in the face of adversity was oftentimes the difference between life & death.

You'd think that a novel that's restricted to a habitat, a rover, and a deserted planet as locales, and one character all by his lonesome would get tedious in the long run, but if you're Weir that's all you need. Mark Watney made this book for me with his sarcastic sense of humour, and MacGyver-like ingenuity. His last name really should have been Murphy because anything that can go wrong, will—at the worst possible moment. From magic duct tape, to pondering the accurateness of Aquaman, to solving terminal velocity à la Iron Man; you will fall in love with Watney.

I can't say with utmost certainty, but I'm 99.9% positive that the calculations would have bored me to tears if it weren't for R.C. Bray's enthusiastic performance. The protagonist celebrates victories with yays, and setbacks with boos, and those emotions came through loud and clear in Bray's tone. Saving Mark eventually became a world-wide effort, and as a result, the narrator had to cycle through tons of accents including Hindu, German & Chinese, and he aced them all. Unless you're a whiz, I'd recommend listening over reading to most.

THE MARTIAN was passed on to me, and now it's my turn to do the same for you. You're welcome.
Was this review helpful to you? If so, please vote for it on Amazon or like it on GoodReads!



Related Posts