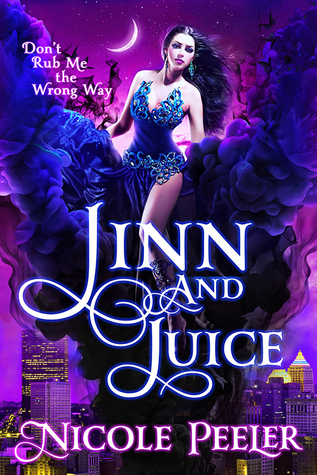 Jinn and Juice

by Nicole Peeler
Series: The Jinni #1
Published by Orbit
Published on: November 25, 2014
Genres: Urban Fantasy
Pages: 374
Format: ARC
Source: Publisher

Amazon
|
Book Depo
|
Kobo
|
B&N
 |
GoodReads
Meet Lyla: Jinn, belly dancer, and the hottest new urban fantasy heroine in town.

To escape an arranged marriage, a jinni granted Lyla her wish: to live a thousand years as a jinni herself.

Now, her servitude is ending, but there are a few obstacles in Lyla's path to freedom. A Magi intent on binding her again, a jinni bent on vengeance, and not to mention the nightmare from her past that threatens to make her curse permanent -- and claim her very soul.
I spent months waffling on this title; the reviews weren't great, the paperback edition got bumped to an April release date (5 months after the eBook), and although Nicole Peeler's JANE TRUE series apparently started off strong, the last few installments left readers dropping like flies. Now, I haven't checked out her other novels, but the three previous points were enough to make me leery of JINN AND JUICE'S pretty cover, and catchy name. The story was fast paced, and the author went all out with her mythology, however there were LOTS of characters and the romance crossed a line that was kinda iffy.

Lyla's POV was disappointing considering she's supposedly nearly a millennia old. I found that she was rather immature as far as protagonists go given her massive life span, and she also lacked drive. She had a "Girls Just Want to Have Fun" outlook that consisted of belly dancing at a burlesque club, and hiding in Pittsburgh with the other misfit toys. Peeler does explain Lyla's reasoning; she doesn't want to get Bound again, and the other jinni have it in for her, but still… she was too green for someone so old, and powerful. I felt like her potential was wasted.

I had zero quibbles with the world. Peeler really dug deep when it came to setting the tone of this series with her definitions of Purebloods & Immunda, Deep Magic, Bound vs. unBound, and multiple plot threads. There was at least a baker's dozen of different supes in this book which came with advantages, and downsides. In the positive column, you were never bored, but alternatively, very little was elaborated on besides the jinni & Magi, and there were SO many characters that it was difficult to identify potential secondaries from background noise. The only names I remembered were Lyla & Oz.

The romance seemed to be the main bone of contention with readers, and I have to agree. I fully anticipated the Master / Slave relationship; however the feelings that developed between them progressed entirely too fast given their dynamics. Oz strolls into town and Binds Lyla one week before her thousand years of servitude are up because he's convinced that his mission outweighs her freedom. He feels bad about it, and ultimately keeps his promises when all is said, and done, but is there really such a thing as a good oppressor?? It was all a little too dysfunctional for me.

JINN AND JUICE tried overly hard to be funny, and not enough to be badass.

Was this review helpful? If so, vote for it on Amazon or like it on GoodReads!



Related Posts