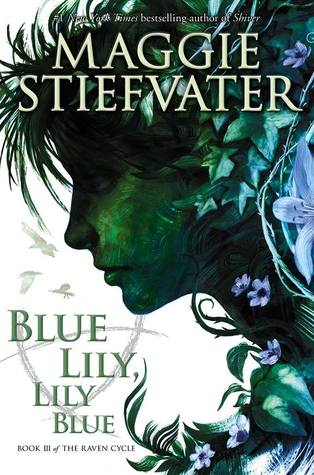 Blue Lily, Lily Blue

by Maggie Stiefvater
Series: The Raven Cycle #3
Published by Scholastic
Published on: October 21, 2014
Genres: Young Adult
Pages: 405
Format: eBook
Source: Library

Amazon
|
Book Depo
|
Kobo
|
B&N
 |
GoodReads
Blue Sargent has found things. For the first time in her life, she has friends she can trust, a group to which she can belong. The Raven Boys have taken her in as one of their own. Their problems have become hers, and her problems have become theirs.

The trick with found things, though, is how easily they can be lost.

Friends can betray.

Mothers can disappear.

Visions can mislead.

Certainties can unravel.
After struggling with Will Patton's narration for the past two installments, I decided to switch to reading in the hopes that my opinion of this series would improve because as ill-suited as he's been for the Raven Boys' POVs, I simply couldn't handle the idea of him as the voice of Blue. Sadly, the swap-out did very little to boost my original assessment of THE RAVEN CYCLE; I felt that this was the weakest book so far. New threads get added, and yet it seemed as though the story went nowhere, and there were a couple of things that just didn't jive.

BLUE LILY, LILY BLUE was primarily about Gansey & Blue; their maturing feelings for each other, Sargent's inability to come to terms with her mother's absence & what the end of high school means for her group of friends, and of course, Richard's never-ending quest for Glendower. Stiefvater flies Mr. Malory, Gansey's mentor, in from the UK to help the kids with research, but his presence seemed kinda unnecessary, and what the heck was up with the dog? This novel's purpose was obviously to set-up the final installment, or more to the point, filler.

Ronan & Adam were off doing their own thing trying to frame Greenmantle for crimes that he didn't commit by working some Graywaren mojo because they have no evidence of the real reason why they want him behind bars. The villain was a bit of an oddball, but it was his wife, Piper, who raised my hackles. She goes from complaining about missing her book club to finding a key Glendower clue in under a week. I mean… who is this woman? How did she even know about the Welsh King? And, more importantly, how did she stumble upon such a huge discovery?

After Noah's shocking revelation in THE RAVEN BOYS he seems to have become almost irrelevant which begs the question—why bother with him in the first place?—and I didn't really get how Gwenllian was pertinent to the plot either. Adam showed the most forward mouvement by facing his social status hang-ups, and acknowledging that accepting help doesn't necessarily equate to charity. One of the secondaries dies which again, came off as pointless. The only thing that's keeping me going is the feeling that a light bulb will go on after I read THE RAVEN KING.

BLUE LILY, LILY BLUE was an exercise in futility, like a dog chasing its tail.
The Raven Cycle Series


My Review


My Review
Was this review helpful? If so, please consider voting for it on Amazon or liking it on GoodReads!
Related Posts