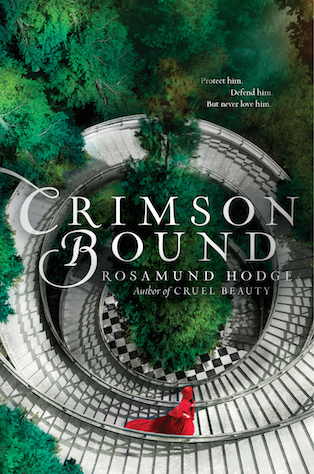 Crimson Bound

by Rosamund Hodge
Published by Balzer + Bray
Published on: May 5, 2015
Genres: Fantasy, Young Adult
Pages: 448
Format: eARC
Source: Edelweiss

Amazon
|
Book Depo
|
Kobo
|
B&N
 |
GoodReads
When Rachelle was fifteen she was good—apprenticed to her aunt and in training to protect her village from dark magic. But she was also reckless— straying from the forest path in search of a way to free her world from the threat of eternal darkness. After an illicit meeting goes dreadfully wrong, Rachelle is forced to make a terrible choice that binds her to the very evil she had hoped to defeat.

Three years later, Rachelle has given her life to serving the realm, fighting deadly creatures in an effort to atone. When the king orders her to guard his son Armand—the man she hates most—Rachelle forces Armand to help her find the legendary sword that might save their world. As the two become unexpected allies, they uncover far-reaching conspiracies, hidden magic, and a love that may be their undoing. In a palace built on unbelievable wealth and dangerous secrets, can Rachelle discover the truth and stop the fall of endless night?

Inspired by the classic fairy tale Little Red Riding Hood, Crimson Bound is an exhilarating tale of darkness, love, and redemption.
I stumbled upon this novel while visiting Kim's blog (Book Swoon), and I have 0 willpower vis-à-vis wolves, so the LITTLE RED RIDING HOOD retelling aspect intrigued me, and honestly, who could say no to that cover!? Rosamund Hodge dazzled me with her creativity, writing, and whimsy, although I did find the story rather busy because as a stand-alone a lot needed to be packed into one volume. I could have done without the love triangle, and the Devourer's defeat at the hands of a knitting needle set a new record for the lamest killing tool in all of Fantasy.

The author's world-building and lore were the highlights of CRIMSON BOUND. I enjoyed untangling the unknowns of Rachelle's universe, and what it meant to be a woodwife, bloodbound and forestborn. There were flashbacks of how Zisa & Tyr held the Great Forest at bay the first time as well as several different versions of their legendary triumph which is where the riddle of Joyeuse & Durendal—the two swords capable of slaying the Big Bad Wolf—originated. It was quite exquisite how all of the fragments came together, and many of the characters had poker faces that would fool their own mothers.

The Rachelle / Erec / Armand romance was completely unnecessary, and gave me the impression that it was included simply because a book can't truly be considered Young Adult without a triangle which is so not true by the way. The heroine seemingly realized that she loved two guys overnight, and both were kooky choices. I liked d'Anjou & Vareilles as individuals, but as suitors neither really lit my fire. One was evil while as the other was a saint which made the options too radical for my tastes; I'm a boy next door kind of girl, however perhaps fans of the good/bad trope will be ok with it.

The threads coalesced nicely as the story came to a close, and there were plenty of surprises that made me say "Ooh!" The barriers that Rachelle had to surmount were varied, and came from within as well as without. After the protagonist's two part stand-off with the lindenworm; I was salivating in anticipation of the bloodshed that would surely ensue when she faced the Devourer. I'll admit that it was clever, although after a novel-long search for a sword, I would have preferred an epic battle that ended with decapitation or evisceration as opposed to the tidy reality of Hodge's conclusion. It was too easy.

CRIMSON BOUND had big teeth, but its bite was a kinda weak; recommended with reservations.

Was this review helpful? If so, please like it on GoodReads.



Related Posts