Entire college courses and fields of psychology, plus a few libraries full of books, have been devoted to the differences between men and women—besides the obvious difference, of course.
One school of thought that has begun to wane in recent years is that male and female psychological differences are all products of environment—that little boys prefer toy guns and trucks and baseballs because that's what their parents buy for them. More sophisticated gender studies have shown that while environment is influential, there are just flat-out basic differences in the way men and women process information and react to their environments.
Which brings us to authors, especially authors of romantic genres. How does that work?
Well, we can have a guy read our stuff to see if our male characters are reacting realistically, but…well…let's be honest. I'm not sure we want them reacting too realistically because we already have that in our lives, right? We want our ideal guy, and it's often the bad boy alpha exterior harboring inner wounds and a vulnerable heart.
Uh huh. Sounds realistic to me.
Anyway, what women authors need to do in creating that "perfect" male character is to make him believable, if not completely realistic. And that's where a working knowledge of male-female psychological traits comes in handy. Think of it in terms of "Data In/Data Out."
Data In
When women look at men, they tend to take a quick overall look then hone in on the eyes, the smile, the language—women interpret. Women respond to touch and to scent. Men are more visual. They look and process quickly, so the male character is going to assess a woman's looks more quickly than a woman will assess a man's—or at least in a different way.
Men are less patient. If your hero and heroine approach a supermarket checkout aisle and there are three people ahead of them, the heroine will pick up a magazine, and maybe bitch and fume, but she'll stay in line. Unless it's an urgent purchase, the hero will probably toss his stuff aside and leave.
Men go first, assess later. Assemble the bike, then read the instructions as a last resort. Drive forty miles out of the way rather than actually read a map, then insist it was an intentional scenic drive. (GPS might have closed this gap)
Data out
Men speak more bluntly. They don't use euphemisms very often. They don't qualify opinions by adding "maybe" or "sort of."
Men want to solve problems, and do it their way. They'll react more quickly than women, and in a more physical way. And, of course, without soliciting input.
They don't elaborate. "That's nice" or "you look hot" might be the response to a "what do you think about…." question from the heroine. You won't hear words like "fabulous" or "fantastic" or "gorgeous." Unless, of course, he's being a smartass.
Conversations are about the exchange of information, not small talk.
They might be emotionally needy, but they aren't going to say so—even if they realize it. And a lot of times they do realize it; it's just harder for them to verbalize. The easiest emotion for men to express openly is anger, and their friendships tend to be built around common interests rather than emotional ties.
Now…. that gives us a good base as authors in writing male characters, although many women have some of those traits (I'm one of those build-it-first-ignore-the-instructions people), just as some men can talk about emotions. But it's a good working base.
Authors still need that anti-stereotyping factor, however. For me, that comes in the form of backstory, and I'd imagine that holds true for most authors.
Every human being has a story, a past that makes us who we are. That goes for men as well as women. A man's emotional flaws might come from trauma or abuse or high-stress experiences such as military duty. Physical flaws change people as well. In my Penton series (written as Susannah Sandlin), vampire Will Ludlam was abused and also an undiagnosed dyslexic. Turned vampire at a young age, he reacts to things very differently than Mirren Kincaid, a Scottish gallowglass warrior eaten up by guilt over the number of lives he's taken.
In the Sentinels of New Orleans series, the male characters are similar in gender traits, but their backgrounds give them their unique spin.
For example, Sentinels character Alex Warin is a shifter—the first in generations in his otherwise human family. He was taken out of his home environment as a teenager and learned to control his "gift" in a paramilitary environment. As a result, he's very regimented. He sees the world in black and white because that's what he was taught. He distrusts the preternaturals because he's been trained from a young age to kill them and see them as enemies. He respects authority and has trouble not responding to an order from a superior—that's how he learned to function in his strange new world. He is possessive and tends to be a bully because he grew to adulthood surrounding by other alpha males.
At the same time, under all that gruff intolerance is a decent man. His significant something-or-other, DJ, is, by contrast, a woman who is comfortable with shades of gray. She'll happily break the rules if that's what she needs to do to get the job done. She won't follow an order that runs against her values. She's independent and capable, and doesn't tolerate being "managed."
DJ and Alex fight. A lot. Will they make it as a couple in the long run? That remains to be seen. Because men and women? They ARE different!
[author] [author_image timthumb='on']http://rabidreads.ca/wp-content/uploads/2015/04/SuzanneJohnson.png[/author_image] [author_info]
Author Bio
Suzanne Johnson writes urban fantasy and paranormal fiction from Auburn, Alabama, on top of a career in educational publishing that has thus far spanned five states and six universities—including both Alabama and Auburn, which makes her bilingual. She grew up in Winfield, Alabama, but was also a longtime resident of New Orleans, so she has a highly refined sense of the absurd and an ingrained love of SEC football, cheap Mardi Gras trinkets, and fried gator on a stick.
Writing as Susannah Sandlin, she also is the author of the best-selling Penton Legacy paranormal romance series and The Collectors romantic thriller series. Elysian Fields, book three in the Sentinels of New Orleans series, won the 2014 Gayle Wilson Award of Excellence while her Sandlin-penned novel, Allegiance, is nominated for a 2015 Reviewer's Choice Award from RT Book Reviews magazine.
Website | Blog | Twitter | Facebook | Pinterest | GoodReads
 [/author_info] [/author]
About the Book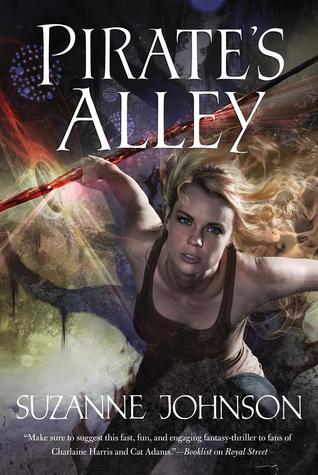 From award-winning author Suzanne Johnson comes the fourth book in the smart and sexy Sentinels of New Orleans series.

Wizard sentinel DJ Jaco thought she had gotten used to the chaos of her life in post-Katrina New Orleans, but a new threat is looming, one that will test every relationship she holds dear.

Caught in the middle of a rising struggle between the major powers in the supernatural world—the Wizards, Elves, Vampires and the Fae—DJ finds her loyalties torn and her mettle tested in matters both professional and personal. Her relationship with enforcer Alex Warin is shaky, her non-husband Quince Randolph is growing more powerful, and her best friend Eugenie has a bombshell that could blow everything to Elfheim and back.

And that's before the French pirate Jean Lafitte, newly revived from his latest "death," returns to New Orleans with vengeance on his mind. DJ's assignment? Keep the sexy leader of the historical undead out of trouble. Good luck with that.

Duty clashes with love, loyalty with deception, and friendship with responsibility as DJ navigates passion and politics in the murky waters of a New Orleans caught in the grips of a brutal winter that might have nothing to do with Mother Nature.

War could be brewing, and DJ will be forced to take a stand. But choosing sides won't be that easy.
Excerpt
DJ, are you awake?
Freaking elf. "Go home, Rand."
I am home. Where are you?
I frowned and burrowed my face into the soft down pillow. Which wasn't my pillow.
Holy crap. What had happened?
I sat up and took in several observations at once, none of which made sense and all of which sent my heart rate jack-rabbiting hard enough to send my blood pressure into the ozone.
First, I was lying beneath a heavy bedspread woven in a rich blue-and-cream print. The bed was an elaborate confection made to look like an antique half-tester, and a brass chandelier hung overhead.
I recognized the Hotel Monteleone. I recognized Jean Lafitte's bedroom in the posh Eudora Welty Suite in the Monteleone. I didn't have a clue as to how I got here.
Second, I wore only underwear. My clothes were thrown across a chair in the corner. I had no recollection of removing them.
Third, the pillow next to mine still held the clear indentation of a head, and there was water running behind the closed bathroom door.
What in God's name had I done?
Rand! Where are you? So help me, if that elf was behind this, I'd splay him open like a catfish and watch his guts fall on the floor. Then I'd batter and deep-fry him.
God, Dru. Stop shrieking like an elven shrew. I think you got too cold and went into a survival state.
Survival state? Then I remembered, and shame joined panic. I had gone into hibernation like a bear, right out on Royal Street in front of God and everyone. Quince Randolph, you sonofabitch! Why didn't you warn me that would happen?
Stop yelling. How did I know you'd be stupid enough to go traipsing through the snow to the point of unconsciousness? I can tell you're in the Quarter, but where are you?
Catch you later.
I slammed shut every mental door I could imagine and then troweled imaginary caulk in any imaginary cracks around said doors. I was vaguely aware that, off in the distance of my mental stronghold, Rand was yelling at me.
Had Jean hauled me back to the hotel like a sack of pommes de terres? How had he explained a hibernating blonde to the hotel management? At least my dark blue underwear matched. Had he taken advantage of me? No, it wasn't his style. Which meant I'd consented.
Alex was going to kill me if I didn't kill myself first. I wasn't sure hibernation-brain was an adequate defense.
The bathroom doorknob rattled and I dove under the covers, even though I realized it was like closing the barn door after the half-naked cows had escaped.
From my hiding spot, I heard the door open and footsteps cross from tile to carpet before stopping with a rustle of fabric. "Hey, babe. You finally back from the dead? Whatcha doin' under there?"
"Rene?" I poked my head out and frowned at my buddy the merman, fully dressed in jeans and a Saints sweatshirt. His feet were bare, and he walked around the bed and climbed in as if either one of us belonged here, much less at the same time.
"What are you doing here? What am I doing here? Who undressed me? Where's Jean?" And, as an afterthought, "Why are we in bed?"
Now that I realize I hadn't acted like my licentious great-aunt Dru and slept with the pirate, I transferred my anger to the proper place and it wasn't to myself. I'd kill that sneaky Frenchman if he weren't immortal.
Rene was not immortal, however, and he was within reach. "You better start talking, fish boy."
"Aiyeeee." Rene cackled like the Cajun he was, and fluffed the pillow behind his head. "I told Jean you'd be spittin' mad. Nothing happened, babe. Your clothes were wet and I was just trying to keep you warm. I'm a shifter, you know. We run hot."
"Oh, do you now."
That made him laugh harder.
I threw off the covers and stomped over to my clothes. He'd seen whatever I had and I knew he didn't want it, so there was no point in hiding. I picked up three soggy layers of T-shirts and sweaters, and cords so wet they weighed about ten pounds.
My breath hitched. The staff; I'd lost the staff. I whirled to Rene, who sat propped against the lush draped fabric that covered the headboard, watching me with a grin. "Where's my bag?"
"In the living room. Everything's there, babe, even your magic stick. Jean, he took care of you."
Yeah, I just bet he did. It was hard to argue effectively in underwear I'd intended only Alex Warin to see, so I went into the living room, dug my room key out of my messenger bag, and stuck my head out the door, looking up and down the hallway.
"I'll be back. Don't go anywhere," I yelled at Rene, and made a run for it, jamming the keycard into my door lock and slipping inside before I was spotted. If hotel cameras caught my mad dash on security footage, well, I'm sure they'd seen stranger things. This was New Orleans, after all.
Sentinels of New Orleans Series
Giveaway
a Rafflecopter giveaway
What Makes A Male POV Believable?
Related Posts