Fiction Police
YES. It has only been a few days since my last post, but I find the covers when I find the covers. CONSTANT VIGILANCE!
~The Good~
That which I found to be awesome: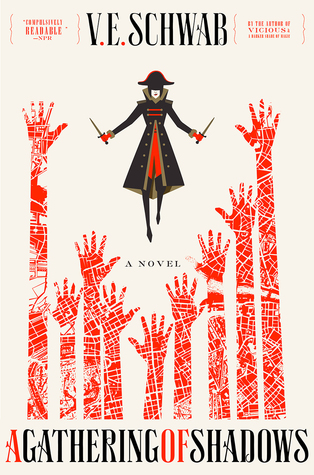 At a glance this might not be the prettiest cover. BUT. If you haven't read A DARKER SHADE OF MAGIC, then I know something you don't know: that coat . . . it's a magic coat. It's kind of like Hagrid's, with limitless pockets for limitless things, but this one is even better, b/c you can turn it inside out 6 or 8 (or more) times, getting a physically different coat each time. ALSO, those lines on the (some of them creepily long) arms? Yeah, they're a map of Red London. Probably. Could be Grey London, I suppose, or White London, but probably not Black London . . . Intrigued? Hmm??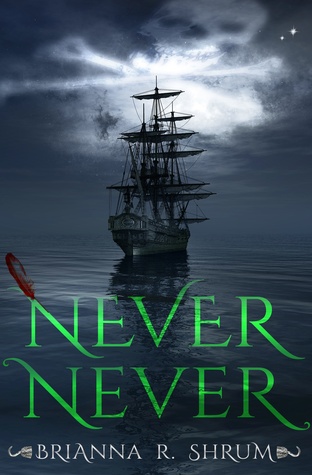 I love ships. AND there's a skull in those clouds.
Creepily fantastic. This girl doesn't appear to be falling, but her dress is definitely billowing (which I love), and the whole is greater than its parts: the font, the black and white, the gothic and foreboding house . . . I would NEVER willingly walk into that place. *shakes head emphatically NO*
It's pretty; I like it.
LOVE this one. I love that Chickypoo is evidently somewhere with a breathable atmosphere, I love that this place has giant crystal formations, and I love how if you look closely at the surface of whatever it is that's directly behind Chickypoo, there are two shadowy man-shapes coming toward her. Friend or foe? Guess I'll have to read it to find out. WELL DONE.
~The Meh~
That which I found to be mediocre: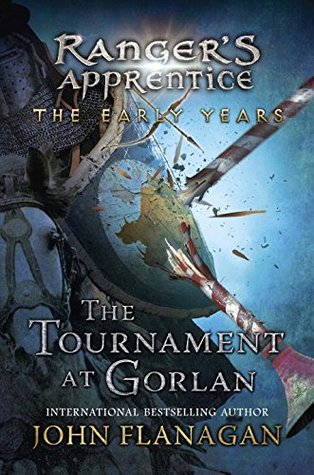 Eh. A lance shattering on a shield b/c tournament. Whoopty-frickin'-doo.
You know what this says to me? It says: I NEED you to shut up. That's what it says. B/c mouths. Covered by NEED.
Another creepy one, but not fantastic. Mostly b/c the topmost balls of orange are perfectly placed to be moons . . . but then there are the rest of them . . . I don't get it.
I didn't put this one into the "MEH" section until I sat here staring at it with absolutely nothing to say beyond, "colors," and "constellations." ALSO, I happen to have been born under the alleged 13th sign, so I take umbrage to someone telling the general population to "beware."
Lighting a candle under water? OH. I see. PARADOX. Clever. *rolls eyes*
~The Ugly~
That which I found to be hideous and/or silly:
My grandfather took a shine to bolo ties after spending some time out West when my mom was a teenager . . . I'm pretty sure he had one that looked just like that minus the steampunk skull. I loved my grandfather. I did not love his ties.
This cover is the reason why women everywhere rejoiced at the advent of e-readers. And is that a firework going off behind them, or is that supposed to be the sun? A sun softened by the glow of true love, maybe? STAHP.
I get it. Prohibition. Art Deco. The idea is cool, but this . . . this is ugly . . . and suggestive (if you don't see it, I'm not saying it out loud). Also, there is a GIANT bird behind Dollface's head. WEIRD things are happening in that room.
Not only is this one's title baffling, but Y U POINT GUN AT KITTEH?! Also, I have no idea why, but it's reminding me of Quentin Tarantino. Maybe b/c I hate Quentin Tarantino . . . hmm . . .
I think he's got on an awful lot of clothes for being underwater. And kissing. Kissing under water . . . while fully clothed . . . when the other person is clearly sans clothing . . . That. Is. SO. Sexy . . .

Sometimes . . . when I have no idea what's happening on a book cover, I use the blurb as a frame of reference. This time I discovered that a dysfunctional family gets snowed in in some nightmare town (b/c travelers stuck in sinister locales hasn't gotten tired yet), where "the laws of the universe are bent." Like snowing indoors? B/c I don't know about you, but I don't care what kind of weather was going on, if I walked into a creepy old hotel and it was snowing—inside—I'd turn right back around and walk out. OH. It's supposed to be . . . metaphorical? B/c snowed in? And stuck at hotel? Ooohhh . . . I see what you did there . . . *wink, wink, nudge, nudge*
And that is all. I hope you guys are having an awesome week!
Related Posts