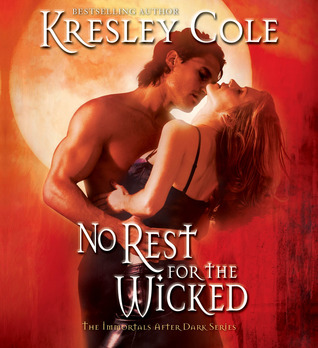 No Rest for the Wicked

by Kresley Cole
Narrator: Robert Petkoff
Series: Immortals After Dark #2
Published by Simon and Schuster
Published on: March 20, 2012
Genres: Paranormal Romance
Length: 10 hrs & 55 mins
Format: Audiobook
Source: Purchased

Amazon
|
Book Depo
|
Kobo
|
B&N
 |
GoodReads
A soldier weary of life . . .

Centuries ago, Sebastian Wroth was turned into a vampire -- a nightmare in his mind -- against his will. Burdened with hatred and alone for ages, he sees little reason to live. Until an exquisite, fey creature comes to kill him, inadvertently saving him instead.

A Valkyrie assassin dispatched to destroy him . . .

When Kaderin the Cold Hearted lost her two beloved sisters to a vampire attack long ago, a benevolent force deadened her sorrow -- accidentally extinguishing all of her emotions. Yet whenever she encounters Sebastian, her feelings -- particularly lust -- emerge multiplied. For the first time, she's unable to complete a kill.

Become competitors in a legendary hunt.

The prize of the month-long contest is powerful enough to change history, and Kaderin will do anything to win it for her sisters. Wanting only to win her, forever, Sebastian competes as well, taking every opportunity -- as they travel to ancient tombs and through catacombs, seeking relics around the world -- to use her new feelings to seduce her. But when forced to choose between the vampire she's falling for and reuniting her family, how can Kaderin live without either?
I'd originally intended to listen to one IMMORTALS AFTER DARK audiobook a month until I got caught-up on the series. Well, that plan flew the coop the moment Robert Petkoff began cooing in my ear. This installment was a step below its predecessor because other than Bowen, who was a secondary character, it came up short on werewolves, and was more story-centric than sextastic. At any rate, I found Kresley Cole's version of the Amazing Race (Hie) to be quite ingenious; I thought that the relationship between Sebastian & Kaderin was better developed, and I liked the heroine more than Emmaline.

The Lore's attention shifted to vampires in NO REST FOR THE WICKED, and although the author didn't forge a new path where this supe was concerned, I appreciated all of the little details that were conveyed. The one major difference between the Horde and Bastian made the couple's romance possible, and the Blooded slant ensured that their on-the-spot connection was irrefutable. This novel also added another dimension to Tracing—a vamp's ability to teleport to a known location—by having the protagonist be the first with the capacity to dial in to a person instead of a place, much to Kaderin's frustration.

The Hie didn't just add a level of excitement to the story it also contributed to a challenging courtship. Sebastian used the race to woe his Bride by assisting competitors in exchange for precious information about his Valkyrie, and extorting sexual favours from Kaderin for points. I loved how the heroine proved worthy of her name at every turn by surprising the bloodsucker with her coldness and cunning. I mentioned in my review of book 1 that I dislike virgin immortals, so although this installment had one as well, it made me happy that it was Wroth instead of the stereotypical female.

The narrator consistently outdoes himself with every IAD performance; I missed his Irish brogue, but was delighted that it still made brief appearances via a member of the MacRieve clan. And, I do believe Bowen's tale is next—goody, goody gumdrops! Robert Petkoff's female voices were remarkably good, and I couldn't get over his energy during the romp sessions. I had my iPhone on speaker during one of them, and was thankful that I was home alone otherwise my husband would have thought that I'd started something without him. I'd have paid good money to be in the studio when he recorded that!

NO REST FOR THE WICKED will light a fire in your belly; time to throw another Cole / Petkoff log on!
Immortals After Dark Series


My Review
Was this review helpful? If so, please consider voting for it on Amazon or liking it on GoodReads!
Related Posts