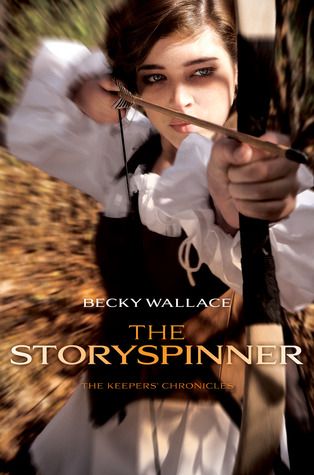 The Storyspinner

by Becky Wallace
Series: The Keepers' Chronicles #1
Published by Margaret K. McElderry Books
Published on: March 3 2015
Genres: Fantasy, Young Adult
Pages: 432
Format: eARC
Source: Edelweiss

Amazon
|
Book Depo
|
Kobo
|
B&N
 |
GoodReads
Drama and danger abound in this fantasy realm where dukes play a game for the throne, magical warriors race to find the missing heir, and romance blossoms where it is least expected.

In a world where dukes plot their way to the throne, a Performer's life can get tricky. And in Johanna Von Arlo's case, it can be fatal. Expelled from her troupe after her father's death, Johanna is forced to work for the handsome Lord Rafael DeSilva. Too bad they don't get along. But while Johanna's father's death was deemed an accident, the Keepers aren't so sure.

The Keepers, a race of people with magical abilities, are on a quest to find the princess—the same princess who is supposed to be dead and whose throne the dukes are fighting over. But they aren't the only ones looking for her. And in the wake of their search, murdered girls keep turning up—girls who look exactly like the princess, and exactly like Johanna.

With dukes, Keepers, and a killer all after the princess, Johanna finds herself caught up in political machinations for the throne, threats on her life, and an unexpected romance that could change everything.
Honestly, I was a bit disappointed by this one. And not b/c I went into it with preconceived notions or expectations. Believe me, I've learned to not expect too much from new YA fantasy from new authors.
No, my disappointment in The Storyspinner is a strange and complex thing, but it mostly boils down to what could have been.
First of all, let me say that I think most YA fantasy lovers will absolutely adore this book. The heroine and her male counterpart are both easy-to-like characters. The plot is interesting. The villain is hatefully villainous. Wrongs must be righted, people protected, rightful heir restored—all of the things that make a really great fantasy, all executed reasonably well.
However . . . there were just enough glimpses of greatness, brilliant details in the world-building, and keen insights into human behavior, that I felt I knew what Wallace was capable of, and, sadly, for the majority of the book, I felt she did not deliver.
For example:
Randomly, in a nothing scene, we meet the master of the fishermans' guild. His name is Tolapia (HA!), and he's identifiable as Guildmaster b/c of the three golden fishhooks in his left ear.
Oh, how I love specificity.
BUT. For every wonderfully imaginative detail, there are three woefully average details.
Like this book's band of gypsies, who in other stories have been called a myriad variations of Tinkers, Wanderers, Traveling People, etc., who here are simply . . . Performers.
*frowns and squints*
And the magic-negating metal the Keepers discover in use on the other side of the Wall: beryllium.
Technically that's four, although in fairness, "Keepers" isn't quite as drab as the others.
As for beryllium . . . I'm not ashamed to admit that I actually googled "beryllium" in the hopes of finding some chemical property that would justify its seemingly random selection as a magic nullifier, but NOPE. Nothing. But it does bond well with copper, so there's that.
After the glorious particulars of the former, all of the following ordinary details felt lazy.
It also felt lazy when: View Spoiler »The Keepers capture the assassin at the Performers' Camp and he instantly gives himself up, AFTER demonstrating how easily he could turn the situation against them with a "my word against yours, and YOU are a stranger," defense.

This guy . . . after his thwarted attempt to kill the Keepers: "Benton's smile was too bright for someone being tied to a log. He turned his head and yelled, 'Help me! Didsbury! James! They're attacking me.'"

And the elder from the Performers' camp clearly demonstrates her desire to dispute the claims laid against her clan member: "There must be some mistake," and, "He thought you were a threat."

But instead of professing his innocence, he mocks the woman, destroying any chance of his own survival: "'Elma the All Powerful.' Benton eyed the old woman with contempt. 'Haven't you seen all of this already?'"

It's senseless, really. And lazy. Can't forget lazy. « Hide Spoiler
Then there's Leão and Pria whose romance-type thing seems to have been tossed in just for fun. B/c romance good. Less romance BAD.
And Pria herself is simultaneously my favorite and least favorite character. On the one hand she ridiculously kick-ass b/c:
"Everyone dances at Performers' Camp. It would be rude not to."
Rudeness had never really concerned Pira. If she didn't want to do something, she didn't do it.
And:
"We die if we get caught." Pira waded into the murk. "We might die this way too, but I'll choose 'might die' over 'will die.'"
But on the other hand, she's equally as ridiculous in her jealous insecurity in regards to the previously mentioned romance-type thing, which makes a just-b/c romance even worse, b/c it ruined an otherwise perfectly good character.
However, my biggest problem was the unanswered questions.
It's obvious that something terrible happened to #1 Keeper when the wall thing went down . . . or up, if you want to be technical about it (*snickers*). It's obvious that Villain's #2 was somehow involved. But was she the object or the instrument? No idea. And what was it that actually happened? Well, clearly I don't know that either. But as indicated by the "obvious," it's alluded to numerous times, and each additional mention felt more and more like a taunt.
And that's just one of many leftover questions.
Overall, The Storyspinner is the could-have-been-so-much-better first installment of the promising Keepers' Chronicles series. Go into the reading of this one expecting to love it for what it is, instead of for its potential, and you should be fine. Recommended. Ish.
Was this review helpful to you? If so, please consider voting for it on Amazon or like it on Goodreads!


Related Posts