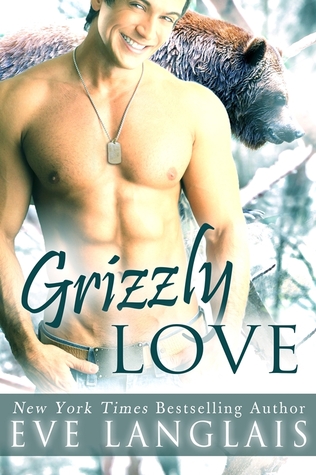 Grizzly Love

by Eve Langlais
Series: Kodiak Point #5
Published by Amazon Digital
Published on: February 17th 2015
Genres: Paranormal Romance
Pages: 174
Format: eBook
Source: Purchased

Amazon
|
Kobo
|
B&N
 |
GoodReads
Are you ready for a grizzly kind of love?

His mother would have beaten him to within an inch of his life, if she knew Travis had the hots for the town doctor, but he couldn't help it.

Dr. Jess, a redhead with a few years on him, was his soulmate. His inner grizzly knew it. He knew it. Suspected she did as well. But he did have one dilemma standing in his way.

Her husband.

Talk about inconvenient.

Good thing Travis was tenacious. Even if he has to travel half a continent, and brave some hot sands, subsist on crappy food and survive attempts on his life he won't give up until he wins her heart.

Or dies trying.

Jess made a mistake. She married too young, to the wrong man. Problem is, hawks mate for life, and murder is against the law. To add more insult to the situation, her mate won't even attempt to be a husband. It seems he isn't interested in keeping his vows, nor is he coming home anytime soon, so when the chance arises to confront him, she takes it. However facing him changes nothing.

Freddie doesn't want her...but Travis does.

And oh how she wants him too. Wants and yet can't have him.

However, her marital problems aren't the only issue. Their pursuit of the nefarious being behind the attacks on their town is being sabotaged by treachery. When Jess and Travis barely survive an ambush, she can no longer deny her love for the rascally bear. But will they survive enough to see if it's possible for her to rectify a wrong and take him as her mate?
Travis is the hero of Grizzly Love. He is the cousin of the alpha and a grizzly shifter. He is the youngest hero of the series and is frequently referred to as "the cub" throughout the series. He is the only one of our heros who wasn't in the military. He desperately wants to be part of the action, but he has an overbearing mother who wants to protect him. Oh, and all the other shifters are scared of his mom and her wooden spoon, including alpha Reid.
Jess is a doctor who is relatively new member to Kodiak Point. She has made a home and friends here. She is married, but her husband went off to war and has yet to come home. Even when he is given leave, he doesn't come home. She hasn't seen him in three year. The problem is that Jess is a hawk and they mate for life. She can't bring herself to truly leave him, even though he has already left her.
When the shifters in Kodiak Point find that villain they've been tracking is in the Middle East, not far from where their old unit is stationed, they prepare to leave. Jess insists on going along. She uses the excuse that they will be fighting and need medical care. In truth, she has every intention of confronting her husband. Travis, being a young hothead and really hot on Jess, wasn't about to be left out.
This is the final book in the Kodiak Point series. It was a good wrap up to the story arc. They finally get to take down the villain, but not without some twists and turns. We also get to see the vast majority of the characters we've met along the way. The unlikely pairs of the different shifter types, and even human personalities, added a lot of fun to the series. Grizzly Love was everything we've come to expect from the Kodiak Point series. It has action, suspense, sexiness and tons of humor. I will miss all the shifters from Kodiak Point. This is a fun series that I would recommend to people who like a fun, sexy story with some suspense thrown in. Now to determine which series from Eve Langlais to tackle next.

Related Posts