Charlaine Harris became a household name when her #1
New York Times
bestselling
Sookie Stackhouse
novels became the inspiration for HBO's hit drama
True Blood
. Last year, Harris delighted fans once again with MIDNIGHT CROSSROAD, the first book in an all-new series that takes place in the same world as
Sookie Stackhouse
—a place where the paranormal exists alongside the ordinary. It became an instant
New York Times
bestseller and left readers anxiously anticipating the release of the second installment, DAY SHIFT, on May 5, 2015.
MIDNIGHT CROSSROAD will be available in a premium edition mass market later this month. It's perfect for readers of all genres and has all the elements fans love from Charlaine's writing: humor, mystery, a touch of the paranormal, and even a little romance. I'm pleased to be helping ACE spread the word about this wonderful new series by offering my followers a chance to win their very own copy!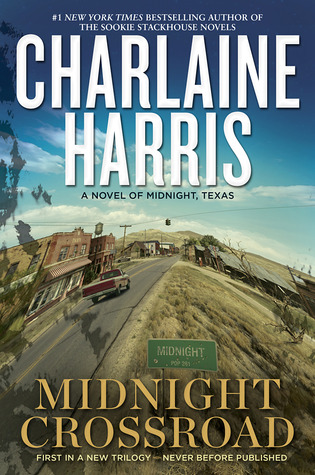 Midnight Crossroad | Midnight, Texas #1
Ace Premium Mass Market | $9.99 | 384 pages | March 31, 2015
[quote]Excellent…captures the same magic as the world of Bon Temps, Louisiana, and takes it to another level. No matter how unlikely or fantastic an element [Harris] might introduce into her pages it's always down-home and believable. She's the Mark Twain of things that live under your bed.
—Houston Press
[/quote]
[quote]As intimate and deep as the Stackhouse novels.
—Library Journal
[/quote]
The #1 New York Times bestselling author who created Sookie Stackhouse and her world of Bon Temps, Louisiana, "is back with a vengeance" (Tangled Web) with this first book in an all-new trilogy—and inviting readers to an even darker place on the map…

Welcome to Midnight, Texas, a town with many boarded-up windows and few full-time inhabitants, located at the crossing of Witch Light Road and Davy Road. It's a pretty standard dried-up western town.

There's a pawnshop (someone lives in the basement and is seen only at night). There's a diner (people who are just passing through tend not to linger). And there's new resident Manfred Bernardo, who thinks he's found the perfect place to work in private (and who has secrets of his own).

INCLUDES AN EXCERPT FROM THE NEXT NOVEL IN THE SERIES, DAY SHIFT
[author] [author_image timthumb='on']http://rabidreads.ca/wp-content/uploads/2015/03/Charlaine-Harris.jpg[/author_image] [author_info]
Author Bio
Charlaine Harris a
New York Times
bestselling author who has been writing for thirty years. She was born and raised in the Mississippi River Delta area. Though her early works consisted largely of poems about ghosts and teenage angst, she began writing plays when she attended Rhodes College in Memphis, Tennessee. She switched to novels a few years later, and achieved publication in 1981 with
Sweet and Deadly
.
After publishing two stand-alone mysteries, Harris launched the lighthearted
Aurora Teagarden
books with
Real Murders
, a Best Novel 1990 nomination for the Agatha Awards. Harris wrote eight books in her series about a Georgia librarian. In 1996, she released the first in the much darker
Shakespeare
mysteries, featuring the amateur sleuth Lily Bard, a karate student who makes her living cleaning houses.
Shakespeare's Counselor
, the fifth and last– was printed in fall 2001.
Website | Facebook | Twitter | Amazon | GoodReads
 [/author_info] [/author]
Giveaway
a Rafflecopter giveaway
Related Posts