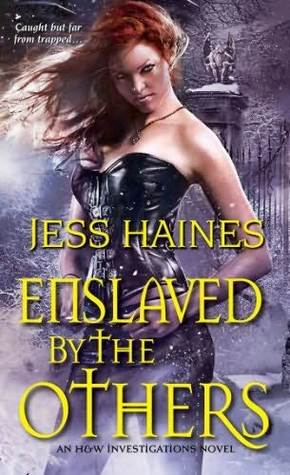 Enslaved by the Others

by Jess Haines
Series: H&W Investigations #6
Published by Zebra
Published on: July 1, 2014
Genres: Urban Fantasy
Pages: 353
Format: eBook
Source: Author

Amazon
|
Book Depo
|
Kobo
|
B&N
 |
GoodReads
Vampires, werewolves, magi and worse-the Others have joined the mortal world, and there's no turning back now...

As a New York P.I. and Other specialist, Shiarra Waynest has been in plenty of trouble before. But waking up in a windowless room the prisoner of a vampire slave trader is a shock for anyone. Shia has her wits, her bravado, and a couple of used staples, so maybe she can take on a mansion full of serious evil.

But although she's desperate to escape, Shia needs some answers too. Her friends are in danger. There are betrayers and spies among them. And even if she can figure out what's going on and somehow get a message out, she's still a captive of the worst kind...
This installment was TAKEN BY THE OTHERS 2.0 with the same overall premise, but without the secondary plot threads to lessen how messed up this series' lead antagonist really is in addition to a few other differences as the title suggests. In this novel the distinction between a 'good' and 'bad' vampire became glaringly evident as the story took on a 'better the devil you know' vibe. The six book long arc came to a close which left me feeling like this might be the last of Shiarra Waynest's shenanigans; it's been nine months since this title was released, and nothing new has been announced.

The H&W INVESTIGATIONS universe has primarily revolved around blood suckers, and werewolves; however ENSLAVED BY THE OTHERS brings a couple of new supes to the field, and I still haven't managed to figure out what one of them was based Jess Haines' clues. I'm hoping that there will in fact be a seventh installment because I NEEDS TO KNOW what's up with Iana! The second Other we hooked up with was Soo-Jin Kumiho, a Kitsune demon fox with 9 tails, so after that little diddy, plus all of the hints with regards to the former's true nature, I'm thinking she's something pretty spectacular.

Just when I thought the darkest novel in this series was behind me, I crack this baby open only to discover that this author's previous horrors don't even begin to scratch the surface. The blurb mentions a slave trader, so that gives you a good indication of the level of depravity you can expect from this story. We learn how the vampire named Mouse became mute after she was immortal, needless to say that it takes a special kind of monster to mutilate a being that can heal almost anything. And, that's merely one example of many. Yeah, this book's fucked up.

Royce's character was shelved once again which was a downer because I really wanted him to go mano e mano against Shia's jailer instead of pulling his minions' puppet strings from a distance. We did get Arthur and Sara though which was a minor consolation. The ending satisfied in an it's about time kind of way; I was happy that Waynest accepted what Alec had to do without protest, and finally acknowledged that her boy toy has been on her side since their first meeting. I'd be ok if this series concluded here, although there's definitely still room for it to expand.

ENSLAVED BY THE OTHERS wasn't pretty, but in the end Shia got get man.
H&W Investigations Series


My Review


My Review


My Review


My Review


My Review
Was this review helpful? If so, please consider voting for it on Amazon or liking it on GoodReads!
Related Posts