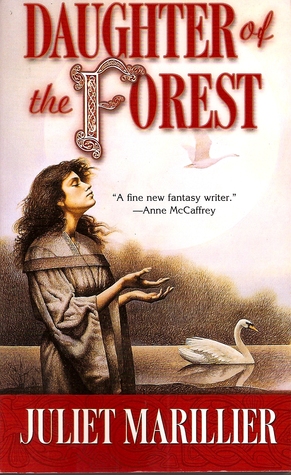 Daughter of the Forest

by Juliet Marillier
Series: Sevenwaters #1
Published by Tor Books
Published on: May 5, 2000
Genres: Fantasy
Pages: 560
Format: eBook
Source: Purchased

Amazon
|
Book Depo
|
Kobo
|
B&N
 |
GoodReads
Lovely Sorcha is the seventh child and only daughter of Lord Colum of Sevenwaters. Bereft of a mother, she is comforted by her six brothers who love and protect her. Sorcha is the light in their lives, they are determined that she know only contentment.

But Sorcha's joy is shattered when her father is bewitched by his new wife, an evil enchantress who binds her brothers with a terrible spell, a spell which only Sorcha can lift-by staying silent. If she speaks before she completes the quest set to her by the Fair Folk and their queen, the Lady of the Forest, she will lose her brothers forever.

When Sorcha is kidnapped by the enemies of Sevenwaters and taken to a foreign land, she is torn between the desire to save her beloved brothers, and a love that comes only once. Sorcha despairs at ever being able to complete her task, but the magic of the Fair Folk knows no boundaries, and love is the strongest magic of them all...
Everything I could tell you about Daughter of the Forest by Juliet Marillier can be summed up in a single paragraph from the story itself:
If I were telling this tale, and it were not my own, I would give it a neat, satisfying ending . . . In such stories, there are no loose ends. There are no unraveled edges and crooked threads. Daughters do not give their hearts to the enemy. The wicked do not simply disappear, taking with them the satisfaction of vengeance. Young men do not find themselves divided between two worlds. Fathers know their children.

But this was my own story.
Daughter of the Forest may have a happy ending, but is not a happy tale. It is full of terrible ironies, of monsters and men, of betrayals and heartbreak and endurance.
And it is absolutely beautiful.
Sorcha is the first daughter who should have been the seventh son. Her mother did not survive her birth, and her parents had loved each other so deeply that her father never fully recovered from the loss.
Instead he threw himself into the protection of his lands, and plotting to win back the three islands of great spiritual significance, stolen by the Britons.
On the rare occasions he was at home:
He didn't smile at me. Or at Finbar. Finbar said that was because we reminded Father of our mother, who had died. We were the two who inherited her curling, wild hair. I had her green eyes, and Finbar her gift for stillness. Besides, by being born I had killed her.
(It burrrrrrrrns us, preciousssssssssssssss.)
But Sorcha had her six elder brothers who carried her along with them on their adventures, and so she was happy.
For a time.
But as her brothers grew, they began to leave, campaigning with their father, and when the eldest became engaged, Sorcha knew that no matter how hard she fought against it, her world was forever changing.
And when the brother she has always been closest to enlists her help in freeing a prisoner, she begins her journey down a path with trials so numerous that the Fair Folk themselves have warned her of what she will face before the end.
I laughed. I cried. I raged. I pleaded. I loved, and my heart was broken. All b/c of this book.
If it wasn't for an ugly rape scene, Daughter of the Forest would have been my second 5.0 star read in over a year, so if you absolutely cannot handle that sort of thing, you have been duly warned. If you're unsure, I strongly suggest you check out Kat Kennedy's review on Goodreads. BUT. If you think you can handle it . . . I know this isn't the first time I've sung Juliet Marillier's praises, but this time I entreat you: if you love fantasy at all, if you love fairy tales or retellings at all, read this book.
It is magic.
Highly recommended.
Sevenwaters:
Was this review helpful to you? If so, please consider voting for it on Amazon or like it on Goodreads!
Related Posts