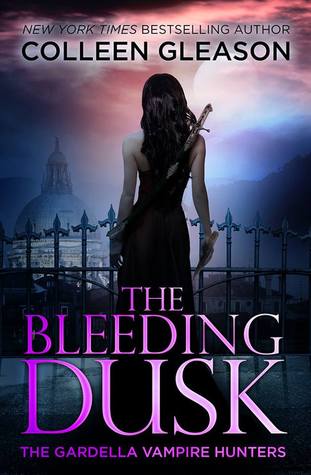 The Bleeding Dusk

by Colleen Gleason
Series: The Gardella Vampire Hunters #3
Published by Avid Press
Published on: September 15, 2014
Genres: Urban Fantasy
Pages: 368
Format: eBook
Source: Purchased

Amazon
|
Book Depo
|
Kobo
|
B&N
 |
GoodReads
Now the undead of Rome race to unravel an ancient mystery--and only one woman can stop them...
As Rome prepares for its Carnivale, the new leader of the city's vampire hunters, Lady Victoria Gardella Grantworth de Lacy--must prove herself as never before. For, in order to gain access to the secrets of a legendary alchemist, Rome's vampires have allied themselves with creatures as evil and bloodthirsty as they are.

Reluctantly, Victoria must turn to the enigmatic Sebastian Vioget for help--just as Max Pesaro arrives to help his fellow slayers, no matter what the price. Desire puts Victoria at the mercy of Sebastian, while loyalty binds her to Max...but can she trust either man?

Especially when a seductive vampire begins luring her into the shadows...


Third in the Gardella Vampire Hunters Series, The Bleeding Dusk, continues to tell the story of a young woman with a destiny that no one would have ever expected. Victoria is a Venator, otherwise known as a vampire hunter, and a member of the only family who has the bloodline with the calling to the profession. There are also other human's that are called, but it is very rare. She only learns of this after she starts to have the dreams that foretell the ability. Now three books in, she has lost her beloved husband to a vampire bite, and after her aunt is killed, she is now the leader of all the Venators.

The story takes place in Rome during the early 19th century-I think. Victoria is a rich widow with a title, and as such, can do pretty much what she wants-as long as her mother and her best friends stay in England. She spends her time with other Venators at the Consilium, the headquarters for the Venators. At night she hunts and stakes vampires. The demon that was called to earth by vampire queen, Lilith's son in the previous book is back. He is trying to find all the pieces of the obelisk that was destroyed previously and would have allowed the dead to rise and kill off the human race. The Venators, the demon, and the vampires, are also trying to find the three keys that will open the door to a long abandoned laboratory that just might hold the secrets of immortality. Victoria is right in the middle of it all, and when her unsuspecting mother and friends show up unexpectedly, things go from bad to worse.

Characters in this book, are written so well that they almost seem to leap off the page. Victoria is wonderful as a once coddled debutante, one that has had her world turned upside down, and now is living an unexpected life to say the least. Along the way, Sebastian has entered her world, and has become her sometime lover, but one that is totally untrustworthy. He is handsome, charming, and oh yes, his beloved great-grandfather(many greats)is one of the strongest vampires that exists in Rome, and therein lies a lot of the trust issues for Victoria. Max, the enigmatic Venator, is back as well. His relationship with Victoria is as usual volatile, with a sort of uneasy working relationship, one that has much more trust-usually. I am on the Max for Victoria's next great love bandwagon for sure. Victoria's mother, and her busybody friends, bring some levity to the story, and because they have no real knowledge of vampires, bring some danger as well, because of some of their unwittingly stupid actions.

If you can't tell, I absolutely am in love with this series. It's just so very different than the same vampire story that I have read a hundred times. I enjoy the characters, both good and villainous, the story line that is always fresh and unique, and the writing that is excellently executed. And to top it all off, the setting in the early 19th century just takes it all to a higher level of different for me.

If you enjoy a creatively unusual, adult urban fantasy/paranormal romance(heavier on the UF side), this could just fit the bill for you.

FYI-This was originally published in 2008 and the entire series is available. (I bought the next one, the minute I finished this one)



Related Posts