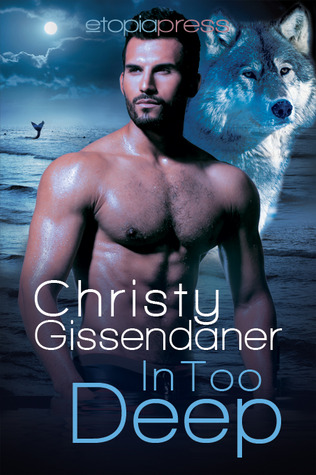 In Too Deep

by Christy Gissendaner
Series: Tybee Island Shifters #1
Published by Etopia Press
Published on: April 2, 2014
Genres: Paranormal Romance, Werewolves
Pages: 196
Format: eBook
Source: Purchased

Amazon
|
Kobo
|
B&N
 |
GoodReads
He'll risk everything for the love of one human.

Agreeing to be her good friend's bridesmaid, Emma Anderson jets off to Tybee Island for the wedding. Her dress is perfect and her shoes are adorable, but her friend's elegant beachside home hides an ancient secret…one that threatens to expose a secret society of werewolves.

Drake Randolph has watched his sister's friend grow into a ravishing woman, but he's always kept his distance. As the heir to the Randolph fortune and the alpha of the Secret Society of Savannah Lycanthropes, Drake cannot afford to draw the innocent little brunette into the dangerous lycan world.

Passion between them soon blazes hotter than the Georgia summer. But when the wrong woman is kidnapped to prevent the wedding of a lycan to a mortal, Drake must risk everything to save Emma from the ones who will see the downfall of all he holds dear.


Hot werewolf shifter anyone? Add in that he is a millionaire, and alpha of the pack, and you have the basis of this book. Throw in a twist or two, some suspense and romance, and you have a pretty good read.

Emma has traveled to Tybee Island for ten days of festivities surrounding her best friend, Alyssa's wedding. She adores her best friend, but even Alyssa doesn't know that Emma is secretly in love with her oldest brother, Drake. She is expecting things to be really difficult around him, but what she doesn't know is that he has a thing for her too, and has had for a long time. As he is the alpha of his pack, he can never be with a human, so he avoids her. Of course being in this close proximity with him for these events is bound to bring them into each others orbit a lot, and that's what happens. Behind the scenes his pack is in turmoil due to Alyssa marrying a human, because it goes against every law of the pack. When Drake stands up to the pack, some members are really not happy. As in scary not happy!

Emma is a beauty, but she was raised in the middle class so she isn't exactly in her element at this huge family beach front mansion. Alyssa is wearing designer outfits, and Emma is buying her clothes off the sales rack at Target. To make matters really weird, whenever she goes near the ocean, she feels drawn to it, or the waves seem to move at her will. This has never happened before now. Drake is aware of the ocean's strange behavior around her also. I enjoyed both of their characters, and was rooting for them to finally get together, even though it's supposedly not possible. There are also twin brothers in Drake's family, and they are country singers located in Nashville. From what I understand, the next book is going to be about one of them. I am always up for a famous musician romance, throw in a werewolf, and I am so there!

This ended up being a bit more then just a lighthearted romantic read. An angry pack, a few scary incidents, and Emma's new abilities made it a more satisfying, and at times suspenseful read. So I did have a good time with the characters,the premise, the island setting, and of course the romance. I should mention that it has some really hot sexy scenes as well, although I didn't consider it true erotica.

I would recommend this to adult paranormal romance fans, and I have every intention of reading the next one- you know, because of the hot werewolf country singer romance!



Related Posts