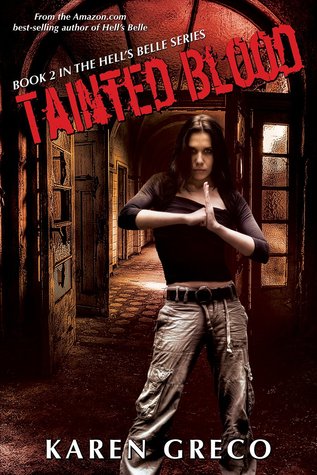 Tainted Blood

by Karen Greco
Series: Hell's Belle #2
Published by Indie
Published on: October 19, 2014
Genres: Urban Fantasy
Pages: 292
Format: eBook
Source: Purchased

Amazon
|
Book Depo
|
B&N
 |
GoodReads
After surviving a vampire assassin (not to mention an awkward affair with a hot FBI agent that ended worse than she could have imagined), witch/vampire hybrid Nina Martinez is reunited with the full Blood Ops team in Providence, Rhode Island. Her Aunt Babe is tutoring her in all things witchcraft, and her vampire partner Frankie is enjoying the benefits of daywalking, courtesy of a demon spell.

When a segment of the Rhode Island vampire population is marked for death by a tainted blood supply, Nina and her team race to find Patient Zero before the local vampire population is wiped out. But when a demon infestation threatens to take control of the city, Nina must join forces with newly elected mayor—and closet demon— Ami Bertrand before the city falls into ruin.

Filled with fast-paced, edge-of-your-seat action, Nina and her group of supernatural misfits battle a surprising new enemy that threatens their very existence.


I am not one of those people that can remember details from books I have read, unless I am reading a series back to back. So I may remember wanting to read the next in a series, but I don't necessarily remember why. I knew I loved Hell's Belle, the previous book in this series, and had been keeping half an eye out for the next one to come out, so I was really pleased when I saw it was now published. It didn't take me long to realize why I wanted to read it. The main reason being, how fun the whole read was. Laugh out loud moments, and snark can be fun in urban fantasy for sure.

Nina is a half vampire, half witch, who is working for a secret government agency that is tasked with cleaning up the messes that supernatural creatures cause. Her partner is Frankie, an old but still young and handsome looking, vampire. He cares about Nina a lot, more then Nina is comfortable with at times. Max is a recent recruit to the agency. He's still FBI, but since being turned by a demon in the last book, to berserker, he now works for both agencies. Nina and Max had a short lived thing in the last book, but that's all over with now. Or maybe not? This time around, Nina, Max and Frankie are forced by a demon, into being a protective detail for a rock star that's coming to town. Whenever the band plays, deaths and destruction follow. The rocker also happens to be Nina's cousin, one that she has never met. To make matters worse, someone is supplying beta vampires with tainted blood, and they are dropping like flies.

"Men. They wont ask for directions, but they'll ask a demon for a favor" is just one of the many snarky thoughts in Nina's head. I loved her sarcastic mouth, and thoughts so much, because they provide so many laugh out loud moments in this book. There are many of these moments, but the book is also very serious at times. People die, demons possess, and beta vampires literally explode. Mayhem literally reigns in the city at times. Through it all, Nina is a kick ass main character that thinks everything has to be done by her or it wont get done. I love Frankie's character as well. He was my favorite from the last book, and he still is. He has recently been given the ability to daywalk by a demon, and discovered the mall and shopping. That made for some of the lighter moments as well. Max is a total alpha male, and still getting used to his berserker side. There are lots of other good characters, Darcy, Nina's best friend, and a banshee, Casper(nickname), an eighteen year old ghost witch, that jumps in and out of Nina's body, and Bertrand, the demon mayor, are just a few more of the characters that round out this book.

As you can probably tell, the world building is extensive, and very thought out by the author. Most of it is doled out in little snippets, but at times we do get longer explanations as needed. I found this to be a well written, and interestingly plotted book. The ending had me chomping at the bit to get the next one asap, but I guess I just will have to wait patiently. If you decide to read this, make sure you have time to read, because it really does draw you in really fast. Adult urban fantasy fans are probably the target audience, but I think people that just like a fun read, with lots of action might also enjoy.



Related Posts