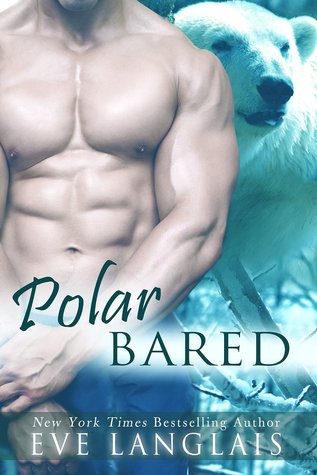 Polar Bared

by Eve Langlais
Published by Amazon Digital
Published on: 11/4/14
Genres: Paranormal Romance
Pages: 256
Format: eBook
Source: Purchased

Amazon
|
Kobo
|
B&N
 |
GoodReads
Gene only has one thing on his mind, vengeance, until Vicky crashes into his life.

When Vicky accidentally slides into the side of a polar bear, she doesn't expect to fall in love. Eaten yes, perhaps used as a chew toy, but become the object of a bear's affection and lust?

Crazy! Almost as crazy as the fact the polar bear turns out to be a man. A sexy man. A man who growls, and roars and does everything he can to chase her away.

Only to come back.

Poor Gene. After the pain and betrayal he suffered in the war all he wants is vengeance against the brothers who left him behind. But he's confused when instead of wanting to punish him for his evil acts, they offer him forgiveness.

As if that weren't annoying enough, the cutest geek he ever met—with caramel kissed skin covering a lush, rounded figure and wearing the sexiest dark rimmed glasses—won't leave him alone. Or more like, he can't seem to stop following her. And it isn't just because someone is out to hurt her.

He wants her. But does he want her more than vengeance?

Welcome to Kodiak Point, where the wildlife might wear clothes, but animal instinct rules the heart.
Polar Bared is book three in a humorous paranormal romance shifter series by Canadian author Eve Langlais.  In this book, we have an anti-hero Gene, a polar bear and former military guy suffering from PTSD.  He blames his military unit for his capture and inability to rescue him.  He is set on vengeance.
Vicky is a heavier woman who had recently lost her husband.  She is independently wealthy, so she doesn't really need to work.  She decides to go do research on polar bears up in northern Canada.  She isn't quite the adventurous type.  She wears glasses, is clumsy and overweight, which doesn't make things easy for her in the Arctic.  Oh, and she faints a lot.  This doesn't bode well for her when she slips and slides down the ice right into the side of a scared, grouchy polar bear.
This is a series that is funny, sexy, suspenseful, action packed and did I mention funny.  I mean you have a gruff, sexy, scared old polar bear chasing after a geeky, overweight, clumsy heiress.  They are running from some really bad guys chasing them.  The bad guys came at them with were-rabbits.
"Evil bunnies attack. Did they smack you in the shins with their big, floppy ears?"
"Not to mention, a rabid rabbit bit my leg. A wolf, that's respectable. A caribou gore, a fine battle wound, but getting chewed on by a bloody bunny, I won't have it."
This is a third book in the series and while you would probably be okay if you read the series out of order, I think you would get a lot more from reading them in order.  They are all great books.  Book two even has a moose shifter for the hero, so you'll want to check that out.



Related Posts