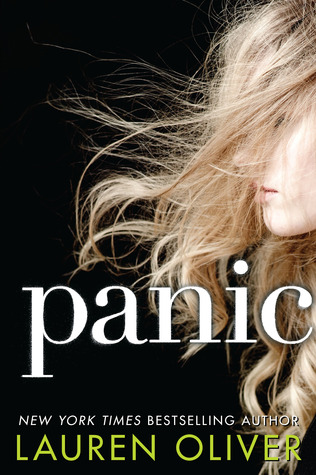 Panic

by Lauren Oliver
Published by HarperCollins
Published on: March 4, 2014
Genres: Young Adult
Pages: 408
Format: Hardcover
Source: Purchased

Amazon
|
Book Depo
|
Chapters
|
Kobo
|
B&N
 |
GoodReads
Panic began as so many things do in Carp, a dead-end town of 12,000 people in the middle of nowhere: because it was summer, and there was nothing else to do.

Heather never thought she would compete in Panic, a legendary game played by graduating seniors, where the stakes are high and the payoff is even higher. She'd never thought of herself as fearless, the kind of person who would fight to stand out. But when she finds something, and someone, to fight for, she will discover that she is braver than she ever thought.

Dodge has never been afraid of Panic. His secret will fuel him, and get him all the way through the game, he's sure of it. But what he doesn't know is that he's not the only one with a secret. Everyone has something to play for.

For Heather and Dodge, the game will bring new alliances, unexpected revelations, and the possibility of first love for each of them—and the knowledge that sometimes the very things we fear are those we need the most.


Holy cow. I loved this book. It was nothing at all what I expected it to be. It really had me hooked and needing to know what was going to happen to the characters. I loved Lauren Oliver's Delirium trilogy and this book did not disappoint.

The POV changes between Heather and Dodge. Heather is just your normal high school girl. She's always felt insecure about her looks and the fact that she's 5'11. She has two best friends, Bishop and Natalie, that she always spends her time with. She lives in a trailer park with her mother and younger sister, Lily. Her mother is a drug addict. Heather never wanted to play in Panic, but the night of the first challenge, to be entered in the game, she decided on impulse to just do it. Natalie also entered because she wants to get out of that town and become an actress and use the money to do so. After competing in the entering challenge, Heather figures out what she wants the money for and that is to get her and her little sister out of that trailer park and away from their mother so Lily doesn't after to be around that. Panic is a game that can be played only by graduating seniors. The whole school  year students will put a certain amount of money into the pot and at the end of the year that is what the winner receives, after the judges get paid. The trick is that no one knows who the judges are. They could be anyone. The challenges that the competitors have to go through can get very dangerous and the cops start trying to figure out who is in charge of Panic but if anybody talks about it, they get beat up pretty bad or if they are competing in the game, they get disqualified. Dodge has his own reasons for wanting to compete. His sister, Dayna, competed in it a year before he did and in the final challenge, Joust (where the last two players get a car and drive towards each other and the first to swerve away loses), she got in a bad accident and can no longer move her legs. Dodge blames the guy she was going up against and he really just wants to get revenge on him by going against his younger brother. It's definitely not good what he wants to do to his younger brother. Both Heather and Dodge figure out a lot about themselves through out the story and by competing in this game. Some chapters I couldn't believe what they were doing and how they handled it, I wanted to scream! But it is definitely suspenseful and heart warming.

The challenges they have to go through are everything from breaking and entering to dangerous stunts. I couldn't put the book down, unless I had to, because I just needed to know what was going to happen. I thought reading the synopsis that this was going to be kind of like a dystopian type read but it really wasn't at all. It's just a small town that kept on the tradition of a game created by seniors. I loved the characters and the twists and turns through out the story. This is just a standalone novel, so there is no cliff hanger and I was very happy about the ending. I can't wait to read what Lauren Oliver has for us next!



Related Posts