1. Nevada is a truthseeker, Adam is a pyrokinetic (fun fact: I accidentally typed "psychokinetic" the first time I put this together *snickers*), Mad Rogan is telekinetic, and I counted no less than a dozen other specific types of magic users. How many types are there, or are they infinite?
[box]There are three main types of magic: elemental, mental and arcane. We have a detailed breakdown at
http://hiddenlegacy.ilona-andrews.com/types-of-magic/
. I don't think anybody counted the different specialties within the magic types. There are just too many.[/box]
2. What's Mad Rogan been doing since he left the military?
[box]According to Herald, the social network for House groupies, he spent his days in tortured solitude waiting for the love of the right woman to heal all his wounds. In truth, Connor can't stand being inactive for too long. That's just not the way he is wired. His experiences in the war very were traumatic to him. In the next book, someone tells Nevada that Connor Rogan died in the war. That's not necessarily an inaccurate assessment. The man who came back wasn't the same who had left and Rogan's activities had been largely dictated by his time in the service. In very general terms, he spent that time strengthening his House.[/box]
3. Are there any Mad Rogan POVs coming our way in the future (oh please, oh please)?
[box]We would have to get Gordon to do it. I just asked him if it was a possibility and he said, "Sure." I think he should do one.[/box]
4. Is Hidden Legacy firmly a three book series? B/c, you know . . . I don't think anyone would be upset if there ended up being more books . . . Just sayin' . . .
[box]Thank you! We are so glad that you guys liked it this much. Right now we have a firm plan for three books. Nobody knows what the future will bring. [/box]
5. How does Grandma Frida happen to "know a guy" who can implant murena into Nevada?
[box]Well, here is the thing: Grandma Frida and Makarov happened to serve together and had ran into each other several times. Grandma Frida is a very attractive older lady and Sergeant Major, being a widower, had noticed that fact. It was a safe bet that if she asked him to do something, he would probably do it.[/box]
6. Montgomery International Investigations clearly knew that Nevada was the money maker in her family's business, and that everyone else was essentially fluff as far as fieldwork went. Did MII buy the Baylor Investigative Agency purely to have a scapegoat on hand, or did it just work out that way?
[box]MII bought the Baylor Agency because they felt it would be a good investment. Augustine personally didn't actually know that Nevada was the sole bread winner, because while internal review had been done prior to mortgage, Augustine never had a cause to pay attention to it. He is the head of his House and the only reason Baylors appeared on his radar was because MII needed a scapegoat to placate House Pierce.[/box]
7. Nevada's father's family . . . what can you tell us?
[box]They are like all families, a little crazy, way too loud, and way too sensitive about everything. They're not one of those families where family members do not share their feelings. Given a chance, Baylors will talk to each other and argue until they collectively pass out. They love each other very much. Which doesn't mean they are perfect or that everyone is great. They have their share of problems. Bern's and Leon's mother is awful, for example.[/box]
8. Mad Rogan and Nevada can't do anything to stop Adam when he's doing serious magic, b/c he's in "null space" outside the physical world. Makarov said that they "reached into magic and pulled [the murena] out." What is this arcane realm, and does the "change" that's coming have anything to do with it?
[box]The arcane realm is a theoretical place of pure magic. Nobody knows much about it. Some people, those with arcane type of magic such as summoners, for example, can use it, but they use it in the same way most people "use" gravity. Overwhelming majority of human population probably can't rattle off the formula for the law of gravitation, but everyone is aware that gravity is there and it exists. Arcane realm is a mysterious, unexplained place. There are whole branches of magic and science that are devoted to prying back the curtain and trying to catch a glimpse of how it works.[/box]
9. Nevada's the softest heroine we've seen from you so far. What made you decide to write such a different type of character? Was it necessary in order to have someone who could balance Mad Rogan?
[box]I don't know if soft is the best way to describe her. Nevada assumed responsibility for feeding her family, put herself through college while working full time, and doesn't hesitate to defend those she loves. That requires a lot of discipline and dedication. But she doesn't have Kate's training or Rose's devastating magic, so she approaches violence with caution. When we wrote her, we wanted to write an almost ordinary person, someone who is shocked when she sees someone murdered and traumatized when she has to shoot someone for the first time.
Too many times we, as writers, fail to convey the sense of wonder. I remember reading a book when I was a teenager. I don't recall the title now, but the story revolved around vampires. It was very atmospheric and tense, and when the vampire finally revealed himself, the characters were so shocked that I was shocked with them. The vampire itself had pretty average set of powers, but because everyone was so stunned, his appearance was an event. Their reactions made him extraordinary.
I think that sometimes stories in UF and PNR suffer from the lack of that build up, that sense of discovery, when you read a revelation and think, "Wow!" Too often – and we are probably among the worst offenders – the stories are so full of magical elements, that nothing is a big deal. Killing monsters by dozens and having a world populated by a score of fantastic creatures seems almost normal, even slightly boring.
Nevada was our way of bringing back a little bit of that sense of wonder. When she collides with the ruthless world of Primes and Houses, everything is new to her. We like to think that she reacts the same way most of us would react when thrust into a dangerous situation against our will.[/box]
Lightning Round
Bread or Chocolate?
Smoked Salmon.
Thor or Loki?
Heimdallr.
UF or PNR?
Space opera.
Sudoku or Crossword?
Crossword.
Favorite Disney Princess?
Rapunzel. I love her dorkiness.
Favorite supernatural creature?
Werewolf (Carmel: YEAH!!!). I don't know, I still like them the best.
Favorite carbonated beverage?
Cream Soda.
Celebrity crush?
Eh. I have to think… I don't usually crush on celebrities, I crush on characters. You know what, the most recent fascinating character to me was John Wick played by Keanu Reeves. Let's go with that.
Favorite fairy tale?
I'm partial to Russian ones, because I grew up with them. If I had to pick one most people would be familiar with, I'd pick Beauty and the Beast.
Favorite 1980's song?
Who Wants to Live Forever by Queen.
[author] [author_image timthumb='on']http://rabidreads.ca/wp-content/uploads/2014/10/IlonaGordonAndrews.png[/author_image] [author_info]
Author Bio
"Ilona Andrews" is the pseudonym for a husband-and-wife writing team. Ilona is a native-born Russian and Gordon is a former communications sergeant in the U.S. Army.
Contrary to popular belief, Gordon was never an intelligence officer with a license to kill, and Ilona was never the mysterious Russian spy who seduced him.
They met in college, in English Composition 101, where Ilona got a better grade. (Gordon is still sore about that.) They have co-authored two New York Times and USA Today bestselling series, the urban fantasy of Kate Daniels and the romantic urban fantasy of The Edge and are working on the next volumes for both.
They live in Texas with their two children and many dogs and cats.
Website | Newsletter | Twitter | Facebook | GoodReads
 [/author_info] [/author]
About The Book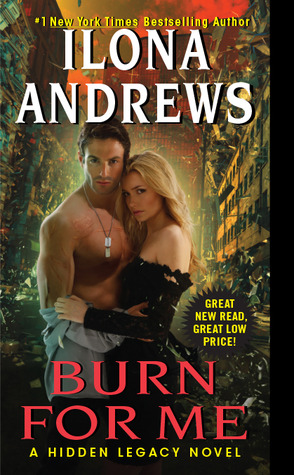 Nevada Baylor is faced with the most challenging case of her detective career-a suicide mission to bring in a suspect in a volatile case. Nevada isn't sure she has the chops. Her quarry is a Prime, the highest rank of magic user, who can set anyone and anything on fire.

Then she's kidnapped by Connor "Mad" Rogan-a darkly tempting billionaire with equally devastating powers. Torn between wanting to run or surrender to their overwhelming attraction, Nevada must join forces with Rogan to stay alive.

Rogan's after the same target, so he needs Nevada. But she's getting under his skin, making him care about someone other than himself for a change. And, as Rogan has learned, love can be as perilous as death, especially in the magic world.


A big thank you to Ilona Andrews for dropping by Rabid Reads, and taking the time to answer my questions! If you missed my BURN FOR ME review a couple of week's ago, you can catch-it here.



Related Posts