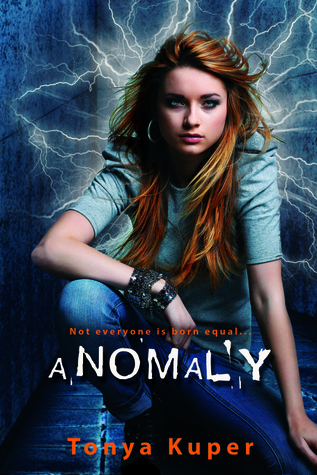 Anomaly

by Tonya Kuper
Series: Schrodinger's Consortium #1
Published by Entangled Teen
Published on: November 25, 2014
Genres: Science Fiction, Young Adult
Pages: 400
Format: eARC
Source: NetGalley

Amazon
|
Book Depo
|
Kobo
|
B&N
 |
GoodReads
Reality is only an illusion.
Except for those who can control it…

Worst. Birthday. Ever.

My first boyfriend dumped me—happy birthday, Josie!—my dad is who knows where, I have some weird virus that makes me want to hurl, and now my ex is licking another girl's tonsils. Oh, and I'm officially the same age as my brother was when he died. Yeah, today is about as fun-filled as the swamps of Dagobah. But then weird things start happening…

Like I make something materialize just by thinking about it.

When hottily-hot badass Reid Wentworth shows up on a motorcycle, everything changes. Like, everything. Who I am. My family. What really happened to my brother. Existence. I am Oculi, and I have the ability to change reality with my thoughts. Now Reid, in all his hotness, is charged with guiding and protecting me as I begin learning how to bend reality. And he's the only thing standing between me and the secret organization that wants me dead…


Young Adult science fiction anyone? I never thought I would read YA, but I am finding more and more that are well written, with very creative premises. This book fit right in with that.

It's Josie's seventeenth birthday, her boyfriend breaks up with her, her dad has been missing for awhile, her summer placement has fallen through, and out of the blue, two extremely good looking guys show up at her school. And actually, that was a laugh out loud scene at one point for me. At a party later on that night, she meets the two guys, Reid and Santos. Reid takes her out for a ride, and shows her things about herself that she could not ever dream of, but it does explain the why of some weird thing that have been bothering her. When a man tries to kill her, the story completely ramps up. I guess you could say it was not her best birthday.

The story is told by both Josie and Reid, first person perspective. That really helped in explaining a lot in this story. Josie is a total physics nerd, but is attractive, and does have good friends. Star Trek and Star Wars topics come up many times, not to mention all the physics references. I was a bit lost with those-with the exception of the early Star Wars ones. Reid is an operative in the resistance against the Consortium, a group that is trying to police people with abilities like Reid and Josie possess. They also have nefarious reasons for this-also known as being the villains of the story. Comic relief is provided by Santos, at least most of the time.

Action, deaths, betrayals, and a good romance round out this well written story. I know there are a lot of books out there that feature a teenage girl finding out what she is, or that she is going to change/save the world. I've read a few, and have turned away from a lot more as being the same thing over and over again. I thought this one completely worked, and was written in such a way that it was a one day read for me, as I didn't want to put it down.

On purpose, I haven't touched on anything about their abilities, or what Josie, Reid and Santos are, although I think the blurb kind of already did that. Suffice it to say that I found it to be a different, and very creative premise, and I enjoyed the whole thing. Thankfully, there's not a bad cliffhanger, although there's a whole lot of story still to be told, and I have every intention of reading the next one. How could I not? It was just that good!

Due to violence, I would recommend this for YA readers, at least 14 plus, up to adult. I received this book from Net Galley in exchange for an honest, and fair review.



Related Posts