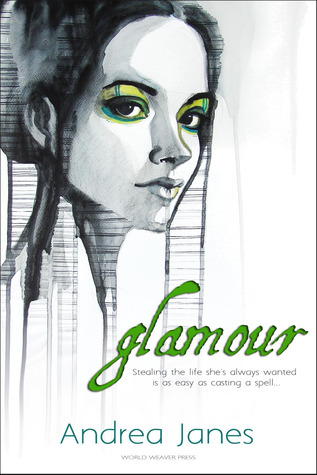 Glamour

by Andrea Janes
Published by World Weaver Press
Published on: March 12, 2014
Genres: Fantasy
Pages: 219
Format: eBook
Source: Purchased

Amazon
|
Book Depo
|
B&N
 |
GoodReads
Stealing the life she's always wanted is as easy as casting a spell.

Townie. That's what eighteen-year-old Christina Sundy is. All year round she lives in a one-stoplight town on Cape Cod, and when summer comes, she spends her days scooping ice cream for the rich tourists she hates. So when one of them takes a job in the ice cream shop alongside her, she's pissed. Why does a blonde and perky Harvard-bound rich girl like Reese Manning want to scoop ice cream anyway?

Something else weird is happening to Christina: tiny blue sparks seem to be shooting off her fingers. It isn't long before she realizes the truth about herself—she's actually a powerful hereditary witch. But her newfound powers are too intense for her to handle and, in a moment of rage, she accidentally zaps Reese into another dimension.

So that no one will notice that the rich girl has disappeared, Christina casts a disguising spell, or "glamour," and lives Reese's life while she tries to find a retrieval spell. But as the retrieval spell proves harder than anticipated, and as she goes about living Reese's life without anyone on the outside noticing the switch, Christina realizes that there's nothing to stop her from making the glamour permanent... except, of course, her fellow witches, a 16th century demon, and, just maybe, her own conscience.

This edition contains a Reading Group Supplement with questions for discussion and a conversation with Andrea Janes


I did something really strange the other day. I actually had the chance to read something from my huge TBR pile. I just paged back in my Kindle, and picked one. Turns out it had been there since August, and I actually have no memory of buying it, you know, cause of that one click thing. I ended up having a really good time reading this book, and decided to review it.

If you like witch books, especially witch books about someone that has no idea that they are a witch, then you might really like this one. Christina is eighteen, and a townie in a resort town on Cape Cod. She's in a dead end job, working at a ice cream store, Scoops, and has no idea what she is going to do with herself now that high school is over. She's got self confidence issues, is very defensive with everyone, and has no friends her own age, except for a loser, cheating, boyfriend. Reese has it all, she's a beauty, is thin, rich, and getting ready to go to Harvard. She's everything Christina isn't, but for some reason comes to work at Scoops, and befriends Christina. This also coincides with Christina manifesting blue sparks out of her fingertips, and causing some pretty bad storms. She only tells Reese, even though her close friend Bridget, owner of Scoops, and her late mother's friend, should have been her first choice. The two girls start playing around with spells. Something bad happens, and Reese gets knocked into another world. This is the story about what happens to Christina when she decides to use glamour to take over Reese's life until she can find a way to get her back.

I mostly really liked the character of Christina. She's full of sarcasm, which I like, but at times, she started to make some really bad decisions, and I started to not like her. But that's kind of when life lessons came into play-usually a good thing. Bridget was an interesting character as well, and probably my other favorite in the story. I think that's because she's a good person, one that looks for the good in people, even when they are doing wrong. As Christina's surrogate mom, she excelled in that. Reese wasn't in the story as much, but is the catalyst for most of what happens, so was very necessary to the story. Matt, a young man working at Scoops, was a good person as well, and one that could see the good in Christina. He only has a small but pivital role in the story, and it mattered. There is of course a villain in this story. I don't want to say any more than that because of spoilers.

Will Christina manage to get Reese back, or will she take over Reese's life completely? That's the question here. Is there even a way to get Reese back, is another question to be answered. Along the way are some surprises, and actually some life altering moments for Christina. There's other witches, both good and bad, and even a demon. I thought this book was well thought out, and executed by the author, and read it really quickly. I don't know if it's going to be a series, but it certainly could be, and if it becomes one, I will definitely be reading it.



Related Posts