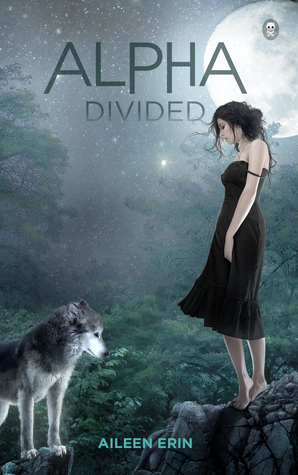 Alpha Divided

by Aileen Erin
Series: Alpha Girl #3
Published by Ink Monster
Published on: October 14, 2014
Genres: New Adult, Werewolves
Pages: 213
Format: eARC
Source: NetGalley

Amazon
|
Kobo
|
B&N
 |
GoodReads
Life has been crazy since Tessa McCaide moved to Texas. She's gone from being a normal-ish girl with visions to a super-powered werewolf. She's fought off vampires and broken a nearly unbreakable curse. And she's got a hot mate, Dastien Laurent, to keep her busy.

Things are looking up until the full moon ceremony rolls around. Before Tessa can strengthen her bond with Dastien, the local coven crashes the gates, demanding that Tessa—their heir apparent—be returned. If the pack wants to avoid a war with the witches, handing Tessa over is the only option.

Tessa doesn't want to cause an all-out fight, but joining a dark-magic coven isn't on her to-do list, especially if embracing her magic side means parting with Dastien. When the coven leader tries to control Tessa with dark-magic, Tessa realizes she has to dismantle the coven or prepare the pack for war. Either choice will change her life—and her world—forever.
ALPHA DIVIDED was everything that AVOIDING ALPHA should have been with its bruja plot line, True Mates romance, and full bodied adventure. Tessa really came into her own in this installment by not only embracing her werewolf half, but her witch roots as well. The villain was easy to hate, tied in nicely with the previous novel, and helped expand the ALPHA GIRL world by adding demons, fey, and the possibility of having to 'out' supernaturals to humans in the near future. My complaint about the price vs. length remains mind you; two hundred pages (bk 2 & 3) shouldn't cost the same as four hundred (bk 1) in my opinion, and I wish that Aileen Erin would have ended this tale with the full moon ceremony rather than forcing readers to wait until AFTER the upcoming 'Claudia's trip to Peru' story due out in May 2015.

I've been looking forward to spending more time with Tessa's cousins ever since their characters were first introduced, so I was pleased that the vast majority of this book took place in la Aquelarre. Life in the coven is very different than St Ailbe's, especially under Luciana's leadership. I've heard of roughing it, but this was an extreme case with thirties style housing, no tech, and a kill switch on every member's land line. I enjoyed learning more about McCaide's family through her visions, and great aunt, Tia Rosa. The craft aspects were equally well-developed with Daniel's spell lessons, Alverez's dark mojo, and the game changing ritual. Tessa's failed attempts at learning magic were downright laughable—those poor jars!—however, she eventually realized that her strengths lie elsewhere, and finally embraced her visions.

The plot was easy to follow, and the outcome was foreseeable because the Big Bad broadcast her intentions in the opening chapters, but that in no way lowered my overall enjoyment. There were still a number of unanticipated surprises, and the ending managed to catch me off guard with a regrettable character death. I liked the shout-outs to FIREFLY, THE MATRIX, and Christine Feehan's SEA HAVEN novels, and McCaide's eclectic taste in music was fitting given this is New Adult. The author also broadened the ALPHA GIRL universe by roping in the fey, demons, and sorcerers. I wish that the heroine's brother and BFF hadn't been sidelined, although it did make sense on account of the la Aquelarre locale, and Claudia & Raphael were an acceptable substitution.

I was disappointed that Dastien didn't appear in more scenes, however the ones he did have packed a formidable punch which certainly went a long way in appeasing me on that front. Tessa obviously needed to learn how to stand on her own two feet before committing herself to one man for the rest of her life, especially given all of the recent changes she's had to deal with, and I think this novel accomplished that. I wasn't sold on the whole insta-love thing in the earlier installments, but their relationship has now reached a happy place. This story began with Tessa and Dastien's full moon ceremony getting interrupted, so I was peeved that the author didn't conclude with that, and learning that the werewolves will be MIA in book 4 didn't exactly help.

Hiccups aside, ALPHA DIVIDED renewed my love of this series, and I look forward to reading not one but TWO new ALPHA GIRL novels in 2015!
Alpha Girl Series


My Review


My Review
Was this review helpful? If so, please consider liking it on GoodReads or voting for it on Amazon!
Related Posts