Books have been an important part of my life for as long as I can remember, and the same can be said of music. Those who have interacted with me online may have guessed that I have very eclectic tastes in music. While my current preference is metal, I love everything from classical to jazz to rock. I also have a quirky sense of humor. And both have found their way into my Immortal Guardians series. You can blame my background. I took eleven years of piano lessons. My father played multiple wind and string instruments. My grandfather played in a big band and rubbed elbows with legendary jazz performers. And teasing each other was a way of life in my family. Still is, actually.
So some of the tunes that trickle their way into my series may not be what you might expect to find in books that feature powerful immortal warriors who hunt psychotic vampires for a living. Immortal warriors who also have been drawn into battles with human mercenaries that rival something found in a Michael Bay film. But my Immortal Guardians are like one big family. They laugh and tease and prank each other as siblings often do. And that can sometimes inspire odd musical mentions. How odd, you may ask? Here's a sample:
An Immortal Guardians Playlist
Down With the Sickness -Disturbed
Squirrels in My Pants – 2 Guys in the Park
Perfect Drug – Nine Inch Nails
I Feel Pretty – West Side Story
Before I'm Dead – Kidney Thieves
I Wanna be a Cowboy – Boys Don't Cry
At Last – Etta James
Spiders and Snakes – Jim Stafford
Droppin' Plates – Disturbed
[author] [author_image timthumb='on']http://2.bp.blogspot.com/-tCcoFpmOSZw/UlPymreWFnI/AAAAAAAAJBE/rjbmtvhtaGQ/s1600/DianneDuvallAuthorPicSm.jpg[/author_image] [author_info]
Author Bio
Dianne Duvall is the New York Times and USA Today Bestselling Author of the Immortal Guardians paranormal romance series. Her debut novel DARKNESS DAWNS was nominated for the RT Reviewers' Choice Award for Best Vampire Romance by RT Book Reviews, for Best Paranormal Romance – Vampire by The Romance Reviews, and for Best Book of 2011 by Long and Short Reviews. NIGHT REIGNS (Book 2 in her Immortal Guardians series) was declared an "utterly addictive" Top Pick by RT Book Reviews. PHANTOM SHADOWS (Book 3) was deemed a Top Pick by both The Romance Reviews and by Night Owl Reviews. Her Immortal Guardians novella "In Still Darkness", published in the PREDATORY anthology, was praised by Publishers Weekly for its "rich characterizations and kick-butt action." DARKNESS RISES (Book 4) has been nominated for the RT Reviewers' Choice Award for Best Vampire Romance by RT Book Reviews and chosen as a Top Pick by both The Romance Reviews and Night Owl Reviews.
Dianne loves all things creative. When she isn't writing, Dianne is active in the independent film industry and once even appeared onscreen as a machete-wielding maniac not unlike the vampires she so loves to create in her novels.
DianneDuvall.com | Blog | Facebook | Twitter | Pinterest
[/author_info] [/author]
My Review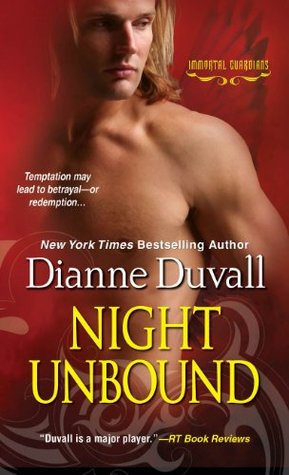 Night Unbound

by Dianne Duvall
Series: Immortal Guardians #5
Published by Zebra
Published on: September 2, 2014
Genres: Paranormal Romance
Pages: 433
Format: ARC
Source: Author

Dianne Duvall's Immortal Guardians protect humanity from unspeakable horrors--but their hearts are as fragile as any mortal's. . .

For centuries, Lisette d'Alençon has been a warrior against the dark. She fights alongside her brothers and comrades. But when the dreams start coming, she can't bear to confess them to the Immortal Guardians' command. Dreams of a dark-haired man with soft eyes and brutal wounds, a man her heart aches for--and a man she knows has been declared a traitor.

Zach is an exile, a loner. He won't defend himself against false accusations or grovel to those who should have faith in him. But he'll damn sure defend the woman who kept him sane against a plague of super-vamps that seems to have appeared from nowhere. The Guardians will blame him, and that will make Lisette suspect, too. With life, death and eternity on the line, who can they really trust?
NIGHT UNBOUND is the first installment in Dianne Duvall's IMMORTAL GUARDIANS series that revolved around a female character, and although Lisette & Zach's tale was undoubtedly passionate, it didn't quite measure up to its male counterparts. Some major questions get answered with regards to the main story arc, and there's no shortage of action or romance, but I failed to connect with the protagonists which caused the love scenes to lack chemistry. After four amazing books, I have no problem with giving the author a mulligan because we're all allowed one, that's the rule!

Throughout this series, Duvall has been torturing readers with the origins of the IMMORTAL GUARDIANS, and finally some of my suspicions were confirmed. No big surprises on that front, but it was nice to have my hunches validated, especially the ones about Seth. Speaking of which, I did feel like this story was more about him than Lisette, albeit without the romantic aspects. I am getting a little tired of the supersoldiers plot line; the memory wipe / restore trick is getting old even though it does make sense for the author's eventual end game. I enjoyed meeting the new characters, Ethan and Aidan, and Cliff is quickly becoming one of my favourite underdogs. I also LOVED the shout out to Québec!

I was looking forward to learning more about Lisette d'Alençon, one of the only female IMMORTAL GUARDIANS, because she's been a bit of a wallflower up until this point. Unfortunately, her role in this story seemed almost trivial at times, and her character wasn't developed nearly as much as I would have liked. In fact, she came off as ditzy instead of ferocious which was disappointing because it made her pale in comparison to her male team mates. Zach's another one who's been lurking in the shadows, and the author was somewhat limited as to what she could unveil without giving too much away about the Others, so I didn't mind his murkiness as much.

Things heated up quickly between Lisette & Zach which made NIGHT UNBOUND the hottest installment yet! The latter's telekinetic abilities sure came in handy—no more searching for the elusive g-spot with that card in your deck! However, I did feel like the numerous sex scenes were trying to compensate for this book's lack of relationship growth, and the result was steam without chemistry. I found myself not really caring whether Lisette & Zach got their HEA because their romance was somewhat eclipsed by this series' plot arc, and I just wasn't invested in their love story like I was with previous novels.

If you like a lot of motion in your ocean, then NIGHT UNBOUND is sure to satisfy.
Immortal Guardians Series


My Review


My Review


My Review


My Review
Was this review helpful? If so, please vote for it on Amazon or like it on GoodReads!
Giveaway
a Rafflecopter giveaway
Related Posts