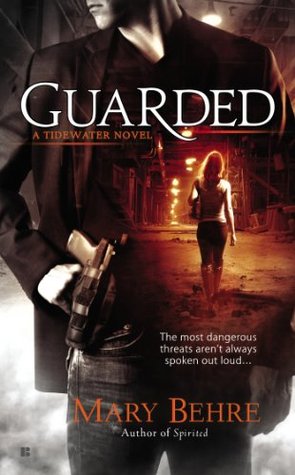 Guarded

by Mary Behre
Series: Tidewater#2
Published by Berkley
Published on: August 5, 2014
Genres: Paranormal Romance
Pages: 320
Format: eBook
Source: Purchased

Amazon
|
Book Depo
|
Chapters
|
Kobo
 |
GoodReads
She's given up on finding love…

Veterinarian Shelley Morgan has always preferred animals to humans, and not simply because she can communicate with them psychically. Unlike most people she's known, animals have never broken her heart. But after six months in her new town, some of her favorite four-legged companions begin disappearing from the local zoo. Determined to track down the animals and their thief, the telepathic vet decides to investigate, unknowingly delving into a deadly mystery.

He's ready to make her heart go wild…

Although his bear-like physique has been an advantage in the Tidewater Police Department, Dev Jones's size often intimidates people. Only Shelley has seen past his massive build to the intelligent man inside, but that was years ago. So when she contacts him requesting his help to solve a series of animal kidnappings, he's eager to reconnect with her. But the thefts escalate to murder and all the evidence points to Shelley as the killer, and Dev faces a devastating choice: forsake his career or risk losing the woman he's grown to love…


Spirited, the first book in this series, was an enjoyable read, so I was excited when this book was released, and bought it soon after. I purchased it on August 8th, and finished it today, on Sept. 10. Why did it take me so long to read it? I kept putting it down, because it just didn't hold my interest. I was reading other books, even though I was halfway done with this one. I really hate it when a second book doesn't live up to the first. To be fair, the last probably third of the book was way more exciting, and fast paced, but I just wish it had been that exciting all the way through.

Shelley is a small town veterinarian, that happens to be gifted with being able to talk to animals. The animals don't talk, but instead show her pictures in her mind, and I guess they understand her when she speaks English to them. This small town boasts a rundown zoo, and Shelley has been tasked with taking care of the health needs of the animals. Someone is stealing the animals, and Shelley is taking the heat because of it. All of the animals are more then happy to "tell" her what they know, but it's not enough, as none have seen the face of the one responsible. She reaches out to her old friend(and crush)from college. Dev is a detective in Tidewater, but he is more then happy to make the trip to Elkridge to help Shelley-his own crush from college, as well.

I enjoyed the characters of Dev and Shelley, for the most part, however, since Shelley is Jules's(from Spirited)long lost sister, I got a bit tired of her not wanting to live near her sister, or get attached to her. The two sisters, along with their still lost sister, Hannah, had all been adopted by different couples. Shelley's adoptive parents are deceased, she has no one else, so it made no sense to me, especially since they remember each other, and have an immediate connection. When she starts acting that way towards Dev, I just got even more tired of it. I don't mean to share spoilers, there just was no other way for me to explain why I got tired of the main character. She also manages to put herself in harms way more then she should, also a pet peeve of mine in a lead character. I did enjoy Jules in this book. She, of course, is still seeing ghosts(her gift)and this happens in this book as well.

It may seem like I have told way more of the story than I should, but this story has a lot more then just this, more characters, more hazardous situations, and more deaths. I just wanted more of the communicating with animals. I loved that premise, and I thought there should have been more then is shown.

If you have read Spirited, and liked it as I did, I think you should still give this a try. If you haven't read Spirited, I do recommend it, and it actually can stand alone. This one might not have been my favorite read, but it sure could be yours!



Related Posts