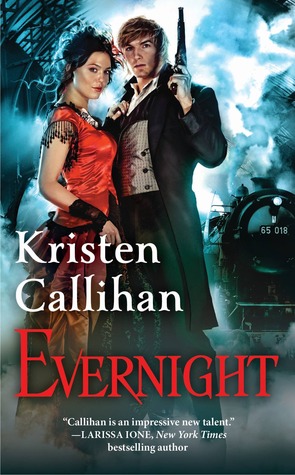 Evernight

by Kristen Callihan
Series: Darkest London #5
Published by Forever
Published on: August 26, 2014
Genres: Paranormal Romance, Steampunk
Pages: 432
Format: eARC
Source: NetGalley

Amazon
|
Book Depo
|
Chapters
|
Kobo
 |
GoodReads
Once the night comes . . .
Will Thorne is living a nightmare, his sanity slowly being drained away by a force he can't control. His talents have made him the perfect assassin for hire. But as he loses his grip on reality, there is no calming him-until he finds his next target: the mysterious Holly Evernight.

Love must cast aside the shadows
Holly cannot fathom who would put a contract on her life, yet the moment she touches Will, the connection between them is elemental, undeniable-and she's the only one who can tame his bouts of madness. But other assassins are coming for Holly. Will must transform from killer to protector and find the man who wants Holly dead . . . or his only chance for redemption will be lost.
Lately it seems that many of my favourite paranormal romance series have written all of their main characters' tales, and have started adding secondary ones in order to be able to crank out more installments. The main problem with this is that it's hard to introduce new couples this late in the game, and still have readers connect with them, because they weren't part of the author's original world. Kristen Callihan has succeeded where countless others have failed by A) having enough foresight to provide a bit of back story with a novella (ENTWINED), and B) ensuring that her protagonists were able to stand on their own while still fitting into her DARKEST LONDON universe. EVERNIGHT is a multilayered, beautifully written book, and a stunning testament to the power of love.

Callihan continues to break the traditional PNR mold by ensuring that each new installment is truly unique instead of a cookie cutter replica of a similar story, but with a different main couple. These novels could easily be read as stand-alones, however I've given this series 5 stars across the board, so it goes without saying that you should definitely start with FIRELIGHT. The plot line of this book is seriously un-unravelable between Thorne's insanity (what's real vs. mad imaginings), the SOS' machinations, and several other mysterious players who aren't even revealed until the very end. Heck, even the romance left me skeptical as to whether a HEA was even possible for Holly and Will.

There's no shortage of paranormal elements in this tale with elementals, GIM (Ghosts in the Machine), fallen angels, Sanguis demons, fae, and shifters all playing vital roles. The DARKEST LONDON world is even further expanded upon with the addition of Here (Earth), There (Supernatural plane), and Nowhere (Hell), along with the seamless blending of the PNR, historical, and Steampunk genres for which this author is famous for. I especially enjoyed this installment because Evernight is an inventor, so on top of outstanding world-building and character development; readers also get tons and tons of gadgets like clockwork hearts and spectrometers! Callihan's imagination is limitless, and she definitely doesn't believe in doing anything halfway.

I loved Will and Holly's romance; they are brought together by necessity, torn apart by others' schemes, only to be finally reunited by fate. The cost of love has never been higher with immortality, sanity, and their very lives on the line. Evernight's clever mind, ironclad will, and raw power complimented Thorne's brute strength, sexual magnetism, and cunningness perfectly. The dirty talk between them was deliciously scandalous, and the sex scenes ranged from crude, to tender, to light BDSM. More often than not, I found myself doubting whether either of these characters would ever be able to find happiness, but that too was part of Kristen Callihan's exquisitely executed master plan.

Steampunk, historical, paranormal romance—categorize this book however you like, but one thing remains clear, EVERNIGHT was awesome!

Was this review helpful? If so, please consider voting for it on Amazon or like it on GoodReads!


Darkest London Series


My Review


My Review


My Review


My Review
[author] [author_image timthumb='on']http://rabidreads.ca/wp-content/uploads/2014/08/Kristen-Callihan.jpg[/author_image] [author_info]
Author Bio
Kristen Callihan is a child of the eighties, which means she's worn neon skirts, black lace gloves, and combat boots (although never all at once) and can quote John Hughes movies with the best of them. A lifelong daydreamer, she finally realized that the characters in her head needed a proper home and thus hit the keyboard. She believes that falling in love is one of the headiest experiences a person can have, so naturally she writes romance. Her love of superheroes, action movies, and history led her to write historical paranormals. She lives in the Washington, D.C., area and, when not writing, looks after two children, one husband, and a dog – the fish can fend for themselves.
Website | Facebook | Twitter | Pinterest | GoodReads
 [/author_info] [/author]
a Rafflecopter giveaway
Related Posts