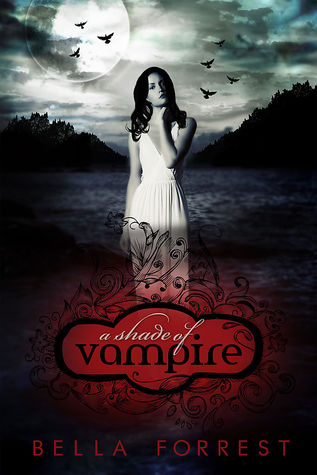 A Shade of Vampire

by Bella Forrest
Series: A Shade of Vampire #1
Published on: December 14th, 2012
Genres: Young Adult
Pages: 152
Format: eBook
Source: Purchased

Amazon
|
Book Depo
 |
GoodReads
On the evening of Sofia Claremont's seventeenth birthday, she is sucked into a nightmare from which she cannot wake.

A quiet evening walk along a beach brings her face to face with a dangerous pale creature that craves much more than her blood.

She is kidnapped to an island where the sun is eternally forbidden to shine.
An island uncharted by any map and ruled by the most powerful vampire coven on the planet. She wakes here as a slave, a captive in chains.

Sofia's life takes a thrilling and terrifying turn when she is the one selected out of hundreds of girls to join the harem of Derek Novak, the dark royal Prince.

Despite his addiction to power and obsessive thirst for her blood, Sofia soon realizes that the safest place on the island is within his quarters, and she must do all within her power to win him over if she is to survive even one more night.

Will she succeed? ...or is she destined to the same fate that all other girls have met at the hands of the Novaks?


This book is absolutely incredible. I've read it once before, about a year ago, and I really wanted to finish the series so I thought I would re-read this one and I loved it as much as I did the first time. The writing style is very easy and fast paced but it also has that way of keeping you hooked and needing to know whats going to happen next.

Sofia has had a tough time. Her family pretty much abandoned her and she's been staying with her best friend Ben. As she's gotten older she's started feeling a more than friends type feeling for Ben and I'm not too sure he sees that in her. On her 17th birthday, she is on vacation with Ben and his family at the beach and she gets upset at Ben for forgetting her birthday. She goes right outside to walk along the beach to clear her head and she meets someone very strange. He is a vampire and he's out scouting for humans to take back to where he lives. Unfortunately its Sofia's unlucky night because he ends up taking her without Ben even knowing where she is. She ends up in this place called The Shade. It's a place this certain coven of vampires have established for themselves so they can be safe. It's an island and it has a huge wall surrounding it so no human slaves can escape, but more importantly none of the hunters could get in, even if they could find the place. All the royal vampires live way up in the trees in these amazing penthouses and they each have a harem of their own and Sofia is to be apart of the most important of the vampires.

Derek Novak is the prince. The one that the prophesy says will lead all the vampires to their sanctuary. He doesn't like being a vampire, he misses the way it was to be human. But he hasn't been a human in over 500 years. He created The Shade and instead of killing himself he had the resident witch, who keeps The Shade warded and keeps it night all the time in The Shade, to put him in a kind of sleeping spell. It's been 400 years and his siblings, Viviene and Lucas, thinks it is time for Derek to wake up. Derek hates how they are taking humans to use and once he lays his eyes on Sofia, he wants to make sure she is his. He is very easy with her and wants her to feel safe. It takes some time but eventually they become really close and Derek feels for her in a way he never thought he could. He would do everything in his power to protect her and keep her safe from the dangers that are happening in The Shade.

No matter what alpha male act I might pull off in trying to intimidate her, I knew the truth. She was no longer mine. At some point during all these nights I'd spent with her, I'd become hers.

There really is so much going on in this story that I don't want to spoil it all, but it is truly worth reading. I fell in love with the characters almost instantly and had to see how Sofia would survive The Shade. It switches POVs between Sofia and Derek so you get to know how both characters are feeling. It's a great take on vampires and I love the idea of The Shade. I've heard a lot of good things about this series and I can't wait to read the rest of the series.



Related Posts