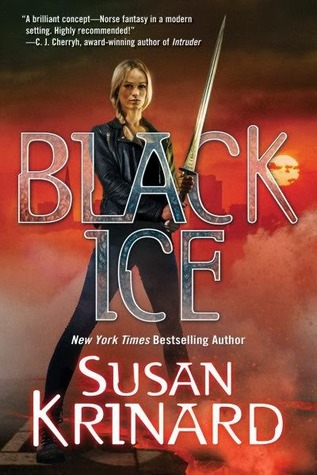 Black Ice

by Susan Krinard
Series: Midgard #2
Published by Tor Books
Published on: August 12, 2014
Genres: Fantasy
Pages: 384
Format: eARC
Source: NetGalley

Amazon
|
Book Depo
|
Chapters
|
Kobo
 |
GoodReads
New York Times bestselling author Susan Krinard continues the thrilling urban fantasy series that began with Mist in Black Ice.

Centuries ago, all was lost in the Last Battle when the Norse gods and goddesses went to war. The elves, the giants, and the gods and goddesses themselves were all destroyed, leaving the Valkyrie known as Mist one of the only survivors.

Or so she thought.

The trickster god Loki has reappeared in San Francisco, and he has big plans for modern-day Earth. With few allies and fewer resources—but the eyes of the gods and goddesses of an old world upon her—it's up to Mist to stop him before history repeats itself.
BLACK ICE continues along the same Norse vein as Susan Krinard's first MIDGARD installment while adding even more characters, mythology and plot threads to the mix. In this book readers get to tag along as Mist preps for the coming battle with Loki by recruiting soldiers, locating the missing Valkyrie & their Treasures, and honing her magical abilities. The influx of new information was once again overwhelming at times, and having a strong understanding of Ragnarok and its lore is definitely advisable for maximum enjoyment. This series is heavily rooted in Fantasy, and although it does take place in a modern city, I wouldn't go so far as to call it Urban Fantasy.

The sequel to MIST starts off with three main goals: the heroine must find the Treasures, stay a step ahead of Loki, and reestablish contact with Freya & Ginnungagap. However, more and more plot threads were added as this novel progressed which made it difficult to keep up. I wish that the author would have slowed her roll a bit, and focused more on character development and on building back stories instead of continuing to add to an already overflowing world. Anna and Orn were the only two newcomers that received any kind of introduction which just seemed odd to me considering we still know nothing about Gabi, Ryan, Danny, Edvard, Rick, Tashiro, Vidarr, Vail, Bryn, Eir, Sigrun, Regin, Rota, Skuld—well, you get the idea. There are LOTS of secondary characters.

Book 2 is heavy on dialogue and light on action which slowed the pacing down dramatically. I found myself enjoying the villains more than the protagonists because at least they were more clearly defined. Loki's rants and schemes never disappoint—he is a trickster god after all—and I have yet to meet a version of him that I haven't liked. Dainn is another interesting case, I think that ultimately he is a bad guy turned good (or at least as good as a dark elf can be), but he walks a fine line, and his end game is still anyone's guess. Not to mention the screwed-up View Spoiler »Dainn & Loki are Danny's fathers. WTF? And, not the magicked kind either, Loki actually carried him in his belly. « Hide Spoiler revelation that might just tip the scales in Loki's favour.

Mist is the daughter of a frost giant and Freya, the Goddess of love & desire, and as a result she was born with a real hodgepodge of abilities. For the most part, the Valkyrie learns as she goes which made the magical rules of Krinard's universe somewhat difficult to grasp; I expected this from the first installment, but was hoping for something a little more concrete from BLACK ICE. Mist did seem like she was more in control of her destiny in this novel which was a definite bonus. The budding relationship between her and Dainn didn't play as much of a role in this book though which was also disappointing because I could have used a bit of fluff to help break-up the information overload.

BLACK ICE is bursting at the seams with gods, goddesses, and their minions; recommended for Norse mythology buffs.
Midgard Series:


My Review
Was this review helpful? If so, please consider voting for it on Amazon or liking it on GoodReads!
Related Posts