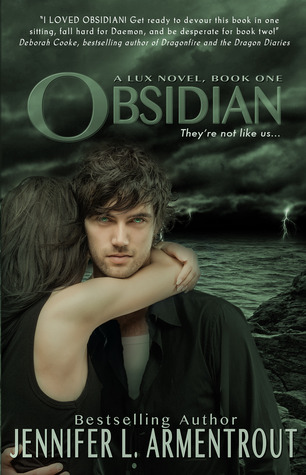 Obsidian

by Jennifer L. Armentrout
Series: Lux #1
Published by Entangled Teen
Published on: May 8 2012
Genres: Science Fiction, Young Adult
Pages: 294
Format: eBook
Source: Freebie

Amazon
|
Book Depo
|
Chapters
|
Kobo
 |
GoodReads
Starting over sucks.

When we moved to West Virginia right before my senior year, I'd pretty much resigned myself to thick accents, dodgy internet access, and a whole lot of boring... until I spotted my hot neighbor, with his looming height and eerie green eyes. Things were looking up.

And then he opened his mouth.

Daemon is infuriating. Arrogant. Stab-worthy. We do not get along. At all. But when a stranger attacks me and Daemon literally freezes time with a wave of his hand, well, something... unexpected happens. 

The hot alien living next door marks me.

You heard me. Alien. Turns out Daemon and his sister have a galaxy of enemies wanting to steal their abilities, and Daemon's touch has me lit up like the Vegas Strip. The only way I'm getting out of this alive is by sticking close to Daemon until my alien mojo fades. 

If I don't kill him first, that is.
I finally discovered the Lux series. I am sure some of you have already read these, and if you had the same experience I did, loved them. I found this one, read the blurb, and read it soon after. And then I read the second one, Onyx, and then Opal. I started this three days ago. I could not put them down. It's young adult, but by the third, the series moves into more of a borderline new adult series. As I write this, I am in the middle of the forth, Origin.
Katy(Kat) is seventeen and getting ready to start her senior year in a new high school, after moving to West Virginia, after her father's death. She meets the hottest guy she has ever seen, Daemon, who just happens to be her next door neighbor. He wants nothing to do with her. She meets his sister, Dee, and they become close friends. Things start happening that make no sense to her. For instance when Dee's body starts to fade out, you know, little things like that. (yep, sarcasm) Of course Kat thinks she is imagining things. When Dee leaves town for a few days, Daemon and Kat have a chance to hang out. A kind of love/hate friendship starts to happen. When Kat comes close to dying, and Daemon saves her against all odds, she realizes she is dealing with aliens of the otherworldly type.
This is my first book by Jennifer Armentrout, and I loved the way she writes. This was written in the first person, and I thought it really worked. Kat's voice in her head was really fun and the snark that comes out of her mouth was just as fun. The banter between her and Daemon became pretty hilarious at times. I also really enjoyed the fact that she has her own book review blog, and could really relate to her love of paranormal books and reading-of course! Daemon is the ultimate book boyfriend. He is the strongest of his kind in the area, the best looking boy in school(and probably the state), and is the total overprotective type. He also can be a bit of a jerk, and has plenty of snark of his own. From the minute that he was introduced as Daemon, my mind immediately went to Damon from the Vampire Diaries television show. And never left there. I totally pictured him throughout all three books as Daemon. Since he's my favorite character on that show, it worked for me!
This book had lots of action and scary villains of both the alien and human sort. I actually can't tell you which were the worse villains. The U.S. government can be pretty scary when it comes to aliens in this authors world building. Even some of the so called good aliens(and yes,there are bad aliens) were kind of villainous-case in point-Daemon's ex-girlfriend, Ash, was particularly hateful, especially to Kat. My favorite thing about the book was the romance/non-romance between Kat and Daemon. If you have read this, I think you will understand that statement. If you haven't read this, you really should!
I had every intention of stopping after the first three of these books and taking a break, but now due to the ending of the third, I had to continue. I will probably be reading the fifth as well, as I really want to know where it's all going and how it's going to end. I haven't read a series back to back since I discovered the Fever Series, so that is very telling for me on how much I am enjoying these! The great thing is, they are all available to read, and now as I write this, I realize I how glad I am that I didn't find these until they were all published. It would have been really hard to wait that long between books. I highly recommend these books to older young adults and adults.
Related Posts