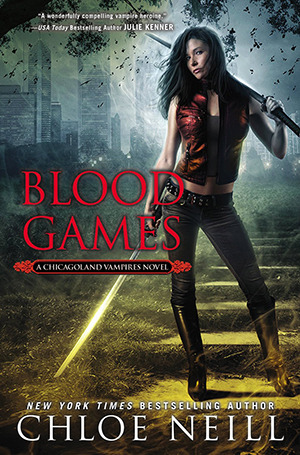 Blood Games

by Chloe Neill
Series: Chicagoland Vampires #10
Published by NAL
Published on: August 5, 2014
Genres: Urban Fantasy
Pages: 352
Format: eARC
Source: NetGalley

Amazon
|
Book Depo
|
Chapters
 |
GoodReads
While Merit didn't choose to become a vampire or Sentinel of Cadogan House, she vowed to fight for her House and its Master, and she's managed to forge strong alliances with powerful supernaturals across Chicago. But even though Merit has had wild adventures, this may be her deadliest yet...

A killer is stalking Chicago, preying on humans and leaving his victims with magical souvenirs. The CPD hasn't been able to track the assailant, and as the body count rises, the city is running out of options. Vampires and humans aren't on great terms, but murder makes for strange bedfellows. Can Merit find the killer before she becomes a target?
*** Review contains minor spoilers from previous books in this series. ***

There are two main plot threads in Chloe Neill's latest CHICAGOLAND VAMPIRES installment, but in all honesty I only had eyes for one. The Tarot murder mystery was interesting enough in itself; I liked seeing Merit & Mallory finally getting back on track, and I enjoyed deciphering the riddles left behind by the killer. However, after the way WILD THINGS ended, my focus was entirely on Ethan's GP candidacy, and given the title of this book I was a little surprised that the author didn't concentrate more on the latter and less on the former. That point aside, in BLOOD GAMES readers get to meet Amit Patel (the most powerful vampire in the world!), discover Neill's version of THE HUNGER GAMES, and no CV novel would be complete without… Sullivan acting like a douche.

I really liked the way that the GP plot line played out; from Darius' fall from grace, to the trials, to the unexpected end result. Nicole Heart, Ethan's American competition, does kind of come out of left field though. Perhaps I missed it, but I think some reference should have been made to her before now. I also wish that The Sentinels Games would have evolved past the intimidation stage. That being said, I loved the psych and phys tests that the candidates had to undertake because vampires are an all-or-nothing kind of supe, meaning the BLOOD GAMES were to the death. The physical trial was nail bitingly spectacular with burning buildings, trolls and unforeseen duplicity. I won't pretend to understand how the GP tallies points, but the winner will leave you wondering.

No CHICAGOLAND VAMPIRES review would be complete without a mini Ethan rant, so here it comes! After an attempt is made on his life, the master of Cargodan House receives a note that he refuses to share with Merit because for some inexplicable reason he thinks that lying to her somehow qualifies as protection. Yes, THIS AGAIN. So, of course they end up at odds, seeds of doubt are planted, and the happy couple goes from mock proposals to butting heads. I've said this before and I'll say it again; will this 400+ year old vampire never learn!? At least their tiff does lead to some light being shed on Ethan's past with Balthasar, and after Merit proves once again that she's in it for the long haul some genuinely tender moments ensue. I loved them together in the later chapters, but couldn't help feeling a little frustrated by the fact that the 28 year old novitiate continues to be the more mature one in this relationship.

The author stays true to her Chicago roots by making the city's famous food and landmarks integral parts of the story. I liked the correlations between the locations and the Tarot murders, and the Ombuddies were amazing as usual. The ending was a bit of a head-scratcher followed by a startling cliff hanger, but all of this just goes to prove that Chloe Neill's still got it! BLOOD GAMES is a high octave read peppered with awesome fights, heartfelt moments, and developments that shake the very core of the CHICAGOLAND VAMPIRES universe.
Books in this series:


My Review


My Review


My Review


My Review


My Review


My Review


My Review


My Review


My Review
Was this review helpful? Please vote for it on Amazon, or like it on GoodReads!
Related Posts