In a word . . . YES. I do.
I have yet to get in on the ground floor of a long-running series. It was just a few weeks ago that I discovered I've only been reading UF for around seven years, so maybe in another ten years . . . I'll still have the same answer. *snickers*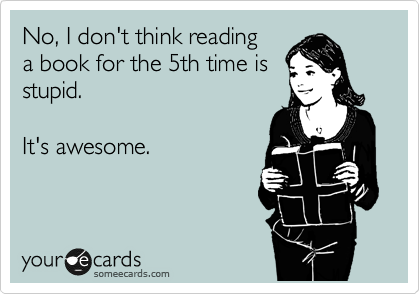 I can't help it. I'm a detailed oriented person, and after a year (or LESS), the details begin to fade. I used to reread a series every time a new installment came out—series that only put out one new book per year, anyway. But I don't have time to do that anymore. Now, unless I get a wild hair and just want to reread a series, b/c it's been awhile, I typically don't until it's about to end . . . but right before that final installment . . . you'd better believe it.
There is a queen of rereads . . . and I am that queen.
Don't get mad, you can be queen too. B/c I said so, that's why.
Anyway, I know that I'm a minority. Not in the wanting a refresh, but in the actually doing it. Like right now with The Hollows. There's no way I could keep track of all the people who have told me they wish they had time for a reread before The Witch With No Name comes out (in TWO WEEKS!!).
The difference is I make time. It's like a compulsion.
I make time, or I don't read it. I still haven't read the last book in Jeaniene Frost's Night Huntress series. And I won't until I can reread the previous books. *shrugs* That's just how I roll.
But what about you?
Do You Re-read Your Favorite Long-Running Series Before the Last Book Comes Out?
SIDE NOTE: Again, I've been absent for the last few days, and I'll continue to be absent until Tuesday, b/c Tabitha from Not Yet Read and I are going to 
DRAGON CON
. I can't wait to tell you all about it when I get back!
Related Posts