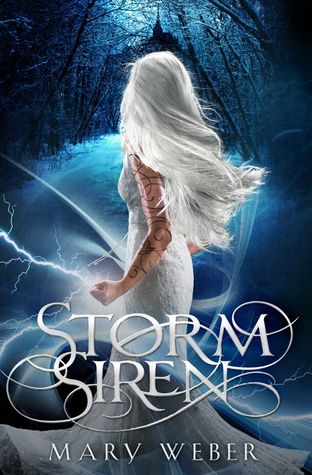 Storm Siren

by Mary Weber
Series: Storm Siren #1
Published by Thomas Nelson
Published on: August 19 2014
Genres: Fantasy, Young Adult
Pages: 341
Format: eARC
Source: NetGalley

Amazon
|
Book Depo
|
Chapters
|
Kobo
 |
GoodReads
"I raise my chin as the buyers stare. Yes. Look. You don't want me. Because, eventually, accidentally, I will destroy you."

In a world at war, a slave girl's lethal curse could become one kingdom's weapon of salvation. If the curse—and the girl—can be controlled.

As a slave in the war-weary kingdom of Faelen, seventeen-year-old Nym isn't merely devoid of rights, her Elemental kind are only born male and always killed at birth — meaning, she shouldn't even exist.

Standing on the auction block beneath smoke-drenched mountains, Nym faces her fifteenth sell. But when her hood is removed and her storm-summoning killing curse revealed, Nym is snatched up by a court advisor and given a choice: be trained as the weapon Faelen needs to win the war, or be killed.

Choosing the former, Nym is unleashed into a world of politics, bizarre parties, and rumors of an evil more sinister than she's being prepared to fight . . . not to mention the handsome trainer whose dark secrets lie behind a mysterious ability to calm every lightning strike she summons.

But what if she doesn't want to be the weapon they've all been waiting for?

Set in a beautifully eclectic world of suspicion, super abilities, and monsters, Storm Siren is a story of power. And whoever controls that power will win.
Hmmm . . . first of all, when I requested this book, I didn't realize that it was published by Thomas Nelson, which is a Christian imprint of HarperCollins. If I had known, I probably wouldn't have requested the book, b/c I don't like being preached at when I'm reading recreationally, BUT . . . I am happy to report that it wasn't an issue. SO if you thought you might like this book, but held off, b/c, unlike me, you were in the know  about Thomas Nelson, worry not.
If you have an issue with the book, I seriously doubt that will be it.
SO. I'm quite vocal about choosing YA that doesn't feel like YA. YA in which the characters come across as older, wiser, more experienced than their numerical ages . . .
I can't actually recall being told Nym's age, but whatever it is . . . it's YA.
Nym is an orphan and a slave. She is also an Elemental. In her world, Elementals are killed at birth, except, also in her world, Elementals are universally male. We are never told how Nym manages to be both female and an Elemental, two things that we are assured are mutually exclusive. In fact, it's not even really addressed at all, except to add to her super special snowflakeness by pointing out the impossibility of her existence.
But Elementals, male or female, are not the only creatures of magic in Nym's world.
There are five (I think) nations, all with their own specific type of magic user. We are not given a reason for the existence of magical creatures, and it is not explained why the type of magic depends on geography.
It just does.
The world-building left a lot to be desired.
Also . . . I'm too bloodthirsty for this book. My favorite characters are assassins and thieves and mercenaries. I don't want them to be killers without conscience, but if someone needs killing, then by golly, they had better be up to the task.
But Nym doesn't want to kill anyone. EVER. Her country has an enemy that far outclasses it in weapons, has airships, is bombing and destroying whole villages—men, women, children, the elderly, the sick, it doesn't matter, they are all being killed indiscriminately, but that's not Nym's problem. She's  the one who has to be able to look at herself  in the mirror, and she will not  be turned into a weapon. *sniffs*
How she can look at herself, knowing she could have prevented all of that indiscriminate death, if she'd only put on her big girl panties and killed them first, doesn't come up, apparently. Or if it does, she acts her age, digs her heels in, and refuses to hear that which she does not want to acknowledge. Tra-la-la.
It's tedious.
So is Adora, the crazy noblewoman who purchases Nym from the slave market.
Adora, we are told, is the most powerful person in the kingdom. After the king, of course. She's so ridiculous, she's almost a caricature of a villain. She dresses in ghastly and extravagant (animal-themed) costumes. She may or may not literally  keep a harem of strapping young men, but of course, she wants, more than anything else, the young man whom she cannot compel to sleep with her, and is very seriously rumored to have killed a kitchen girl (or two), simply for looking at said young man.
She's the biggest property owner in the kingdom, and she sits at the king's right hand on his "Counsel" (whatever that means<——AGAIN, we are not told), and is his most trusted adviser on the war effort . . .
A position . . . we can only infer, she inherited . . . b/c we, for once, are  told, that her father had held the same position, as had his father before him . . .
Well, sure, why not? If the monarchy is hereditary, I supposed the positions of those who advise in a strategic capacity can be as well. Just train them up the same way you would a prince or princess. B/c that always works so well . . .
There were also numerous little inconsistencies like man-eating horses that didn't turn on their exhausted riders.
I suspect that were I ten years younger, a lot of these things wouldn't bother me. Or at least they wouldn't bother me quite as much. However, I am not  ten years younger, and I am much too cynical to embrace Nym's kill-them-with-kindness approach to warfare. This wasn't a bad book, it just wasn't a good book for me. And despite my numerous issues, there were still parts that I enjoyed. If you're an optimist who longs for a heroine who doesn't resort to violence to make a difference, then Storm Siren could very well be the best book you'll read all year. You know your preferences better than I ever could.
Was this review helpful to you? If so, please consider voting for it on Amazon or like it on Goodreads!
Related Posts