Hello,
I thought my contribution to Stomp Vs. Romp might be a series of Haiku representing my protagonist, Mist—her status, her problems, her goals—and a few of the events of BLACK ICE (plus a foreshadowing of next summer's book, BATTLESTORM.) I particularly enjoy this poetry form. It has elegance to it, even if I'm not very elegant in the way I write it!
Mist is very gun-shy when it comes to love, and with good reason. She'd much prefer a deadly battle than negotiating the dangerous paths of affection, though she has to confront both in BLACK ICE.
Though my paranormal romance novels focused most strongly on the romance, the love story in these books is of a more subtle nature, leaving me room and time to develop other aspects of the characters to their fullest. And there are plenty of battle scenes, both physical and magical, each helping to further delineate the characters and the challenges they face, both internal and external.
I hope you'll enjoy BLACK ICE . . . and look for the mass market paperback of MIST on bookstore shelves starting in late July!
Black Ice Haiku
I
Out of a pale mist
rises the Valkyrie, her
eyes as bright as steel.

II
Once a Valkyrie,
never permitted to fight;
now a warrior.

III
Now a warrior—
and goddess, who wants no part
of divinity.

IV
A flash of silver;
Sword batters sword in moonlight.
A cry, then silence.

V
"Give me a good fight,"
she said as she sheathed her sword.
"At least it's honest."

VI
Magic is cruel
when cast against a foe who
has none in return.

VII
All's fair in love and
war, they say; but there is no
such thing as fair play.

VIII
Even innocence
can destroy what it most loves
in the face of lies.

IX
Love is deadlier
than a blade, especially
when wielded by elves.

X
Beasts have claws that rend,
And yet the most vicious beast
can die of heartbreak.

XI
Elves fight with nature;
giants, clubs; Loki, magic;
and I with my soul.

XII
Ice paints the asphalt:
first clear, then red and blue with
the blood of soldiers.

XIII
Storm cracks, lightning falls.
She gathers fury in hand,
and sends it flying.

XIV
Raven overhead,
seeking the field of battle
where Odin awaits.
[author] [author_image timthumb='on']http://rabidreads.ca/wp-content/uploads/2014/07/SusanKrinard.jpg[/author_image] [author_info]
Author Bio
Susan Krinard has been writing paranormal romance and fantasy since 1993, when a published author friend read a short story she'd written and advised her to try writing a novel. She sold her first novel to Bantam Dell, and has since written for Bantam, Penguin, Harlequin/ Silhouette, Harper Collins, St. Martin's Press., and Tor Books. Her output includes twenty-three novels and twelve novellas and short stories.
Susan's love for Science Fiction and Fantasy began when her fourth grade teacher read Madeleine L'Engles' A Wrinkle In Time to the class. She attended her first Star Trek convention at the age of 14. Since then she's continued to read voraciously and has attended numerous local and World Science Fiction conventions. Her first major urban fantasy series is the "Midgard" series, beginning with Mist, a July 2013 release from Tor Books.
Susan and works in Albuquerque, New Mexico, with her husband Serge Mailloux—whom she met because of a mutual love of the works of writer C. J. Cherryh—dogs Cagney, Nahla and Freya, and cats Agatha and Rocky.
Website | Blog | Facebook | GoodReads
 [/author_info] [/author]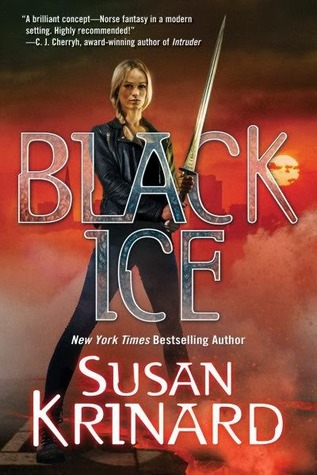 The second installment in New York Times bestselling author Susan Krinard's first urban fantasy series.

Centuries ago, all was lost in the Last Battle when the Norse gods and goddesses went to war. The elves, the giants, and the gods and goddesses themselves were all destroyed, leaving the Valkyrie known as Mist one of the only survivors.

Or so she thought.

The trickster god Loki has reappeared in San Francisco, and he has big plans for modern-day Earth. With few allies and fewer resources — but the eyes of the gods and goddesses of an old world upon her — it's up to Mist to stop him before history repeats itself.
Midgard Series
Visit The Book Nympho to read today's ROMP post by
Brooklyn Ann
, then VOTE for your fav!
Related Posts