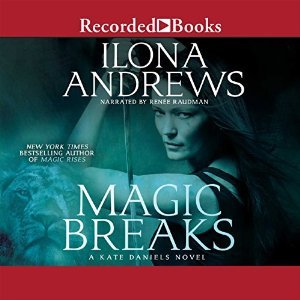 Magic Breaks

by Ilona Andrews
Narrator: Renée Raudman
Series: Kate Daniels #7
Published by Recorded Books
Published on: July 29, 2014
Genres: Urban Fantasy
Length: 16 hrs & 23 mins
Format: Audiobook
Source: Purchased

Amazon
|
Book Depo
|
Chapters
|
Kobo
 |
GoodReads
No matter how much the paranormal politics of Atlanta change, one thing always remains the same: if there's trouble, Kate Daniels will be in the middle of it…

As the mate of the Beast Lord, Curran, former mercenary Kate Daniels has more responsibilities than it seems possible to juggle. Not only is she still struggling to keep her investigative business afloat, she must now deal with the affairs of the pack, including preparing her people for attack from Roland, a cruel ancient being with god-like powers. Since Kate's connection to Roland has come out into the open, no one is safe—especially those closest to Kate.

As Roland's long shadow looms ever nearer, Kate is called to attend the Conclave, a gathering of the leaders from the various supernatural factions in Atlanta. When one of the Masters of the Dead is found murdered there, apparently at the hands of a shapeshifter, Kate is given only twenty-four hours to hunt down the killer. And this time, if she fails, she'll find herself embroiled in a war which could destroy everything she holds dear…

**Includes the bonus Kate Daniels story Magic Tests**
*** Review may contain spoilers for previous installments in the series. ***

Whenever I finish a truly amazing book I'm often tempted to write a one sentence review because words fail me, and the only thing that potential readers really need to know is READ THIS. And, never has that urge been as strong as in the case of MAGIC BREAKS. This novel wraps up one of the greatest Urban Fantasy story arcs that has ever been penned, and that's not even the best part, because even though KATE DANIELS' lifelong journey has reached its culmination, the best is still to come. In this installment, characters die, power shifts, and a new path is forged—epic is the only term that comes to mind, and even then, it still falls short.

It was a good thing that MAGIC BREAKS came with a disclaimer because otherwise I think this novel would have caused mass panic among readers (me included). I loved the character recap; it really helped to set the stage for this story, and ensured that everyone was on the same page regardless of whether you re-read all of the installments prior to this one, or haven't visited Andrews' universe since last July when MAGIC RISES hit shelves. Hugh d'Ambray demonstrates why he earned the title of Roland's Warlord when he sets his ingenious scheme in motion to cause an all-out war between the Pack and the People. Kate's got some pretty big shoes to fill with Curran away on business, and although I did find myself missing the Beast Lord, the wait was worth it when he finally made his spectacular entrance.

Pretty much all of this series' characters came out to play which was awesome, and fitting seeing how everything comes to a head in this book. Kate and Curran's interactions were perfect, and I loved learning more about Ghastek. And, even though the action was at the forefront of this story, there's still a good dose of romance, and—believe it or not—cuteness thanks to Cuddles, the mammoth donkey, and an adorable bunnycat. A long time character dies, however I think that I was actually more upset over what happened to Slayer, but again it was all part of the Andrews' master plan. The authors did a fabulous job of tying up loose ends while still continuing to add new mythology and world-building to the mix. Roland was positively magnificent, and I was thrilled that his and Kate's first meeting exceeded my sky high expectations after a grueling six installment long build-up.

I've been hooked on Renée Raudman's narration of this series since the very beginning, but never have I hung on her every word quite like I did while listening to this audiobook. Towards the end, I think that I actually forgot to breathe a time or two. The conclusion was jaw droppingly wonderful, and her suspenseful delivery made time stand still. I loved everything about her performance, from Curran's raspy baritone, to Kate's sarcastic wit, and Julie's bonus short story at the end was the cherry on top.

Never has a series been more about the journey than the actual destination, and the evolution that Ilona & Gordon's characters have undergone is staggering. Urban Fantasy doesn't get any better than MAGIC BREAKS—READ THIS.
Kate Daniels series


My Review


My Review


My Review


My Review


My Review


My Review


My Review
Was this review helpful? Please vote for it on Amazon or like it on GoodReads!
Related Posts