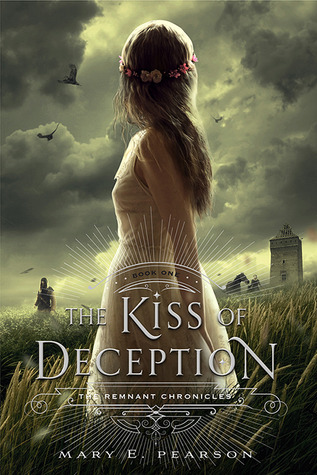 The Kiss of Deception

by Mary E. Pearson
Series: The Remnant Chronicles #1
Published by Henry Holt and Co.
Published on: July 8 2014
Genres: Fantasy, Young Adult
Pages: 497
Format: eARC
Source: NetGalley

Amazon
|
Book Depo
|
Chapters
|
Kobo
 |
GoodReads
In this timeless new trilogy about love and sacrifice, a princess must find her place in a reborn world.

In a society steeped in tradition, Princess Lia's life follows a preordained course. As First Daughter, she is expected to have the revered gift of sight—but she doesn't—and she knows her parents are perpetrating a sham when they arrange her marriage to secure an alliance with a neighboring kingdom—to a prince she has never met.

On the morning of her wedding, Lia flees to a distant village. She settles into a new life, hopeful when two mysterious and handsome strangers arrive—and unaware that one is the jilted prince and the other an assassin sent to kill her. Deception abounds, and Lia finds herself on the brink of unlocking perilous secrets—even as she finds herself falling in love.
Let's talk about first impressions: they are IMPORTANT.
If, for example, you start reading a new book, and the first glimpses you get of ALL THREE main characters are less than flattering, you might be tempted to toss said book aside in disgust and hope the next one goes better.
Yes. You might.
And in this situation, I would not blame you.
So here's the deal: I'm not one of those the-less-romance-the-better types. I'm the opposite, in fact. In most cases, a book completely devoid of romance is a book I will almost certainly find lacking. That being said, I don't like romance tossed in willy nilly, b/c this book needs romance, so, "Hey! You two over there! Yeah, you! Make googly eyes at each other. I don't care if it doesn't make sense, just do it! Thaaaat's it, muuuuuchhh better."
In fantasy, one of the most common ways for romance to play out is the Arranged Marriage scenario. Neither party is happy about it, but something IMPORTANT is at stake, so two self-sacrificing souls agree to wed for the greater good. Then, despite the obvious unfairness of their situation, stuff happens, they fall in love, and they live HEA.
And this makes you happy, b/c SELF-SACRIFICE.
But what if Princess is a narcissistic little brat who not only runs away from her arranged marriage, but drags one of her good friends along with her? Who cares that the only way to ensure the safety of her family and the general population in the face of a barbarian invasion is to keep with tradition and unite her family with Prince's family, b/c NEITHER family has the strength to survive alone?
Not Princess. *frowns*
And not only does she not care, she laughs ALL THE TIME. Ah-ha-ha-ha laughs. Like Keira Knightley ruining Elizabeth Bennett in Pride and Prejudice. "Running away equals TREASON to my hard-case father, who had my cousin hanged for desertion, and buried him in an unmarked grave along with his mother (hard-case father's SISTER), who threw herself off a cliff in despair."
Ah-ha-ha-ha.
*flares nostrils*
Oh, and Prince only agrees to the marriage b/c his father tells him he can take a mistress.
And don't even get me started on Reluctant Assassin.<——if you're going to be an assassin, you need to frickin' OWN IT.
BUT despite ALL of that, I kept reading. And it got better.
Nathan over at Fantasy Review Barn recently used the term "grab-bag" in one of his reviews, and I'm totally stealing it, b/c that's exactly what's going on here. We've got corrupt advisers to the monarch, a foreign, misunderstood queen who keeps IMPORTANT secrets from her daughter, gypsy caravans, a too-young soldier who bonds with his captive, a grizzled, veteran mentor, etc.
Oh, and there's also a TIGER. Can't forget about the (random) tiger.
So what's Princess doing now that she's the master of her own destiny?
Working at an inn as a barmaid. YEP. Freedom RAWKS. And it seems like she'd be content to stay there doing honest work forever, but that would be boring, so a Bad Thing happens that probably could have been avoided if she hadn't run away from her responsibilities, so of course she blames herself (b/c it's her fault), and she resolutely decides to return home, leaving behind the "farmhand" she's fallen in love with.
And it all goes downhill from there. The situation, not the story. The story, despite it's lack of anything new or original, is surprisingly entertaining, and I'll probably read the next book–who knows what bits and pieces will be thrown together in the next installment, right?
I'd recommend this book to anyone who isn't a termagant like I am, who thinks it's ridiculous to place the responsibilities of two kingdoms on the shoulders of a teenager.
Was this review helpful to you? If so, please consider voting for it on Amazon!
Related Posts