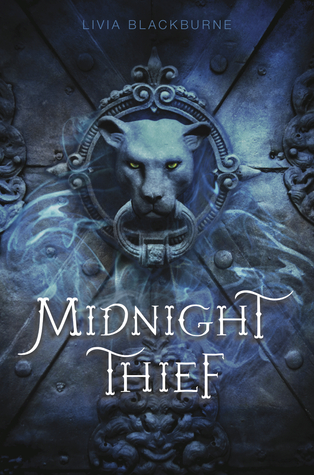 Midnight Thief

by Livia Blackburne
Series: Midnight Thief #1
Published by Disney Hyperion
Published on: July 8 2014
Genres: Fantasy, Young Adult
Pages: 368
Format: Hardcover
Source: Purchased

Amazon
|
Book Depo
|
Chapters
|
Kobo
 |
GoodReads
Growing up on Forge's streets has taught Kyra how to stretch a coin. And when that's not enough, her uncanny ability to scale walls and bypass guards helps her take what she needs.

But when the leader of the Assassins Guild offers Kyra a lucrative job, she hesitates. She knows how to get by on her own, and she's not sure she wants to play by his rules. But he's persistent—and darkly attractive—and Kyra can't quite resist his pull.

Tristam of Brancel is a young Palace knight on a mission. After his best friend is brutally murdered by Demon Riders, a clan of vicious warriors who ride bloodthirsty wildcats, Tristam vows to take them down. But as his investigation deepens, he finds his efforts thwarted by a talented thief, one who sneaks past Palace defenses with uncanny ease.

When a fateful raid throws Kyra and Tristam together, the two enemies realize that their best chance at survival—and vengeance—might be to join forces. And as their loyalties are tested to the breaking point, they learn a startling secret about Kyra's past that threatens to reshape both their lives.
Before I read Midnight Thief, I took the advice of various and sundry others, and read the prequel, Poison Dance, and I really liked it. Having since read the book, I'm going to hazard a guess that the point of the prequel was to, if not make a sympathetic character out of Midnight Thief's villain, then to at least explain why he was the way he was.
But it didn't quite work that way for me.
I feel like I've said this recently, so if I'm repeating myself, I apologize, but in real life, we make allowances for people based on their life experiences—what they've been through, how they've suffered, etc.
In a book . . . maybe it's all the same for you, but . . . I'm not much interested in the characters who have turned into meek, little mouse-things, b/c they can't handle what life has dealt them, or in this case, the character who has turned into a bitter and manipulative, cold bastard, b/c someone from the upper classes did him wrong.
For a character to be redeemable, he has to show that he possesses (<——present tense) the tiniest shred of humanity. Who cares that he used to be an okay guy, but then life happened, and here we are?
Not me. #sorryimnotsorry *shrugs*
Kyra is a thief. She's a thief who gets recruited by the Master of the Assassins' Guild (James) to . . . well, she doesn't need to worry her pretty, little head about that. He'll tell her when she needs to know.
*frowns*
Initially, I didn't think it was strange for the Assassins' Guild to headhunt a thief—they're all criminals, right?—but by the end . . . I felt I should have been more suspicious. I can't decide if I should fault Kyra for making the same mistake, BUT you'd expect someone who grew up on the streets to be a bit more savvy.
And she is reluctant.
Ultimately the decision to join the Guild is made after a series of events, that even as they were happening, I couldn't help but wonder, if James had set the whole thing up. Or at the very least, laid in wait until an opportunity presented itself. I still don't know, but it was carefully orchestrated by someone—James or Blackburne, take your pick.
In fact, the entire story felt carefully orchestrated.
Kyra is an orphan, and doesn't have much in the way of even an adopted family: Bella is a mother figure who lost her only child at sea, and Flick, the several-years-older-than-her bastard son of a nobleman, who inexplicably took an interest in her when she was child. There are also two street children she's bonded with, b/c they remind her of herself at that age.
But there is no gang of rough and tumble we-grew-up-on-the-streets-together friends for life.
And that's not really surprising, b/c Kyra is the most noble of thieves . . . so noble that it's hard to imagine her having any friends at all. I can't see her moral high ground being a crowd favorite when they're all hanging out in their street rat clubhouse.
She's also painstakingly crafted to be a victim of circumstance—Kyra is only a thief, b/c 1. she was starving and had to do something to feed herself, and 2. her almost unbelievable cat-like reflexes, balance, fearlessness, etc. It's almost like thievery was her only option, so who could possibly blame her?
Carefully. Orchestrated.
I had to keep reminding myself that Kyra was a thief, not an assassin, when her adamant refusals to expand her criminal repertoire started making my eyes twitch (don't misunderstand, it's not like I wanted her to go on a killing spree or something, but her protests were so . . . self-righteous—"I don't mind hanging out and working with assassins, and I desperately want their respect and acceptance, but don't you dare ask me to be one, b/c I'm better than that"), View Spoiler »but when it was FINALLY revealed that she was one of those cat shifters, I just couldn't excuse it anymore.

I don't care if she's still half human as well, how do you expect me to believe that she got ALL of the physical perks: agility, balance, enhanced hearing and vision, etc., but none of the bloodlust?

And not just an absence of bloodlust, but an abhorrence of it.

Really? *frowns and squints* « Hide Spoiler
The further I got into the book, the more it felt like it was following a predetermined formula. Kyra, who I initially liked, became more and more two dimensional. She was like one of Nimue's paintings that lacked life from Hunting Ground, Alpha and Omega #2 by Patricia Briggs. The other characters were the same.
I saw every plot twist a mile away, and the ending was laughably maudlin.
I really wanted to like this book, and for the first 150-200 pages, I thought that I did. But the world-building was superficial—I still have no idea why the Demon Riders migrated to Forge beyond a vague reference to humans poisoning their land. I know that the Head of the Counsel is a stock Noble of the bad variety, but is there a King or a Queen? And the characters . . . I couldn't connect with them. The end.
However, I have been increasingly unimpressed with YA fantasy's recent offerings, and MANY respected friends and bloggers have had a decidedly different take on Midnight Thief. Check out Marcela's review at  The Bookaholic Cat or Tabitha's review at Not Yet Read for compelling reasons to try this book. Just b/c I didn't like it, doesn't mean you won't. I have been known to be a crankypants.<——true story.
Was this review helpful to you? If so, please consider voting for it on Amazon!

Related Posts