For a Few Demons More

by Kim Harrison
Series: The Hollows #5
Published by Harper Voyager
Published on: October 13 2009
Genres: Urban Fantasy
Pages: 532
Format: eBook
Source: Purchased

Amazon
|
Book Depo
|
Chapters
|
Kobo
 |
GoodReads
Despite dating one vampire and living with another, Rachel Morgan has stayed ahead of trouble until now. A serial killer stalks the Hollows, claims victims across society, and ignites a vicious Inderland gang war. Rachel hides an ancient artifact that could stop the killer or start a battle to the death among supernatural races of Cincinnati. Every action has its price. When the vampire master Piscary is set free and the demonic Algaliarept dares to walk openly under the sun, even Rachel Morgan can't hide forever.
So I don't know if I'm using the "@!?#" button correctly, but in my head it's the "WTF?! Elephant." Has been since I first laid eyes on it. So if that's not what it's supposed to mean, now you know what it means to me:
Elephant as illustration for WTF?! + @!?# (WTF?!) = WTF?! squared.
And that is what is going on here. And it is fan-friggin'-tastic.
Right. So Trent's getting married to Ellasbeth, and he wants Rachel to work security for the wedding.
*blinks*
I know what you're thinking. You're thinking, "Why on earth would Trent want Rachel at his wedding?"
Well, b/c Lee RVSP-ed as his best man, and that's a problem, b/c Lee is Al's new familiar in the Ever After . . . so how's he going to pull off being the best man in Trent's wedding?
That is an excellent question.
It's also a question that has Trent understandably nervous, and as Rachel is the only person to ever hold her own against Al, Trent wants her in place to handle whatever unknown, yet inevitable, shenanigans Al is planning.
Rachel says, "Hell NO. It's my birthday."
Trent says, "40k."
Rachel says, "Well, maybe . . . but I better not have to wear an ugly dress."
B/c Rachel isn't just going to be working security from the sidelines in a Quen-like capacity, oh no, she's doing it as one of Ellasbeth's BRIDESMAIDS.
*giggle snorts*
I hadn't really thought about it before, but a fellow fan of The Hollows commented on one of my status updates on Goodreads that this book is a real turning point for the series. On the one hand, yeah, obviously (b/c the Bad Thing happens in this book).
But there is a LOT more going on than that. Al is in trouble with the demons, and he wants Rachel's help getting out of it. Ceri and Trent finally meet. Rachel upsets the balance of power between the heavy hitting Supes. Skimmer does that other Big Thing . . .
And don't let ALL THE THINGS scare you, b/c unlike True Blood, Season 4's hodgepodge of overwhelming randomness, For a Few Demons More is wonderfully coherent, and by far the best book in the series up to that point. YEP. This is where it starts getting REALLY good.
Was this review helpful to you? If so, please consider voting for it on Amazon!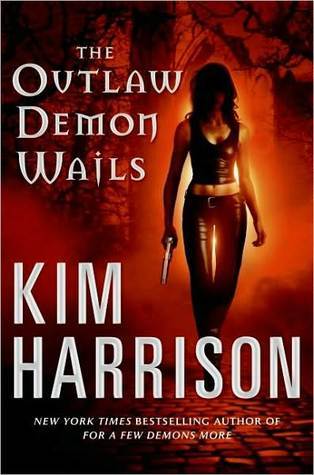 The Outlaw Demon Wails
Series: The Hollows #6
Author: Kim Harrison
Publisher: HarperCollins
Published on: October 13 2009
Genre: Urban Fantasy
Format: 515 pages, eBook
Provided by: Purchased


Amazon Book Depo Chapters Indigo Kobo GoodReads
To save the lives of her friends, Rachel did the unthinkable: she willingly trafficked in forbidden demon magic. And now her sins are coming home to haunt her.

As Rachel searches for the truth behind a terrifying murder, an even greater menace threatens, for the demon Algaliarept will stop at nothing to claim her, and the discovery of a shocking family secret throws Rachel's entire life into question. If she is ever to live free, Rachel must first walk willingly into the demonic ever-after in search of long-lost ancient knowledge.

But when you dance with demons, you lay your soul on the line…and there are some lines that should never be crossed.
I mentioned in the other review that Al was in trouble with the demons and wanted Rachel to help him out . . .
Yeah, guess how well that went over . . .
It didn't.
So Al's HELLA pissed (b/c he's a total blame shifter) and in demon jail, but only during the day, b/c he's arranged for someone to summon him to the real world as soon as the sun sets everyday.
But who? Hmmm?? Probably not who you're thinking . . .
Regardless of who is doing it, Al's getting out every night for the express purpose of terrorizing Rachel and her loved ones. He's a demon with nothing to lose, and a demon with nothing to lose is not a happy or fun demon.
So that's a problem.
But that's not all, b/c this is another installment with ALL THE THINGS happening, and it is as fantastic as For a Few Demons More.
We finally (finally, FINALLY) get some Ivy and Rachel resolution. FINALLY. Rachel finds out what really happened to her dad. Ceri has some BIG news, which prompts Trent to ask Rachel to go to the ever after with him (just like their fathers), and, oh yeah, Marshal (of scuba diving, Mackinaw fame) shows up on Rachel's doorstep, and so does a teenage gargoyle who likes to spit.<——Bis is an awesome addition to the gang.
A few more really Big Deals happen, but that's all I can give you without spoilers. Suffice it to say that The Outlaw Demon Wails is only the second in a long run of increasingly excellent books from The Hollows.
The Hollows:
Was this review helpful to you? If so, please consider voting for it on Amazon!
Related Posts