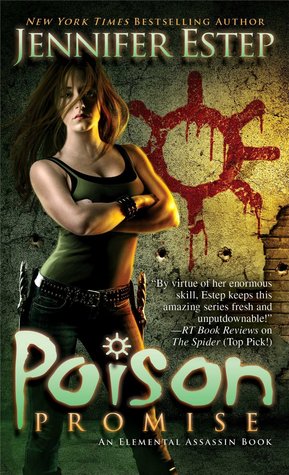 Poison Promise

by Jennifer Estep
Series: Elemental Assassin #11
Published by Pocket
Published on: July 22, 2014
Genres: Urban Fantasy
Pages: 416
Format: eARC
Source: NetGalley

Amazon
|
Book Depo
|
Chapters
|
Kobo
 |
GoodReads
I specialize in making death wishes come true.

Pop quiz. Which do you think is deadlier: Burn, the nastiest drug ever to hit the mean streets of Ashland, or me, Gin Blanco, the assassin known as the Spider? Answer: Me—because I don't kill you slowly.

Normally, drug dealers aren't my department. But I'm turning up the heat on some relentless Burn-pushing thugs who won't leave my friends alone. Pushers who have my cop sister beside herself with rage, so I'm stepping up to keep her from doing something stupid and getting herself killed. Once I'm in, I'm in, and these folks have picked their poison: the Spider's venom. But even bad guys have their good days, and sometimes even my Ice and Stone magic isn't enough. For behind the drug is a vicious vampire with a scientific eye for results. And behind him… trouble like I haven't seen since I took down my legendary nemesis, Mab Monroe.
The ELEMENTAL ASSASSIN series started in 2010, and I discovered it in 2012, so it seems crazy to me that although we've reached the eleventh installment, only one year has gone by for Gin Blanco since it all began in SPIDER'S BITE. She's about to celebrate her 31st birthday, and in many ways this book felt like a new beginning. There were some seriously badass scenes in POISON PROMISE, mad scientist villains are always super creepy, and two additional paranormal elements are introduced which all added-up to one exhilarating read. However, there was also a lot of déjà vu in this novel (that annoying stick that was up Bria's butt in the earlier days is once again firmly lodged in place) that was cause for some concern. Jennifer Estep hasn't steered me wrong yet, so I'm going to wait and see what she has planned, but I do have my doubts.
It's no secret that I'm an action junkie through and through, and this latest installment DEFINITELY delivered on this front. As an assassin, Gin typically does her best work in the shadows, but in POISON PROMISE she boldly shouts to the world that she is indeed The Spider. That was my #1 scene in this book; you'll know it when you read it. My second favourite was when she uses her Aston Martin as a battering ram. OMG Pure awesomeness. Those two stellar sequences aside, the plot's great; I always look forward to Estep's villains, and she does not disappoint with Beauregard Benson. I also enjoyed the vivid descriptions of what a Burn trip is like from an Elemental's POV, and the twist at the end was well-done.
This is probably going to turn into a paragraph long rant about Bria, but it couldn't really be avoided because she is the main reason why I'm giving this novel four stars instead of five. I really hated her character in the earlier installments of this series, and now here she is back on her stupid high horse. I understand that she's blinded by revenge and seeing red, but she's still a cop, and has sworn to serve and protect. Now, all of a sudden she's willing to sacrifice an innocent witness' life, and quite possibly her sister's as well? Bria needs wake-up, to stop judging Gin, and either arrest her or shut it. I wanted to slap her.
I love that this series continues to surprise me; Estep has added two new paranormal elements to her ELEMENTAL ASSASSIN world. I'm not sure revealing them in my review is overly spoiler-y, but I don't want to ruin it for anyone so I'm just going to say that my interest is definitely piqued. A new character has also joined Gin's crew, so it'll be interesting to see how Silvio Sanchez fits in with this close knit group. I have a feeling that big things are in store for The Spider now that she's gone public; I just hope that the déjà vu doesn't take over the main story line. I'm extremely wary of Mab Monroe 2.0.
My mini Bria rant aside, POISON PROMISE is an action junkie's dream, and another winning installment from Jennifer Estep.
Books in this series:


My Review


My Review


My Review


My Review


My Review


My Review


My Review


My Review


My Review


My Review
Did you find this review helpful? Please consider 'liking' it on GoodReads!
Related Posts