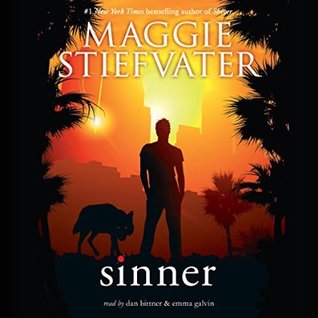 Sinner

by Maggie Stiefvater
Narrator: Dan Bittner, Emma Galvin
Series: The Wolves of Mercy Falls #3.5
Published by Scholastic Audio
Published on: July 1, 2014
Genres: Werewolves, Young Adult
Length: 9 hrs & 24 mins
Format: Audiobook
Source: Purchased

Amazon
|
Book Depo
|
Chapters
|
Kobo
 |
GoodReads
SINNER follows Cole St. Clair, a pivotal character from the #1 NEW YORK TIMES bestselling Shiver Trilogy.

found.

Cole St. Clair has come to California for one reason: to get Isabel Culpeper back. She fled from his damaged, drained life, and damaged and drained it even more. He doesn't just want her. He needs her.

lost.

Isabel is trying to build herself a life in Los Angeles. It's not really working. She can play the game as well as all the other fakes. But what's the point? What is there to win?

sinner.

Cole and Isabel share a past that never seemed to have a future. They have the power to love each other and the power to tear each other apart. The only thing for certain is that they cannot let go.
I was originally planning on reading SINNER 'just for me' because I don't typically review novellas, but at 368 pages this story can't really be labeled short. Then I succumbed to the lure of Whispersync when I realized that the audiobook featured not one but two narrators. And, of course, the lower price helped too. From there my dilemma grew as it became apparent that Cole & Isabel's tale, although beautiful, was more contemporary in nature than paranormal (i.e. not my thing), only to end up completely floored by the sheer brilliance of it all that my review practically wrote itself. Yeah… Maggie Stiefvater tends to have that effect on me.

Plot wise, there's not very much to this book; a rehabilitated rockstar is trying to make a comeback with the help of a reality TV show while also attempting to win back the woman he loves. It was all very… L.A. I didn't mind the simplicity of the story because well, in all honesty, this author's writing style could probably make tomato soup attractive. Plus, it allowed her lyrical prose to really shine. I loved the alternating POVs—Cole's eccentric monologues, and Isabel's pessimistic outlook—the secondary characters (especially Leon), and the hot / cold romance. Virtual Cole was a quirky little extra as well.

St. Clair is a werewolf; however that fact seemed secondary in this THE WOLVES OF MERCY FALLS novella, which perplexed me at first. I thought I would miss the paranormal elements of this series, but by trimming off all of the excess the author was able to better convey that SINNER is first and foremost a love story. I liked how broken both of the characters were, and how they refused to apologize for their imperfections. I found it interesting how Culpeper equated Cole's wolfing out to a drug relapse, and in a lot of ways it was so much worse. The romance was as touching as it was heartbreaking, and there were even a few heated scenes that made this novel borderline New Adult (YA readers beware!).

The dual narrators were a nice fit for SINNER's alternating POVs; I enjoyed both Dan Bittner and Emma Galvin's performances. They certainly did Stiefvater's writing proud, and as a result, I couldn't help but fall even more in love with her trademark poetic style. My only complaint was that I wish the narrators had read their respective POVs throughout the tale instead of just each characters' specific chapters. The audiobook also included music that was written by the author which was a cool bonus. This was my first experience with Whispersync, but the feature proved useful seeing how there were oh so many notable quotes!

SINNER was an unexpected contemporary delight, and a welcome return to THE WOLVES OF MERCY FALLS.


The Wolves of Mercy Falls


My Review


My Review


My Review
Was this review helpful? Please vote for it on Amazon or like it on GoodReads!
Related Posts