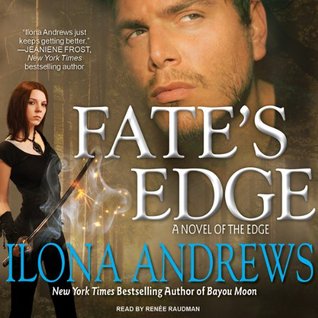 Fate's Edge

by Ilona Andrews
Narrator: Renée Raudman
Series: The Edge #3
Published by Tantor Media
Published on: November 29, 2011
Genres: Fantasy
Length: 14 hrs & 18 mins
Format: Audiobook
Source: Purchased

Amazon
|
Book Depo
|
Chapters
|
Kobo
 |
GoodReads
Audrey Callahan left behind her life in the Edge, and she's determined to stay on the straight and narrow. But when her brother gets into hot water, the former thief takes on one last heist and finds herself matching wits with a jack of all trades...

Kaldar Mar-a gambler, lawyer, thief, and spy-expects his latest assignment tracking down a stolen item to be a piece of cake, until Audrey shows up. But when the item falls into the hands of a lethal criminal, Kaldar realizes that in order to finish the job, he's going to need Audrey's help...
Audrey and Kaldar were my least favourite couple to date in this series—that being said—FATE'S EDGE was still a solid 4-star read thanks to George and Jack. When I finished book 1 my first thought was
I hope the Drayton boys will make another appearance
, so I was pumped to see them pop-up again in this installment. On top of stunning characters, Ilona Andrews also brings her mad world-building and storytelling skills to the table which makes this novel exactly what I've come to expect from this author. Add to that Renée Raudman's flawless narration, and you're left with another winning audiobook in THE EDGE series.
I didn't
dislike
the leading duo, but they lacked a certain je ne sais quoi if you know what I mean. Audrey is not Andrews' typical heroine; she's strong, savvy, and a skilled lock pick, but she's no fighter. Callahan wages her battles with words instead of a sword which made the romance between her and Kaldar somewhat of a slow burn; lots of flirting, but very little substance. However, I think my main problem was with her male counterpart; he's more of an anti-hero in my opinion. Kaldar spends a good chunk of this book trying to get into Audrey's pants, only to later change his tune to one of love. Admittedly, they are well-suited for each other and I enjoyed their bantering, but the hero's transition from player to soul mate didn't feel authentic.
George and Jack definitely stole the show, and I was more than ok with that. They both play a pretty significant role in this novel including their own mission in Audrey and Kaldar's scheme to retrieve the magical device. More is revealed about their respective powers, and I especially enjoyed the extra Changeling tidbits. One of my favourite scenes was from Jack's POV where he's chasing a butterfly. Now, as a general rule I'm not a cat person, but even I could appreciate the author's attention to detail when it came to our lynx-y friend. A number of secondary characters as also introduced in this installment, the most memorable of course being Ling the Merciless, Audrey's raccoon sidekick.
Renée Raudman's performance is once again beyond reproach; she achieves the perfect balance between action and humour in her tone, and just makes the overall listening experience a lot more fun. At one point George and Jack are practicing their Broken speak for their upcoming mission, and as a result the narrator had to say "dude" repeatedly in a variety of ways and it was hilarious! The only fault I found with Raudman's narration was her sexy scenes, her voice became a little too breathy at times, but otherwise this was another fab audiobook from this artist.
FATE'S EDGE is an excellent listen, and on par with what I have come to expect from Ilona Andrews' THE EDGE series.
The Edge Series


My Review


My Review
Was this review helpful to you? If so, please consider voting for it on Amazon and GoodReads!
Related Posts