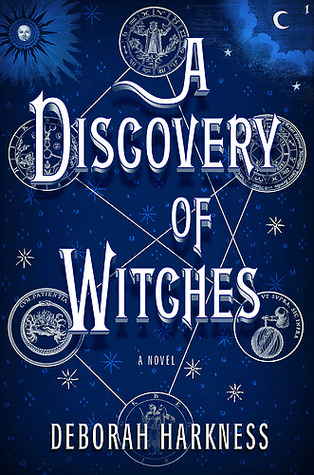 A Discovery of Witches

by Deborah Harkness
Series: All Souls Trilogy #1
Published by Viking
Published on: February 8 2011
Genres: Urban Fantasy
Pages: 581
Format: eBook
Source: Purchased

Amazon
|
Book Depo
|
Chapters
|
Kobo
 |
GoodReads
A richly inventive novel about a centuries-old vampire, a spellbound witch, and the mysterious manuscript that draws them together. 

Deep in the stacks of Oxford's Bodleian Library, young scholar Diana Bishop unwittingly calls up a bewitched alchemical manuscript in the course of her research. Descended from an old and distinguished line of witches, Diana wants nothing to do with sorcery; so after a furtive glance and a few notes, she banishes the book to the stacks. But her discovery sets a fantastical underworld stirring, and a horde of daemons, witches, and vampires soon descends upon the library. Diana has stumbled upon a coveted treasure lost for centuries-and she is the only creature who can break its spell.

Debut novelist Deborah Harkness has crafted a mesmerizing and addictive read, equal parts history and magic, romance and suspense. Diana is a bold heroine who meets her equal in vampire geneticist Matthew Clairmont, and gradually warms up to him as their alliance deepens into an intimacy that violates age-old taboos. This smart, sophisticated story harks back to the novels of Anne Rice, but it is as contemporary and sensual as the Twilight series-with an extra serving of historical realism.
This book.
Have you ever liked something almost against your will? Something that encompasses roughly half of the things you hate in reference to said thing? Something that makes you scratch your head in wonder, b/c you can't figure out why on earth you aren't terribly bothered by those detested things in this situation?
Welcome to my life.
This book has:
1. What can be construed as insta-love. Matthew and Diana are drawn to each other from the moment they meet, BUT it's so subtle that you aren't sure that's what is happening. And that's probably why it gets a pass.
I never really thought about it (before this book forced me too), but it's the things that insta-love seems to be comprised of, rather than the insta-love itself, that I take issue with—fluttery eyelashes, wild proclamations of ardent, enduring (but wholly untried) love, and the accompanying false sense of urgency. P-U-K-E. Get a room, already. And preferably AFTER the inevitable danger has passed.
But none of those things are an issue here. By the time it becomes obvious that, yes, these two feel more for each other than trepidation and annoyance, enough time has elapsed to almost warrant the depth of emotion, and the rest can be chalked up to fate, animal instinct, mating imperative, etc.
2. A super, special snowflake who denies her super, special snowflakeness. Not only is Diana the last in a powerful line of matriarchal witches, her father was a powerful warlock in his own right. So powerful that a union between her mother and father was strongly discouraged by the powers that be. Mom and Dad said, "Screw you, hippies!" and Diana was the result. But when her parents were killed when Diana was seven, she assumed their deaths were the result of their abilities and refuses to have anything to do with magic.
B/c that always works out so well. *sighs*
But again, it gets a pass. Diana is being just as ridiculous as every MC who tries to ignore their gifts, but this time you can't help but be sympathetic. She's not being obstinate simply to be a pain in the arse. She understandably believes that nothing good can come from using magic, so she's not going to do it. And that's not the only reason it gets a pass, but I can't tell you the other one. Suffice it to say, there's a darn good reason Diana isn't using magic, and that reason is not even remotely her fault.
3. Super, secret information withholding. And this is perhaps the one I have the hardest time with. I cannot stand it when someone in a position of authority, older, more experienced, etc. unilaterally decides who gets to know what. HATE it.<——I'm audibly grinding my teeth right now.
But Matthew . . . it's kind of the same thing that happens when I read historical romance. Am I overly fond of a woman's only option being to marry and marry well, have children, keep house? NO. I'm NOT. But that's the way things were, and getting mad about it isn't going to change anything, and besides, Dukes are HAWT.
So is Matthew. AND he's a 1500 year old vampire, so he kind falls under that same umbrella, and really, he means well. I got frustrated with him a few times, but it was obvious that he was trying, and I imagine it'd be pretty darn hard to attempt major behavior modifications to habits 1500 years in the making. So yeah. Yet another pass.
The good news is that having talked it out, I'm no longer banging my head against a wall. I now know why I like this book despite the major book peeves lurking around every corner. And besides those peeves getting passes, A Discovery of Witches is just entertaining. It might have taken me awhile to like Diana, but I instantly respected her, and I was as gone for Matthew as she was the moment he showed up. In the LIBRARY. At OXFORD.
Lots of bookish fun in this book.
Also—while I have no complaints about the pacing in the front 75% of the book, the last 25% is just riveting. The second that Matthew and Diana show up at her childhood home, I could not put the book down. The house is sentient and highly opinionated. It's also full of the ghosts of Bishops past, also opinionated. A couple of new secondaries show up, one of which is absolutely darling. GAH. This book is awesome, just read it. Highly recommended.
All Souls Trilogy:
Was this review helpful to you? If so, please consider voting for it on Amazon!
Related Posts