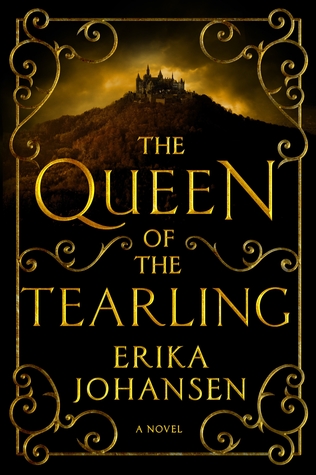 The Queen of the Tearling

by Ericka Johansen
Series: The Queen of the Tearling #1
Published by HarperCollins
Published on: July 8 2014
Genres: Fantasy, Science Fiction
Pages: 448
Format: eARC
Source: Edelweiss

Amazon
|
Book Depo
|
Chapters
|
Kobo
 |
GoodReads
On her nineteenth birthday, Princess Kelsea Raleigh Glynn, raised in exile, sets out on a perilous journey back to the castle of her birth to ascend her rightful throne. Plain and serious, a girl who loves books and learning, Kelsea bears little resemblance to her mother, the vain and frivolous Queen Elyssa. But though she may be inexperienced and sheltered, Kelsea is not defenseless: Around her neck hangs the Tearling sapphire, a jewel of immense magical power; and accompanying her is the Queen's Guard, a cadre of brave knights led by the enigmatic and dedicated Lazarus. Kelsea will need them all to survive a cabal of enemies who will use every weapon—from crimson-caped assassins to the darkest blood magic—to prevent her from wearing the crown.

Despite her royal blood, Kelsea feels like nothing so much as an insecure girl, a child called upon to lead a people and a kingdom about which she knows almost nothing. But what she discovers in the capital will change everything, confronting her with horrors she never imagined. An act of singular daring will throw Kelsea's kingdom into tumult, unleashing the vengeance of the tyrannical ruler of neighboring Mortmesne: the Red Queen, a sorceress possessed of the darkest magic. Now Kelsea will begin to discover whom among the servants, aristocracy, and her own guard she can trust.

But the quest to save her kingdom and meet her destiny has only just begun—a wondrous journey of self-discovery and a trial by fire that will make her a legend…if she can survive.

The Queen of the Tearling introduces readers to a world as fully imagined and terrifying as that of The Hunger Games, with characters as vivid and intriguing as those of The Game of Thrones, and a wholly original heroine. Combining thrilling action and twisting plot turns, it is a magnificent debut from the talented Erika Johansen.
First and foremost, you need to know that The Queen of the Tearling is NOT a YA Fantasy.  As far as I can tell, HarperCollins is not marketing the book that way, but when I read this, "Young Adult" was listed as the second shelf on the Goodreads' genre list (which of course means that Goodreads users are labeling it that way), but it absolutely isn't—Kelsea, the MC, is 19 y.o. and an adult, there is language that at times borders the obscene, and there are circumstances and (hideous) war stories that have no place in YA literature.
I'm kind of at a loss with what to do with this book.
On the one hand . . . I really (REALLY) liked it. On the other hand . . . there are problems that absolutely cannot be ignored.
I think it's time for another list.
What I liked about The Queen of the Tearling:
1. It held my attention despite the numerous problems. It more than held my attention; I couldn't put it down. I read ALL OF IT in less than 12 hours (and this was not a short book). Maybe in less than 10 hours. Should've timed it . . .
2. Kelsea is not perfect. She's a typical 19 y.o. girl with all of the inherit insecurities and inexperience. She's not exceptionally beautiful or talented, she's just a girl who loves history and books who happenes to be born royal.
3. Lots of important social and political messages.
4. New and mind-blowing world-building premise:
So check this out—something (we don't know what) happened (we don't know when) and the Americans and the British left (for parts unknown) on ships to rebuild civilization. And life has reverted back to the Medieval period. But with MAGIC, so it's like a real world fantasy. Pretty cool, I think.
What I didn't like about The Queen of the Tearling:
1. We don't know what, we don't know when, we don't know where.
2. And this is the real problem . . . There are so many similarities between this book and other books I've read that I'm not entirely convinced that the new and mind-blowing world-building premise is really new and mind-blowing, and not just from some other book I have yet to read.
Sound harsh?
Well, there are unignorable similarities between this book and no less than THREE other book series/movies that I have read/seen, and a strong argument can be put forth for a . . . fourth. (<——can things like that happen in any other language besides English?)
The Wheel of Time by Robert Jordan—a "Tearling" is a person from Tear, which is also the name of one of the world powers in WoT, Almont Plain is a mere one letter away from being the Almoth Plain, which lies between the WoT's Arad Doman and Tarabon, and Kelsea is a young and somewhat sheltered royal with a fascination, but not much understanding, for the curses that men much more readily use (in her world), very much like a certain royal in the WoT (Elayne Trakand, the Daughter-Heir of Andor).
The Fire and Thorns Trilogy by Rae Carson—if I were to try to enumerate everything that The Queen of the Tearling has in common with this trilogy, there would be room for nothing else. Kelsea is in possession of interlocking blue stones that give her prophetic dreams, guide her both physically and mentally, and instill her with magical power of some kind. There is a huge emphasis on religion (this time as a manipulative political machine). The adult charged with protecting Kelsea underestimates and undermines her, and is thus nearly sent away from her (male instead of female).

Kelsea is overweight and unattractive, rather than the typical and beautiful princess-type, etc.

 Like I said, I could go for days.
V for Vendetta—The IMDB synopsis for this movie is, "In a future British tyranny, a shadowy freedom fighter plots to overthrow it with the help of a young woman."  The Fetch is a shadowy (harlequin mask-wearing) freedom fighter who plots to overthrow TWO governments with the help of a young QUEEN whom he manipulatively tests to ascertain her true feelings/intentions. Just. Like. V.
So no matter how entertained I was by this book—and how could I not be? It's seemingly based on two of my favorite book series and one of my favorite movies—I can't in good conscience rate it highly.
But will I continue with the series? I honestly don't know. There was an interesting development in the last 10(ish)% of the book that I'm curious to see where the author is going with, and I have this morbid curiosity (almost schadenfreude) to see if the pattern continues . . . but does the curiosity outweigh the incredulity at these blatant similarities? I guess we'll see . . .
Was this review helpful to you? If so, please consider voting for it on Amazon!

Related Posts