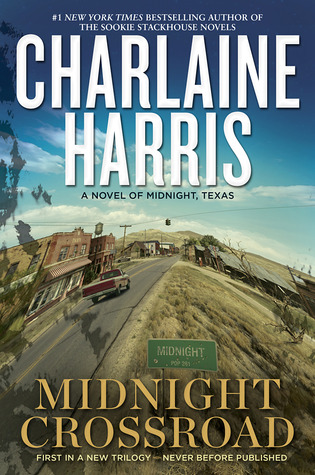 Midnight Crossroad

by Charlaine Harris
Series: Midnight, Texas #1
Published by ACE
Published on: May 6 2014
Genres: Urban Fantasy
Pages: 320
Format: Hardcover
Source: Purchased

Amazon
|
Book Depo
|
Chapters
|
Kobo
 |
GoodReads
FIRST IN A NEW TRILOGY

From Charlaine Harris, the bestselling author who created Sookie Stackhouse and her world of Bon Temps, Louisiana, comes a darker locale—populated by more strangers than friends. But then, that's how the locals prefer it…

Welcome to Midnight, Texas, a town with many boarded-up windows and few full-time inhabitants, located at the crossing of Witch Light Road and Davy Road. It's a pretty standard dried-up western town.

There's a pawnshop (someone lives in the basement and is seen only at night). There's a diner (people who are just passing through tend not to linger). And there's new resident Manfred Bernardo, who thinks he's found the perfect place to work in private (and who has secrets of his own).

Stop at the one traffic light in town, and everything looks normal. Stay awhile, and learn the truth...
I love Charlaine Harris. Really, I do.
When I started reading her Sookie Stackhouse books, I was so desperate for more Harris reading material (in the between books time) that I did something I'd never done before—I read mysteries.
Why did I read mysteries?
B/c that's what Harris writes. She wrote mysteries for years, only having middling success. I don't know if Harris had a dream filled with vampires and werewolves and fairies (oh, my!) one night, or if a decision to jump on the Urban Fantasy bandwagon prompted the genre switch, but even while writing bestselling Urban Fantasies, she still managed to incorporate her beloved elements of mystery.
And she wasn't lazy about it either.
Occasionally when reading Paranormal Romance, you'll stumble across a series that is essentially contemporary romance + a vampire or two. Some author will decide to milk the PNR cash cow, but doesn't want to do the research, so she'll write a normal romance, turn the hero into a vampire or werewolf, substitute a peanut allergy with a garlic or silver allergy, and call it a day.
Lazy. Lazy AND infuriating.
Harris did the opposite of this with her Sookie Stackhouse and Harper Connelly series, and she's done it again in her new Midnight, Texas trilogy. But this time she's managed to almost perfectly merge her bread (mystery) with her butter (UF).
Midnight, Texas is a peculiar little town. It has one stoplight, a few small, locally owned and run businesses, and a handful of residents, ALL of whom have a secret.
It also has one very important, but unspoken rule: don't ask questions.
This book got off to a bit of a rocky start for me (the first couple of chapters were less than stellar), but lover-of-Charlaine-Harris that I am, I persevered, and in the end, there was only one thing that really bothered me . . .
Too many POVs.
Too many different people, with too many different background stories, and too many hints into their secret pasts, kept me from becoming emotionally invested in ANY of them.
But in hindsight, I can see that it was a kind of necessary evil. The plot wasn't the only source mystery in Midnight Crossroad, you see—every important character was a mystery unto him or herself.
Our story opens with the knowledge that a newcomer has moved to town, and I took for granted that this new person was the MC . . . but a few POVs later, I was no longer certain. EVERY character seems to be given equal weight, and has an equally shadowy past. I didn't even figure out the main plot until I was halfway into the book<——as frustrating as it was cool.
But frustrating and/or cool, this book definitely kept me on my toes. It was also hilariously clever in that deep South, small town way that Harris has mastered, and ultimately, as many POVs as there were, I still began to develop interest in the characters. I'm fairly certain that by the time I finish the next book (which I will definitely be reading), I will be well and fully invested in the lives of the residents of Midnight, Texas. Even observing as the outsider I felt like I was, it was impossible to not want to know more.
Will Fiji and Bobo (yes, those are unfortunately their real names) ever be more than friends? What is Manfred really hiding from? Is Olivia some kind of super, secret assassin? Is that why she keeps disappearing?
I just don't know.
But I NEED to.
And that is why I highly recommend this book. Midnight Crossroad by Charlaine Harris is the promising first installment of her new Midnight, Texas trilogy. It combines the classic elements of mystery with the highly popular supernatural elements of Urban Fantasy, and weaves a story that will keep you guessing who (or what) dunit, from start to finish (and I can almost guarantee that your guess will be wrong). So please, come and meet the residents of Midnight, Texas—you won't be able to rest until you uncover their secrets . . .
Related Posts