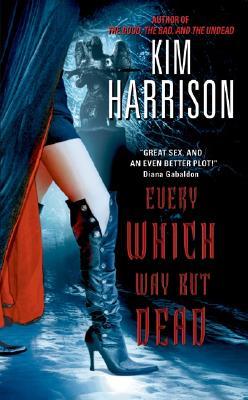 Every Which Way But Dead

by Kim Harrison
Series: The Hollows #3
Published by Harper Voyager
Published on: January 1 2005
Genres: Urban Fantasy
Pages: 501
Format: eBook
Source: Purchased

Amazon
|
Book Depo
|
Chapters
|
Kobo
 |
GoodReads
There's no witch in Cincinnati tougher, sexier, or more screwed up than bounty hunter Rachel Morgan, who's already put her love life and soul in dire jeopardy through her determined efforts to bring criminal night creatures to justice.

Between "runs," she has her hands full fending off the attentions of her blood-drinking partner, keeping a deadly secret from her backup, and resisting a hot new vamp suitor.

Rachel must also take a stand in the war that's raging in the city's underworld, since she helped put away its former vampire kingpin - and made a deal with a powerful demon to do so that could cost her an eternity of pain, torment, and degradation.

And now her dark "master" is coming to collect his due.
You know how "they" say the things you hate in others are the things you like least about yourself?
When I was 21, after an extreme bout of poor decision-making, I decided to take a sabbatical from dating. In quick succession, I had dated a slightly-younger-than-me guy, a guy who was my age, and a more-than-slightly-older-than-me guy, and they were ALL great, big lamewads. 19 y.o. Mark, the 6'7" college basketball player and DRAMA QUEEN liked to wake up, drink milk, and then try to kiss me . . . I tried (really hard) to come up with a collection of letters that could accurately describe how completely disgusting that was, but failed utterly. Then there was 22 y.o. Ryan, who onlywantedonething. Then there was 29 y.o. Luke, who hated his job and was under-appreciated in his work. Even though he wasted MANY a morning shooting emails back and forth with me instead of, oh, I don't know, WORKING.
I made it nearly a year, and it was fabulous. I would have made it longer, but I started working at the front desk of a local gym, and well . . . I'm only human. *wink*
Then right before I met my husband (who is, of course, perfect *snorts*), there was Ivan the hipster musician, who . . . played his own music in his car on our one and only date.
Oh yes. He did. Come on, guys—I can't make stuff like this up.
All of them had great, big WARNING signs flashing over their heads, and I chose to ignore every, single one of them. Then when things didn't work out, I (being the ridiculous female I was) wailed and lamented, "What's wrong with me? How did I manage to scare him off this time? Oh, what a world!"
*rolls eyes*
At the time, it didn't matter that these guys were all HEP-big losers . . . I liked them, damnit!
And all of that is why I (in equal parts) am completely exasperated with, love, and relate to Rachel Morgan.
Let's talk about Rachel's love interests thus far.
Fair warning—this is more of a commentary on Rachel's love life so far than a review. But come on . . . it's book 3. Either you've read it and know what I'm talking about, or, if this was a normal review, you'd be afraid I'd spoil you, so this is a new thing I'm trying. No spoilers this way, AND a chance to vent.
First up, we have Nick. Nick, whom she met in the ring of an illegal rat fight b/c he had been turned into . . . well, a rat . . . in retribution for his sticky fingers. And not just any old case of sticky fingers either, nope, Nick got sticky-fingered with the belongings of a MASTER friggin' VAMPIRE.
So Nick has a loose moral code, AND is either too stupid to realize how stupid and dangerous it is to steal from a master vampire, or is so cocky he thought he could get away with it. Or both. Could definitely be both. But he did save Rachel's life, and he's awfully geek-sexy, and well, humans apparently have a bit more going on down there than male witches . . . He took a demon mark for her! Come on . . . doesn't he deserve a chance?
NO. No, he does not.
Then there's Kisten . . . ye gods . . . SO many road blocks that should never have been ignored.
All you lovers-of-Kisten, CALM DOWN. I love him too. As a character. But as a potential boyfriend for Rachel . . . well, let's look at this rationally:
1. He's a VAMPIRE. Rachel refuses to ever be food for a vampire. IT'S A PROBLEM. Even if you want to argue that Kisten is a living vampire, and therefore technically doesn't need blood yet . . . YET. Kisten WILL die, and when that happens, Kisten will lose his SOUL, and he will NEED blood. Even if Rachel really does like Kisten-the-living-vampire, she will want absolutely nothing to do with Kisten-the-true-undead, and Rachel's not interested in casual that I can tell.
This relationship was DOOMED before it even got started.
2. Their very first "date" was a SHAM. That Kist would blindside her that way does NOT bode well. And then she gets all goo goo-eyed b/c he saved her . . . *grinds teeth* . . . if he hadn't asked her out under false pretenses, her life never would have been endangered in the first place<——ALL of that would be in caps if I wasn't worried about annoying the hell out of you. But know that I am screaming in my head.
And Lee . . . Lee is more of a flirtation than a real romantic interest, but he is also a perfect example of Rachel's stupidity with men. Almost immediately after she lays eyes on him for the first time, she sees that he has a DEMON MARK, but still, after he teaches her how to gamble, she's disappointed that he leaves without asking her for her number.
I know I'm not the only one driven crazy by this kind of behavior, but I also know that I'm not the only one who feels this way due to flashbacks of "I am become that which I hate."
But relationship choices aside, Every Which Way But Dead continued the steady improvement of the The Hollows. More action, more new characters to love, more to love about old characters . . . and all of that is in addition to yet another definitive and unique plot with side-plots weaving through all the while, paving the way for new adventures. Seriously people . . . come and watch Rachel grow and learn from her mistakes with me. This is not a series to be missed.
Related Posts