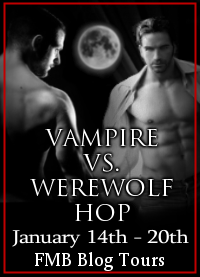 Welcome to stop #40 on the Vampire vs. Werewolf Giveaway Hop hosted by
FMB Author Promotions
! I'm obviously rooting for the weres to win this showdown because, lets face it, they are clearly the best; not only are they superior physical fighters thanks to their inner beasts but what sane gal would want to bed a dead guy!? The cold body temperature alone is enough to turn me off from vamps but throw in their penchant for blood and the fact that the males are prettier than even the most gorgeous human woman and it's a no brainer. Who wants their husband to be prettier than they are!? SERIOUSLY! In case you're not entirely convinced here's some werewolf man-candy and a giveaway to win you over:
a Rafflecopter giveaway
Good luck and Team Werewolf for the WIN!!
Related Posts