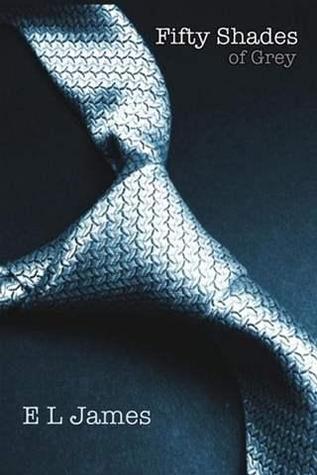 Fifty Shades of Grey

by E.L. James
Series: Fifty Shades #1
Published by Vintage
Published on: May 25, 2011
Genres: Erotica
Pages: 530
Format: eBook
Source: Purchased

Amazon
 |
GoodReads
When literature student Anastasia Steele goes to interview young entrepreneur Christian Grey, she encounters a man who is beautiful, brilliant, and intimidating. The unworldly, innocent Ana is startled to realize she wants this man and, despite his enigmatic reserve, finds she is desperate to get close to him. Unable to resist Ana's quiet beauty, wit, and independent spirit, Grey admits he wants her, too—but on his own terms.

Shocked yet thrilled by Grey's singular erotic tastes, Ana hesitates. For all the trappings of success—his multinational businesses, his vast wealth, his loving family—Grey is a man tormented by demons and consumed by the need to control. When the couple embarks on a daring, passionately physical affair, Ana discovers Christian Grey's secrets and explores her own dark desires.

Erotic, amusing, and deeply moving, the Fifty Shades Trilogy is a tale that will obsess you, possess you, and stay with you forever.

This book is intended for mature audiences.


I finally bought the bullet and succumbed to the hype that is the Fifty Shades trilogy. Even though this book doesn't fall into any of the typical genres that I review; I have a feeling that many of my followers are just as curious about these books as I was. Once I started this series I simply couldn't put it down so I was relieved that I opted to purchase the entire trilogy in one easy to read eBook. Fifty Shades of Grey was by far my favorite book out of the three. At first, E.L. James writing style got on my nerves, it's choppy and there appears to be no rhyme or reason behind the breaks in the narration. However, that quickly changed as it became apparent that her points of views are as raw as the characters themselves. This book will make you experience a whole array of emotions; I was scandalized, repulsed, excited and most definitely turned-on. If this novel doesn't get a physical reaction out of you, I don't know what will!

The story itself is pretty simple and is easy to follow. There's no hidden intrigue or big reveals. This book focuses on the characters' physical and emotional reactions to each other and various situations. As I mentioned previously, I wasn't a fan of James' writing style in the beginning but it quickly grew on me to the extent that it became an addiction. I finished the first two books in a weekend and they're not exactly small in length. It took me a while to get used to the excessively long chapters and the constantly changing POV. Fortunately, there's really only two characters that narrate so it didn't take long to identify which was which. E.L. saw fit to include the dominant/submissive contract that Grey presents to Ana as well as various e-mail exchanges. I found that these additional elements helped to put things into context and added depth to the characters. I was pretty appalled the first time I read Grey's terms but that's to be expected.

I particularly enjoyed Anastasia's inner monologues. She seems to have 3 voices in her head: her subconscious, her inner goddess and her actual self. It felt a little cartoon-ish in the sense that she has an angel and a devil on each of her shoulders but it was a neat way of showing her confusion and uncertainty over pursuing a relationship with Grey. Some of her voices are more humorous than others which also helped balance the angst that's prevalent throughout this story. Grey isn't as much of an open book as Ana but more often than not his body language and facial expressions spoke volumes. He's had something like 15 BDSM arrangements but Anastasia is the first woman who's ever challenged him and pushed him beyond his limits. The changes that both characters undergo are staggering. They're perfect for each other except that it's going to take a lot of trial and error (3 books worth) before they are able to meet in the middle.

Fifty Shades of Grey is HOT. There's no if's, but's or maybe's about that. I'd never read a BDSM book until I tackled this one so I tried to keep an open mind. I thought the bondage aspect was pretty tame all things considered. It's definitely not your typical romance story but no one gets degraded or "punished" to the point that I had to stop reading. I've seen worse on TV as I'm sure you have. The first book is a 10 on my hotness scale while as the other two are closer to 7. My only recommendation when reading this novel is to keep your significant close at hand. They will be needed!

Fifty Shades of Grey lives up to its hype. It's off the Richter scale hot, the characters are tangible in their realism and the story's not half bad either. I'm happy that I gave it a try and I strongly encourage others to do the same; if only to spice up your sex life a little!


Related Posts