Ha! Well so much for my brilliant plan of launching this new feature to help me increase the number of comments I leave on blogs. The week following its launch I was so busy that I wasn't able to meet my own goals! I'm back on track though so hopefully that mishap will NOT be repeated!
This week I'm hollering at BLHmistress from
BLHmistress is a blogger who participates in tons of memes, book tours and is always happy to grab a fellow blogger's button to help promote a giveaway. As a result, her blog takes a little longer than most to load but it's well worth the wait. She's a prolific poster so you'll find something new during nearly every visit. Also, she comments quite a bit so don't fear that your visit will go unnoticed. Book Lover's Hideaway is also co-hosting a Halloween Spooktacular event with tons of great guest posts and giveaways. Get your entries in now before it's too late!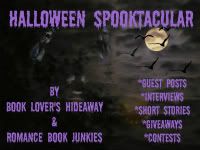 Posts I checked out this week:
Happy Commenting!

About the Blogger
I review Urban Fantasy and Paranormal Romance books with a focus all things werewolf. Based out of Ottawa, Canada
Google+ / Twitter / FB
Related Posts