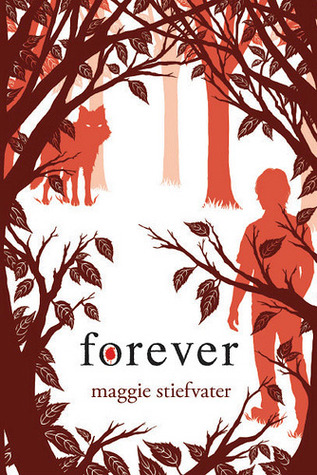 Forever

by Maggie Stiefvater
Series: The Wolves of Mercy Falls #3
Published by Scholastic
Published on: July 12, 2011
Genres: Werewolves, Young Adult
Pages: 403
Format: Hardcover
Source: Purchased

Amazon
 |
GoodReads
then.
When Sam met Grace, he was a wolf and she was a girl. Eventually he found a way to become a boy, and their loved moved from curious distance to the intense closeness of shared lives.

now.
That should have been the end of their story. But Grace was not meant to stay human. Now she is the wolf. And the wolves of Mercy Falls are about to be killed in one final, spectacular hunt.

forever.
Sam would do anything for Grace. But can one boy and one love really change a hostile, predatory world? The past, the present, and the future are about to collide in one pure moment - a moment of death or life, farewell or forever.


For me, The Wolves of Mercy Falls series started off as a so-so read. Linger was definitely better than Shiver, but Forever…? WOW! This book manages to be uplifting, heartbreaking and magical all at the same time. I've been on the fence about this series for the past two books but this third and final installment makes me wish for it to never end! If only all of the novels could have been like this! I have a feeling that this story is going to stay with me for a long while. I typically don't re-read books because honestly, who has the time? But I'm going to make an exception for Forever. It's so much more than just a werewolf book or just a YA tale of boy meets girl. I turned the last page only mere minutes ago and I'm already missing Sam and Grace. Isabelle and Cole too, fancy that!

I'm never going to get tired of Maggie Stiefvater's lyrical writing style. It is art in text format; it really is. I'm currently contemplating starting her Books of Faerie series just so I can have another dose of her beautifully written prose. Sam and Cole's song lyrics are packed full of emotion and meaning. I think Maggie should consider producing a Wolves of Mercy Falls album. I'd buy it and I know that I wouldn't be the only one! The combination of her writing style, the characters' lyrics and random bits of quoted poetry turn this book into a living, breathing entity. Regardless of whether you like or dislike Young Adult werewolf fiction, Maggie's writing will win you over and you'll grow to love the story. Don't believe me? Read an excerpt and see for yourself!

Sam and Grace's love transcends space and time. It's so innocent and new but somehow manages to be as meaningful and deep as some of the greatest romance stories of all time. There's no sex in this book, there's barely even any touching but the message that's portrayed is incredibly powerful. I could feel the love that they have for one another through the pages. Forever was the first time that Grace and Sam were wolves together and I loved every minute of it. Back to my earlier comment, their love even carries over to their canine selves when all other thoughts are lost. That's how powerful their connection is. Look at me trying to do the impossible: describe the relationship between Sam and Grace. Just read the book. You'll see.

I was surprised to find myself as wrapped up in Isabelle and Cole's weird relationship as I was in Sam and Grace's. Theirs is an entirely different kind of "love". I'd describe Roth's and Brisbane's as light while as this unwitting duo's is dark. The contrasts and similarities between the two couples evoked such powerful imagery and feelings; it's also one of the reasons why I loved this book so much. This opposite ends of the spectrum effect wasn't as present in the previous installments.

The ending is a real page turner. In fact, the entire book is. Unfortunately, due to real life getting in the way, I had to put the novel down a mere 20 odd pages away from the end. The finale to The Wolves of Mercy Falls series took my breath away. It's happy and sad, satisfying but heartbreaking; in short, it was everything I'd hoped for yet it left me craving more. I'd previously given another Young Adult book the number one spot for 2011's YA fiction but it's not too late to change my mind! And change my mind I am! Forever is in a class all of its own, it has no equal. I loved every word on every page. Goodbye to The Wolves of Mercy Falls, I'll miss you.


The Wolves of Mercy Falls


My Review


My Review


My Review
Related Posts